Posted 8 a.m. Wednesday, March 2, 2022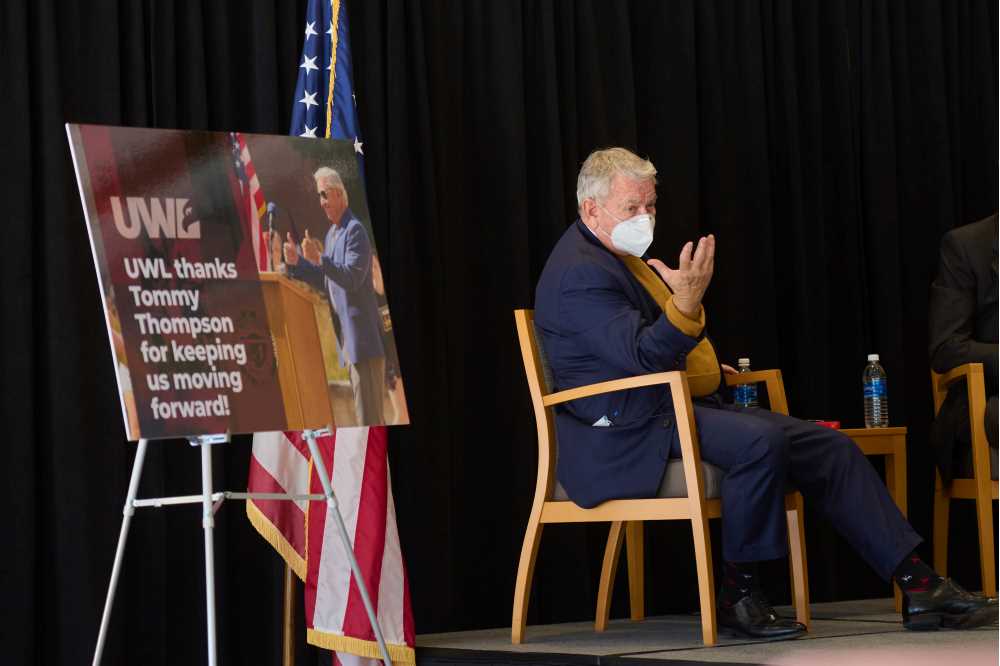 Thompson visits UWL for final time as UW System's interim president
Monday, Feb. 28, was Tommy Thompson Day at UW-La Crosse — his final visit to campus as interim president of UW System.
Thompson began his visit with a question-and-answer session with Chancellor Joe Gow, attended by campus and community leaders. The former four-term governor discussed a range of topics, including leading the System through the pandemic.
"When I made the decision to open the universities, there was a lot of pushback," said Thompson, who was key in establishing COVID-19 testing and vaccination facilities at UW campuses. "I was responsible for those students, because that was my charge. I wanted to make sure we were doing the right testing, and we expanded that into vaccinations. I also went out and got people from the federal government … to give us up to $50 million so we could expand our testing into the community."
Whether it's responding to COVID-19 or stimulating the local economy, Thompson touted UWL as a major asset to the La Crosse area. The university doesn't just create jobs and support local businesses, he said. It also produces future generations of skilled workers, many of whom stay in the Coulee Region after graduating.
"The university is a jewel — just take a look at how much this campus in La Crosse means to the community," he said. "I'm so sick and tired of people saying you don't need to go to college, that all you're doing is borrowing money. (Without universities), who's going to be the engineers? Who's going to be the nurses? Who's going to be the entrepreneurs in specialized fields?"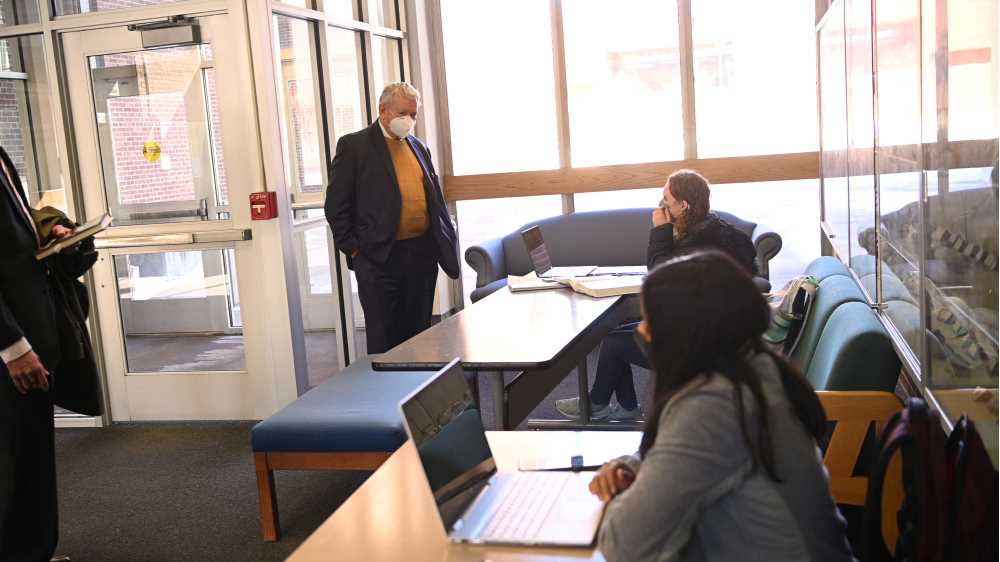 Later, Thompson joined UWL leaders on a tour of Cowley Hall, which is set to be replaced by the second phase of the Prairie Springs Science Center, pending legislative approval.
Calling it long overdue, Thompson said the project will be critical in workforce development and keeping pace with industry needs.
"Let's find a way to get that science building built — that's got to be done," he said. "We need to convince some of the legislators around the state, and right now, when interest rates are 2%, it's so much more important to build it today."
Thompson concluded his visit with a lunch with campus and community leaders.
Gow thanked Thompson for his service to UW System and the state of Wisconsin, calling him the perfect person to lead UW System through the pandemic.
Thompson, who was named interim president July 1, 2020, is visiting each UW campus a final time before stepping down March 18. UWL was the first visit on his System-wide tour.
Thompson will be succeeded by Jay O. Rothman, the chairman and CEO of Foley & Lardner, an international law firm headquartered in Milwaukee.
Mike Falbo, former president of the Board of Regents, will serve as interim president until Rothman takes office June 1.