Posted 4 p.m. Friday, April 19, 2019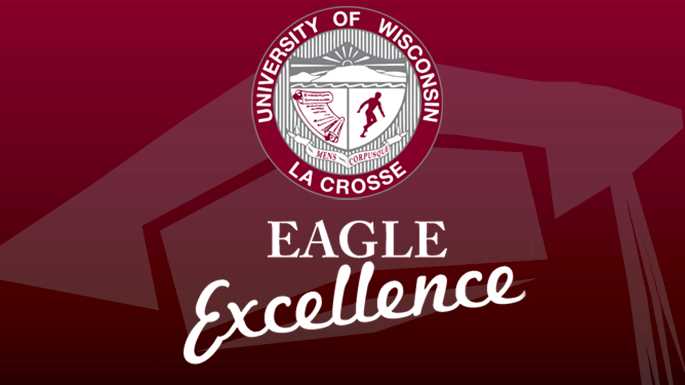 Top seniors named; more than $1 million being awarded in scholarships.
The UW-La Crosse Foundation will award more than $1.05 million in scholarships for the upcoming academic year. The awarding of scholarships along with the recognition of UWL students graduating with top honors will take place during five upcoming ceremonies.
Top honors and the graduating seniors being honored include:
The Murphy Awards for Academic Excellence recognize the university's top two graduating scholars, as chosen by the Scholarship and Awards Committee.
Laura Kaiser graduates with a Bachelor of Science in chemistry and mathematics. Kaiser made the Dean's List each semester and conducted a variety of undergraduate research in chemistry and biochemistry during college. She was named Outstanding Student of the Year in Physical Chemistry and Outstanding Student of the Year in Inorganic Chemistry, along with receiving an Outstanding Work in Mathematics certificate. Kaiser was involved in a variety of campus organizations, including Wind Ensemble, Women's Choir, Golden Key International Honour Society and Eta Phi Alpha Honor Society, among others. She plans to pursue a doctorate in organic chemistry with an environmental focus. The 2014 valedictorian of Loyal High School is the daughter of John and Beth Kaiser, Unity, Wisconsin.
• My favorite UWL professor was: Dr. Heather Schenck because she knows how to provide just the right amount of challenge for students. She makes sure they are still able to succeed and don't become overwhelmed by new ideas. The spectroscopy class I took with her opened my eyes to the possibility of a future in spectroscopy and organic chemistry.
Sara Krueger graduates with a Bachelor of Science in history education and broadfield social studies education. Krueger was on the Dean's List each semester. She received a grant from the La Crosse Public Education Foundation to develop high school curriculum for the "Hear, Here" local history project, as well as an undergraduate curriculum grant for "Hear, Here" middle school curriculum development. Krueger was treasurer for Kappa Delta Pi International Honor Society in Education and received the Don and Norma Vinger Scholarship. She plans to teach middle or high school social studies in the Green Bay area. The 2014 graduate of Rhinelander High School is the daughter of Amy and Dan, Jr., Krueger, Rhinelander, Wisconsin.
• My favorite UWL professor was: Dr. Ariel Beaujot because she opened opportunities for me through my work with "Hear, Here" that have shaped me into a stronger educator and inspired a passion for activism and social change. She excels in connecting history to the present day and using that connection to better our community.
The Jake and Janet Hoeschler Award for Excellence recognizes a College of Business Administration graduate for academic accomplishment and leadership on campus and the community
Shantel Hartzell graduates with a Bachelor of Science with majors in accountancy and finance. Hartzell served as secretary, vice president and president of Beta Alpha Psi and participated in numerous campus committees, including Building Exceptional Students Together and Student Inclusivity Network. She received the Ronald Stratton Scholarship twice, the Strohm Ballweg Accounting Scholarship and the Murphy Scholarship. Hartzell plans to pursue CPA certification and work in accountancy or finance. The 2014 Stanley-Boyd High School valedictorian is the daughter of Shane and Dana Hartzell, Gilman, Wisconsin.
• My favorite UWL staff member was: Mo McAlpine because she has been a part of my recreational experience since I arrived my sophomore year. The Recreational Eagle Center has been my home for four years. It is where I found employment, friends, competitive sports, outdoor pursuits and everything else I wanted to find during my undergraduate experience.
The Strzelczyk Award in Science and Health recognizes an outstanding senior in the College of Science and Health for academic achievement, along with campus and community service.
Thomas Schultz graduates with a Bachelor of Science in biology, with a minor in chemistry. Schultz received a grant for undergraduate research and participated in the American Society for Biochemistry and Molecular Biology Conference. He served on the Student Senate and was a member of Spanish Club. Schultz ran on the men's cross country and indoor and outdoor track and field teams, receiving the prestigious Elite 90 award, as well as All-American honors five times and numerous conference and regional honors. Schultz received the A. Vincent and Janet B. Weber Scholarship in Biology and Daron Williams Pre-Med Scholarship. He plans to attend medical school. The 2015 graduate of Darlington High School is the son of Kerry and Joanne Schultz, Darlington, Wisconsin.
• My favorite UW-L professor was: Dr. Dan Grilley. I first met him during my sophomore-level chemistry class. He taught me to have high expectations early on in my collegiate career, and he expects a lot from all of his students. As my research advisor for the last three years, he has taught me so much and has truly been a great mentor.
The John E. Magerus Award for the Outstanding Graduating Senior from the College of Liberal Studies recognizes an outstanding graduate for academic accomplishments, leadership, and campus and community involvement.
Gabriela Aguilar earned a Bachelor of Arts in communication studies, with a Spanish minor, in December. Aguilar was on the gymnastics team from 2015-18, including the 2016 National Collegiate Gymnastics Association championship team. She was a scholastic Academic All-American in 2017 and 2018, received the 2017 UWL Gymnastics True Grit Award and the 2018 UWL Gymnastics Most Inspirational Award, along with being on the conference championship teams in 2016 and 2018. Aguilar was a member of Golden Key Honor Society and Lambda Pi Eta Communication Studies Honor Society. She is a communications associate with the national Association for Latin Independent Producers in California. The 2015 St. Michaels Catholic Academy graduate is the daughter of Michael and Yvette Aguilar, Austin, Texas.
• My favorite class in college was: Media and Identity because it sparked my interest and passion for media studies. It exposed me to rhetorical criticism and allowed me to begin to pursue my particular interests in Latinx and queer representation. Without this course, I would never have decided to continue my education in the pursuit of a master's degree.
The Rosandich Graduate Thesis Award recognizes the best graduate thesis, based on originality, impact and written quality.
Nicholas Faulds earned a Master of Science in Exercise and Sport Science – Physical Education Teaching in August 2018. Faulds took part in the physical activity mentoring program of individuals with disabilities from June 2017-August 2018. He was supervisor of the Adult Fitness Program from September 2017-August 2018. Faulds received the Lillian Neale Scholarship for his involvement in different adapted physical activity programs on campus. He currently teaches adapted physical education at the California School for the Blind. The 2012 graduate of Keshequa Central High School in Nunda, New York, is the son of Sam and Lisa Faulds, Mount Morris, New York.
When I'm 40, I want to be: Teaching adapted physical education and coaching after school sports at the California School for the Blind; president of the Society of Health and Physical Educators (SHAPE America) professional organization; president of the SEIU Local 1000 labor union; published in the Adapted Physical Activity Quarterly professional journal; and a beacon of hope for families of individuals with visual impairments.
Ceremonies set
Returning students will receive more than 930 awards totaling around $1,054,694 during the ceremonies, open to all. The ceremonies include:
Wednesday, April 24
Accountancy Department Banquet and Awards
5 p.m. (reservations required) The Bluffs, UWL Student Union
Friday, April 26
College of Science & Health
5 p.m., The Bluffs, UWL Student Union
Sunday, April 28
School of Education
1 p.m., The Bluffs, UWL Student Union
Tuesday, April 30
College of Liberal Studies Evening of Excellence
6 p.m., Toland Theatre, Center for the Arts
Thursday, May 2
UWL Foundation general awards and scholarships
4 p.m., The Bluffs, UWL Student Union