Posted 2:04 p.m. Monday, Aug. 17, 2020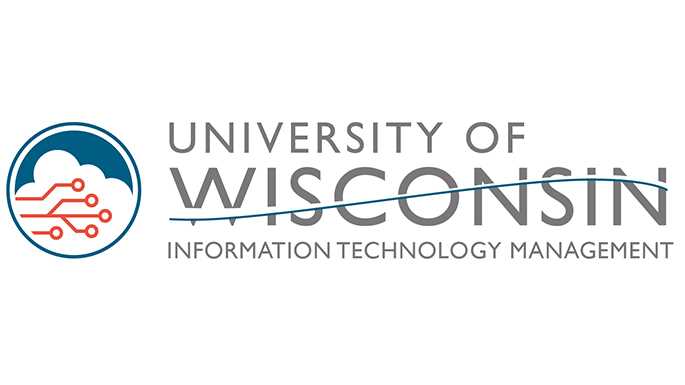 Accredited UW online graduate program is now accepting applications for Spring 2020 enrollment
In response to the growing demand for skilled IT management professionals, five UW campuses, including UW-La Crosse, are now offering an online Master of Science in Information Technology Management. The master's degree program, which was recently accredited by the Higher Learning Commission, is now accepting applications. Courses start in January 2020. Learn more about the program at itmanagement.wisconsin.edu/get-itm-guide-uwl/
The program offers:
Industry-led curriculum
Small class sizes
Individualized advising
"UW-La Crosse is thrilled to offer this MS in IT Management to students who are looking to take the next step in their careers," says Elizabeth Humrickhouse, UWL assistant professor and academic director of the new program. "Industry trends tell us that the demand for IT managers will only continue to increase over the next several years and, with a degree that blends first-rate management and IT curriculums, our students will be well prepared to move into their new professional roles."
The online master's program, which is designed for working adults, balances IT coursework with business and managerial topics, teaching core competencies that help students succeed in advanced IT management and leadership roles across a wide range of industries. The program is available through UWL, UW-Oshkosh, UW-Parkside, UW-Stevens Point, and UW-Superior.
"We're thrilled to receive accreditation by the Higher Learning Commission for the master's in IT Management program" says Aaron Brower, Executive Director of the University of Wisconsin Extended Campus. "This milestone for IT Management reinforces our mission of extending high-quality, professional, continuing and lifelong learning to the people of Wisconsin and beyond."
Industry-Led Curriculum Prepares Students to Succeed in the Workforce
The UW online master's in IT Management curriculum was designed with input from industry IT professionals to ensure that the competencies gained meet the needs of today's employers. The result is an interdisciplinary program that will equip graduates with skills in financial management, data science, cloud computing, enterprise security, project management, IT leadership and more.
The UW IT Management program will also benefit from an established program Advisory Board representing diverse industry professionals who will provide ongoing support and input into the program, curriculum and student experience.
"The MS in IT Management program underwent a comprehensive curriculum development process," explains George Kroeninger, associate dean of Program Development and Management at UW Extended Campus. "Over the last 18 months, we've partnered with industry professionals and expert UW faculty to establish a rigorous master's curriculum that will set graduates up for success as they advance their IT careers."
A Strong Career Outlook for Program Graduates
Graduates of the UW online Master of Science in Information Technology Management will find a strong career outlook in IT Management. According to Emsi, a top source for labor market analytics, jobs in this field are projected to grow 11 percent nationally between 2018 and 2028. That's an increase of more than 169,000 jobs over the next 10 years. The job outlook in Wisconsin is also bright, amounting to nearly a 7 % increase (2,100 jobs) across that same time period.
"The new program demonstrates again how the UW System meets Wisconsin's needs," says Ray Cross, President of the University of Wisconsin System. "Students can get degrees in high-demand fields when and how they want to, giving employers access to additional talent."
Graduates of the program will gain a deeper understanding of IT as an organizational function and strengthen skills required to strategize, plan and lead IT projects in any industry. Program admission requirements include a bachelor's degree with prerequisite courses or demonstrated knowledge in programming (object oriented, modern language), database, and computer networking. Aptitude tests such as the GMAT and GRE are not required.
The Master of Science in IT Management is intended for those with a bachelor's degree in areas including (but not limited to) information systems, information technology, computer science, computer programming, business administration, engineering, mathematics and statistics. The program also welcomes those who have professional experience in the information technology field, but are looking to gain business and leadership competencies in IT.
The program features a flat-rate tuition that compares favorably to competing graduate programs from other institutions. Like other collaborative online University of Wisconsin programs, students will pay the same tuition whether they live in Wisconsin or out-of-state.
"We're looking forward to admitting the first students of the online MS in IT Management program," Brower notes. "The future is bright for the industry, and we're proud to play a part in shaping the future leaders in this field."
The UW Master of Science in IT Management joins a growing portfolio of flexible, online degree and certificate programs designed for adult learners and is offered in collaboration with UW Extended Campus and UW System campus partners.
For more information about the University of Wisconsin IT Management program, download a degree guide on the website, itmanagement.wisconsin.edu, call 1-608-262-2011, or 1-877-895-3276, or email learn@uwex.edu. Application information is available at https://itmanagement.wisconsin.edu/get-started/application-and-admission/
About UW Extended Campus
The University of Wisconsin is one of the largest and most widely respected public higher education systems in the country. UW Extended Campus partners with all UW System campuses to offer online degrees and certificates, as well as continuing education and lifelong learning opportunities. Through UW Extended Campus, people of Wisconsin and beyond can access university resources and engage in online learning, wherever they live and work—fulfilling the promise of the "Wisconsin Idea."
About UW-La Crosse
UW-La Crosse, founded in 1909, is one of the 13 four-year institutions in the University of Wisconsin System. UWL offers 101 undergraduate, 28 graduate and two doctoral programs. UW-La Crosse — www.uwlax.edu — is ranked the No. 3 public university among Best Regional Universities in the Midwest by U.S. News & World Report. UWL is consistently one of two public Wisconsin universities listed on Kiplinger's Top 100 Best Values.
About UW System
The University of Wisconsin System serves more than 170,000 students. Awarding 36,000 degrees annually, the UW System is Wisconsin's talent pipeline, preparing graduates to increase their earning power, contribute to their communities, and to make Wisconsin a better place to live. More than 80 percent of UW System graduates stay in Wisconsin five years after earning a degree. The UW System provides a 23:1 return on state investment. UW System institutions also contribute to the richness of Wisconsin's culture and economy with groundbreaking research, new companies and patents, and boundless creative intellectual energy.