Posted 1:15 p.m. Monday, Aug. 17, 2020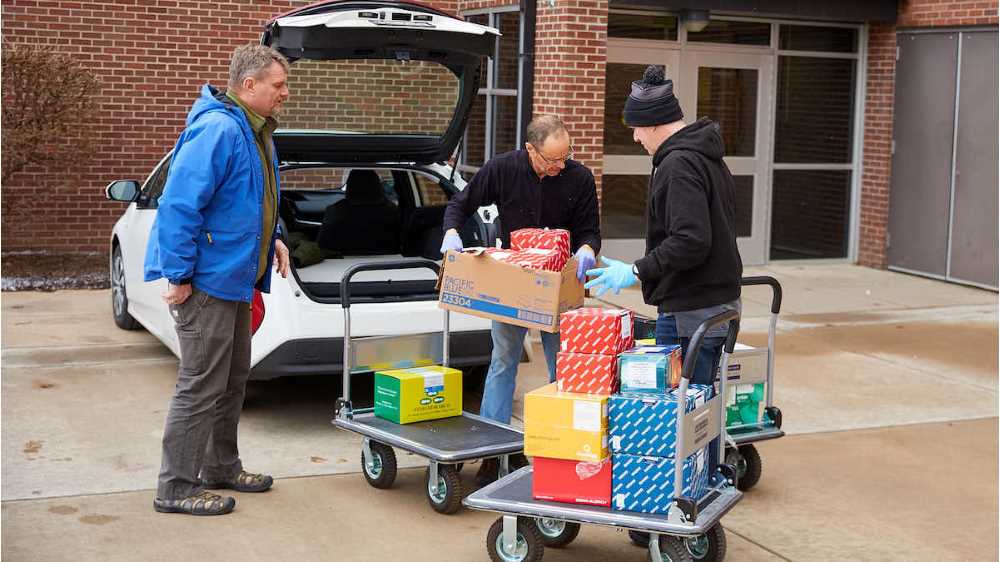 UWL science faculty step up to provide enough supplies to run 2,900 COVID-19 tests
As the Coronavirus (COVID-19) outbreak reaches La Crosse, UW-La Crosse faculty and staff moved quickly Thursday evening and Friday morning to provide important supplies needed to run coronavirus tests. Supplies are in short supply at Gundersen Health System and nationwide.
"Our UWL faculty and staff and their families are an integral part of our greater La Crosse community," says Mark Sandheinrich, dean of UWL's College of Science and Health. "In our own way we each need to do our best to support our community in times of need."
At 6 p.m. Thursday, researchers at Gundersen reached out to Microbiology Professor Mike Hoffman asking for the supplies. Hoffman got the word out to colleagues in Microbiology and Biology and by 9 p.m. they had identified the location of the supplies in UWL's Prairie Springs Science Center.
Enough supplies to run 2,900 COVID-19 tests were collected and delivered to the Gundersen testing laboratory Friday morning.
"We're incredibly grateful for this donation from UW-La Crosse," says Stephen B. Shapiro, MD, Chief Medical Foundation Officer for the Gundersen Medical Foundation. "Community collaboration, such as with our educational partners in La Crosse, is vital to helping slow the spread of COVID-19 and keep our communities as safe as possible."
UWL has many faculty and students involved in molecular biology research, so the university had a large number of supplies used to extract RNA from various samples. RNA also carries the genetic information of the coronavirus. Obtaining it from samples is a step in the process of determining if a person is infected with COVID-19, explains Sandheinrich.
"We know and work with the researchers at Gundersen and we had the supplies they needed," says Scott Cooper, UWL director of Undergraduate Research. "We can't do any research for the next few months and anything we can do to help get more COVID-19 tests done in the community the better."
UWL is also looking for other supplies across campus science labs that can be used by healthcare workers. A large number of disposable gloves and other personal protective equipment from the Health Science Center are also being donated.
"We hope this makes a difference in controlling the spread of COVID 19 in our community," says Cooper.