Posted 3:05 p.m. Tuesday, Nov. 30, 2021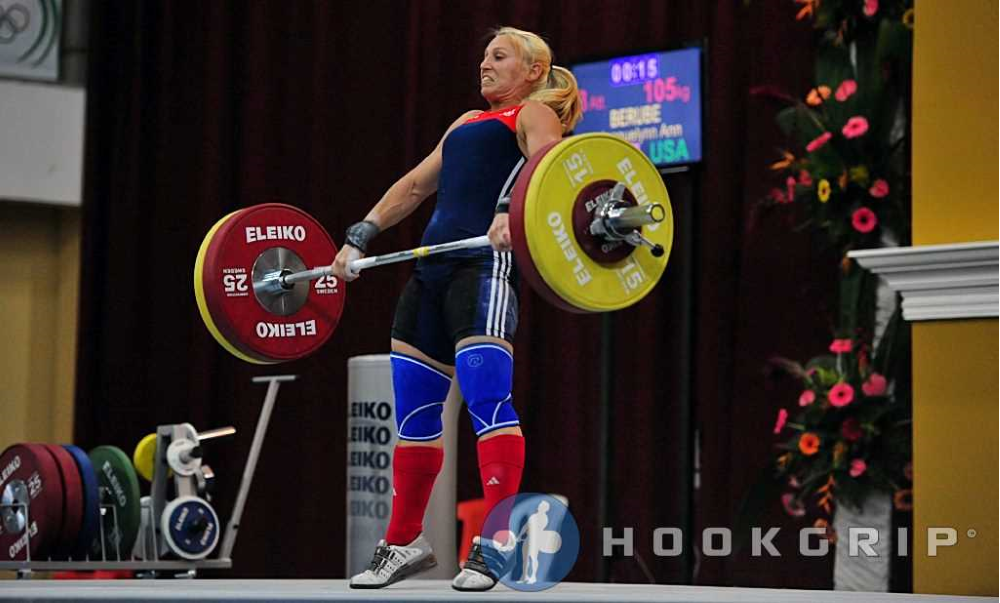 Jackie Berube-Black inducted into USA Weightlifting Hall of Fame
A UW-La Crosse alum is the 15th woman to enter the USA Weightlifting Hall of Fame as an athlete.
Jackie Berube-Black, '96, was honored late this summer at an induction ceremony at the U.S. Olympic and Paralympic Museum in Colorado Springs, Colorado.
For Berube-Black, who spent three years on the UWL women's gymnastics team and one trailblazing year on the men's wrestling team, the selection reaffirmed that the time and energy she poured into her career was well worth it.
"I never thought the Hall of Fame was something I would achieve, because I never made the Olympics," explains Berube-Black, an Olympic alternate in 2004, 2008 and 2012 who never was able to make the team due to injuries. "This is special for me in a lot of ways. It gives a lot of purpose to all the years I spent chasing that dream."
She may never have discovered her passion for weightlifting had she not come to UWL.
The Escanaba, Michigan, native started college at UW-Superior but transferred after the school dropped women's gymnastics.
Superior's loss was La Crosse's gain. Berube-Black went on to become a standout gymnast and an Academic All American, double-majoring in community health education and exercise science.
Equally important to her future career was the campus culture around weightlifting.
"The gymnastics coach at Superior didn't (emphasize) strength training, but my strength coach at UWL was very into it," she remembers. "La Crosse was my first introduction to strength training and inspired me to make it my career. I just really enjoyed seeing myself get stronger and knowing that I could improve other people's performance through training."
Another turning point came after Berube-Black completed her fourth and final year of eligibility as a gymnast. She faced the burning question many college athletes face: What do I do now?
After encouragement from UWL wrestling coach Greg Lonning, Berube-Black decided to try out for the men's wrestling team — a move practically unheard of in the mid-90s.
But Berube-Black had the requisite strength and the proper mindset. She had grown up in a wrestling family, attending many of her siblings' matches.
Still, she says, competing on the men's team was a wake-up call.
"I'd sat in the bleachers for hundreds of wrestling competitions, but I was definitely not prepared," she notes. "I got the crap kicked out of me. But I figured the only way to get better was to show up and put in the work. And I went from just some girl who decided she was going to show up to practice, to earning the respect of my teammates."
She even earned a silver medal at the 1996 World Wrestling Championships in Sofia, Bulgaria.
After college, Berube-Black worked as a strength and conditioning coach at Northwestern University.
There, she met Olympic gold medalist Tara Nott-Cunningham, who encouraged her to consider competitive weightlifting.
A year later, she left Northwestern to work at the Olympic Training Center in Colorado Springs, and was faced with a decision: wrestling or weightlifting.
She picked the latter, hoping to one day make it to the Olympics. (At the time, women's wrestling was not an Olympic sport.)
And while injuries prevented her from competing for a gold medal, Berube-Black amassed many titles, achievements and contributions to the sport, including:
Former American record-holder in the snatch, clean and jerk, and total
Pan American Champion, 2005
Six-time National Weightlifting Champion
USA Weightlifting international-level coach
National Strength and Conditioning Association certified specialist
Berube-Black has also coached and inspired the next generation of weightlifters, whether they plan to lift competitively or simply to gain strength and improve their health.
In 2010, she opened Pinnacle Weightlifting, where she coaches children as young as 7 and adults of all ages, even those into their 70s.
She hopes to coach at the Olympics someday, and to continue motivating women and girls to make inroads in the sport they love — whether it's gymnastics, wrestling, weightlifting or something else.
"Looking back, I'm most proud of all the dedication and hard work I've put in over the years. Being able to contribute to a sport and to women's sports in general," she says. "To be in wrestling when girls wrestling wasn't a thing, and to now see so many opportunities opening up for women, it's pretty cool."