Posted 6 p.m. Monday, Nov. 27, 2023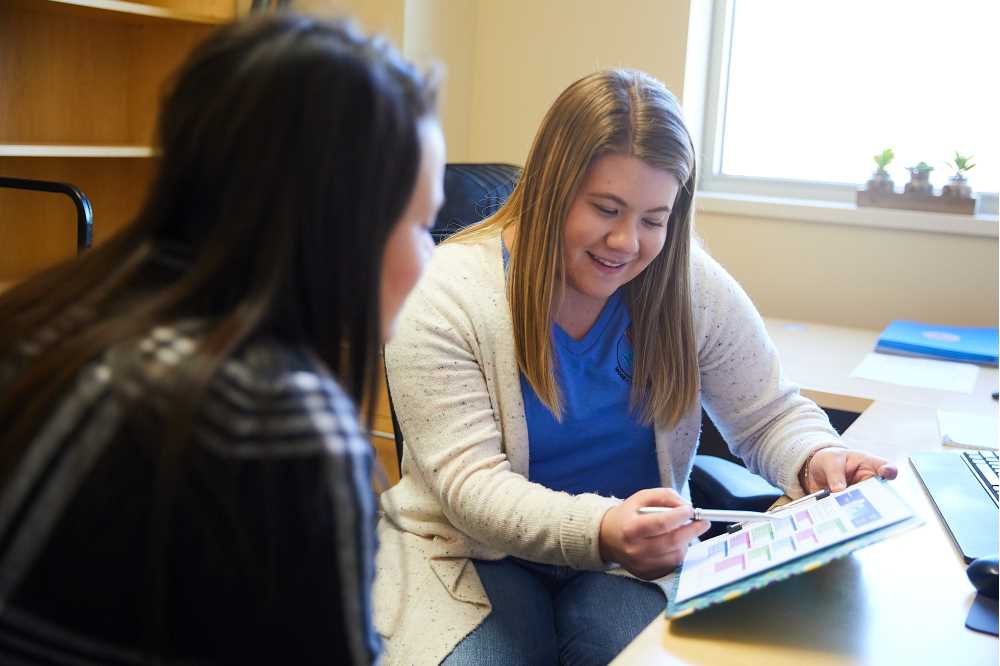 Find out how much of your education could be covered by grants, loans and other aid with the FAFSA, opening Dec. 31
A big question for students entering or continuing college is: How will I pay for my education?
To find out how much of your education you'll have to pay for — and how much could be covered by grants, loans or funding from the institution you are attending, you need to fill out the FAFSA, or Free Application for Federal Student Aid. Doing so will signal to a college that you are interested in financial aid. Upon receipt of the FAFSA and the submission of all required documentation, the college will provide you with a financial aid offer that will include the aid types and amounts you are eligible to receive — should you choose to apply.
Experts in UW-La Crosse's Financial Aid office answer some common questions about the FAFSA.
What is the FAFSA?
FAFSA stands for Free Application for Federal Student Aid. It is the form you fill out to determine financial aid need, and it is considered the first step in applying for financial aid. Complete the form online at studentaid.gov. It typically takes less than an hour. Begin making preparations by ensuring you have a valid FSA ID (username and password). If a student or parent does not yet have a valid FSA ID, they can begin to work on creating one.
This will allow the colleges where you are applying to create a financial aid offer that they will present to you, listing financial aid options that you can accept or deny. Be sure to include the school's code on the FAFSA if you want to receive an offer from that school. UWL's code is 003919.
What is the FAFSA used for?
It is used to determine if you are eligible for federal and state financial aid. This includes loans, federal and state grants and institutional aid (institutional aid is aid from the school you will be attending). Sometimes scholarships require FAFSA information as part of the eligibility requirements, so having this form complete will also help with application to these scholarships.
When is FAFSA due?
Incoming college students and current college students should file the FAFSA as soon as the application opens Dec. 31 — starting your senior year in high school and continuing throughout college.
Filling out the form as close to the opening date as possible is important. For instance, a university may be able to offer a certain amount of grant funding to students and that amount will slowly be used up as students file the FAFSA and their eligibility is determined — leaving fewer dollars left to those who apply later.
Students should also consider if a college has priority dates/priority deadlines. While some schools do not set them, those that do will ask that you apply before the priority date to be considered for all available financial aid programs. The priority date at UW-La Crosse each year is Feb. 1 for students who are entering college for the upcoming fall term. If you miss it, you may not qualify for some aid because it was awarded to others who applied earlier. Also, meeting the priority date/deadline can factor into a student's ability to get outside scholarships and institutional scholarships that rely on FAFSA information to determine eligibility.
Priority dates from colleges aside, the federal government keeps the application open throughout the academic year you are in college. Forms must be completed by the student's last day of attendance within that academic year.
Why is FAFSA opening in December?
In the past the FAFSA opened on Oct. 1. The reason for the delay is the complete overhaul and re-design of the existing FAFSA by the U.S. Department of Education aimed at making it easier for students and families to complete the application with a more streamlined process and fewer questions.
Important items to note regarding the 2024-2025 FAFSA include:
Fewer questions and a streamlined application process
All FAFSA contributors, including students, student's spouse (if applicable), and parents (if applicable), will need to provide consent on the FAFSA in order for the IRS to share contributor tax information with the U.S. Department of Education.
More data elements from the IRS will be shared directly with the U.S. Department of Education, resulting in fewer questions that students and parents must respond to.
A fundamental change exists on the 2024-2025 FAFSA regarding the reporting of certain assets. On the 2024-2025 FAFSA, contributors will now be asked to report the net worth of their owned businesses or for-profit agricultural operations (farms). Net worth is the value of the business or farm minus and debts owed against them.
When is the FAFSA deadline for incoming fall 2024 students?
Students should first look to any priority dates at schools they are interested in attending. UWL's priority date for FAFSA applications for students entering the upcoming fall is Feb. 1. However, the application does remain open after that and it is still a good idea to apply even if you miss the priority date. It remains open for the entire academic year when a student is attending college and must be completed by the student's last day of attendance within that academic year.
How much financial aid will I qualify for?
This will be determined by the information shared in the FAFSA form and when you submit it. At most institutions, an incoming first year student in college would be eligible for at least $5,500 in federal loans.(If the college costs less than $5,500 to attend, it could be lower).
Why is the FAFSA important?
It is necessary for a university to have FAFSA information to generate a financial aid offer to a student. Keep in mind, if a student is offered a loan and they don't want it, they can always decline it. In other words, a FAFSA does not automatically enroll you in a specific financial aid offer. Also, you never know what opportunities will come up throughout the year that require an institution to use your FAFSA information to determine eligibility for other forms of aid. For instance, during the pandemic, COVID relief funding was offered to students on several occasions, and FAFSA information was used to determine eligibility.
Can FAFSA be used to pay for housing?
After filing your FAFSA, you may become eligible for awards that can be applied to on or off campus housing. Eligibility for any award is determined from your form.
Can FAFSA pay full tuition?
Filling out the FAFSA has allowed some students to earn enough grant aid to pay for their entire tuition. While not common, it is possible. Also, whether full tuition coverage is possible depends on the cost of the school. While it may be possible at UWL, it may not be possible at other more expensive schools.
Can FAFSA be used to pay for graduate school?
This depends on a number of factors, such as the cost of the program and residency of a student. While some programs could be fully covered, others will not. The best way to find out is to fill out the FAFSA. In general, federal aid is limited to $20,500 per year in the federal unsubsidized loan.
Who qualifies for FAFSA?
There are a number of eligibility requirements to receive financial aid. See the full list. Generally, all U.S. citizens, and eligible non-citizens with appropriate visa would be eligible for aid by completing the FAFSA. For males, they also need to register with selective service.
Is parental information required on the FAFSA?
Even if you have determined that your parents are not able to help you financially in college, you need to fill out the FAFSA to determine whether your parental information is required. There are over a dozen questions on the FAFSA that help determine a student's dependency status and that determines if parental information is required.
What if I have more FAFSA questions?
Contact the financial aid office at institutions you are applying to or attending. UWL Financial Aid regularly fields questions from high school juniors and seniors. If you are interested in attending UWL and have financial aid questions, connect using the "request assistance" button the financial aid website.