Posted 3:35 p.m. Wednesday, Sept. 6, 2023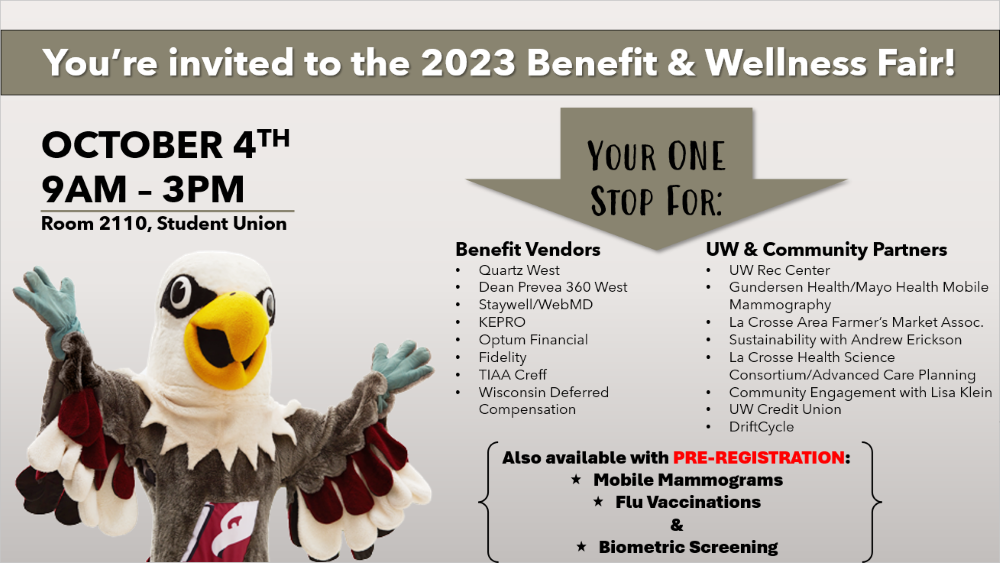 YOU'RE INVITED!
The 2023 Benefit & Wellness Fair is once again taking place and, in addition to those that joined us last year, we have some new faces and offerings this year!
The following will require PRE-REGISTRATION:
Flu Vaccination Clinic
No cash payments or insurance payments accepted.
To register for your flu vaccination appointment, log into the wellness portal at webmdhealth.com/wellwisconsin and click "Register Today" on the Flu Vaccination card.
Biometric Screening
Follow this link to register webmdhealth.com/wellwisconsin and click "Get Started" on the Biometric Screening card.
Please note, there are TWO dates offered for biometric screening and the event that coincides with our Benefit & Wellness Fair is the 10/04/23 date.
Mobile Mammography
This service will be billed to your respective insurance provider (Quartz or Dean Prevea)
Please use the phone numbers below to schedule your mobile mammogram:

GUNDERSEN (608) 775-3666
MAYO **COMING SOON**
If there are any questions, please reach out to hrinfo@uwlax.edu!