Posted 8:13 a.m. Friday, July 22, 2022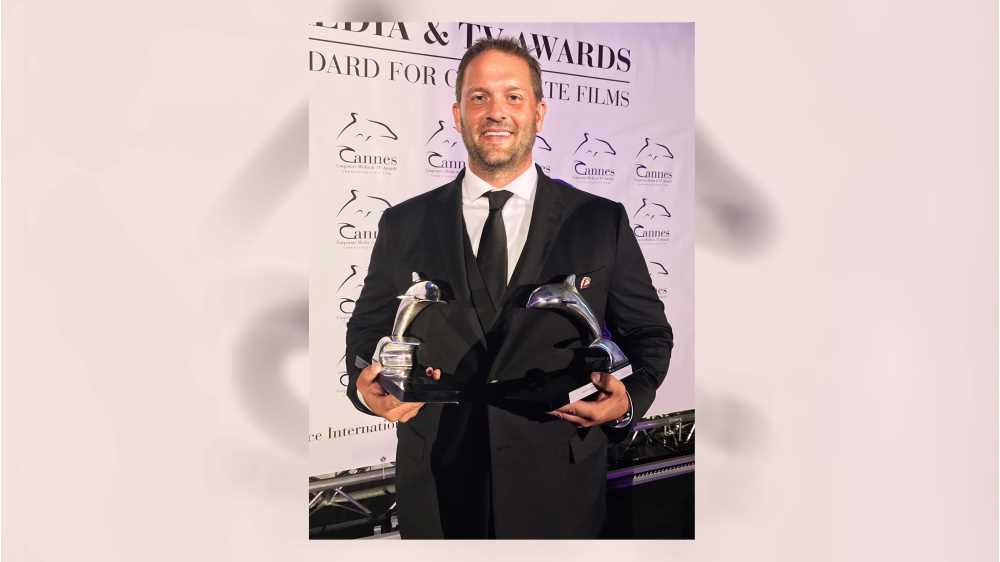 Richter perseveres to grow award-winning digital media studio
Editor's note: This is the fifth and final article introducing recipients of the UWL Alumni Association's Distinguished Alumni Awards. See all 2022 award recipients.
If Jeremy Richter's career were ever captured in a movie, it would include numerous acts, plot twists and credits. Its themes: loyalty, perseverance and ingenuity.
The Zion, Illinois, native grew up in the late '80s next to a movie theater, where he and his brother would catch the latest films. Richter recalls seeing the blockbuster "Back to the Future" in eighth grade and leaving with thoughts of making movies.
He came to UWL with plans to play football and track and field while majoring in journalism. When the program pivoted to communication studies, Richter became a marketing major. After three semesters, he had a decision to make. Richter hadn't applied himself and was at risk of not achieving the minimum required GPA to remain at UWL after four semesters. He shifted and squeaked by.
But following a clerical error, Richter spent three worried weeks getting it rectified so he could return. Reinstated, his life changed. He rarely missed class, did homework and joined several campus organizations.
"This was a very radical departure from my previous behavior, which led not only to a dramatically improved GPA, but also considerable success on the sports fields as well," Richter recalls.
Within a year, he was a starter on the 1992 NCAA III champion football team, as well as a shot put and weight thrower national qualifier. He was part of the '92-'93 indoor and outdoor teams that captured three national titles. His UWL loyalty thrived.
That success set Richter up for even more. He worked for marketing firms and owned an athletic apparel company before becoming completely intrigued by the evolving digital world. He founded his own company, Richter Studios, in 1997.
Since, Richter has persevered through a dot-com bust and other challenges, building the company into a multimillion-dollar enterprise that has championed more than 4,500 productions, including TV commercials, brand films, animations and explainer videos. The studio's work has been on major networks, earning numerous honors and awards, including a regional Emmy and international honors such as the prestigious Cannes Award.
Along with his ingenuity-producing honors, Richter has been a hands-on parent and volunteer coach. Joshua Bostick, founder and president of the Hoffman Estates-based Flippen Flyers Track Club, calls Richter an outstanding leader who is a professional, mentor, teacher and coach.
"He has been a pioneer and visionary to those in the field of digital cinema for over two decades," notes Bostick. "His leadership qualities in his professional career continue to show as the numerous accolades and accomplishments continue to overflow."
The Maurice O. Graff Distinguished Alumni Award
Recognizes outstanding achievement of alumni who have brought honor and distinction to the university. Longtime administrator Maurice O. Graff instituted the honor in 1977.
Jeremy Richter, '94
Pioneer in digital cinema; outstanding professional mentor, coach, colleague and leader.
Founder and chief executive officer of Richter Studios since 1997, Chicago; writer/director of "Discovering Deerpath" (Rated "G" by the MPAA, 2008); director of multimedia at McClier Corp., 1997-2000.
2018 German Design Award; 2016, 2017, 2019 and 2020 Cannes Award Winner; 2019 Deauville Green Award; 2014 Upper Midwest Emmy Award; others.
Bachelor's in marketing, 1994.
Nominate deserving alumni
Nominate deserving UWL alumni for the university's distinguished alumni awards. Simply fill out the nomination form; the Alumni Association will contact nominees.
Nominations are accepted throughout the year. They must be received by Oct. 1 to be considered for the award the following year.
See all past recipients .
Here are the award criteria.