Posted 8 a.m. Monday, Oct. 31, 2022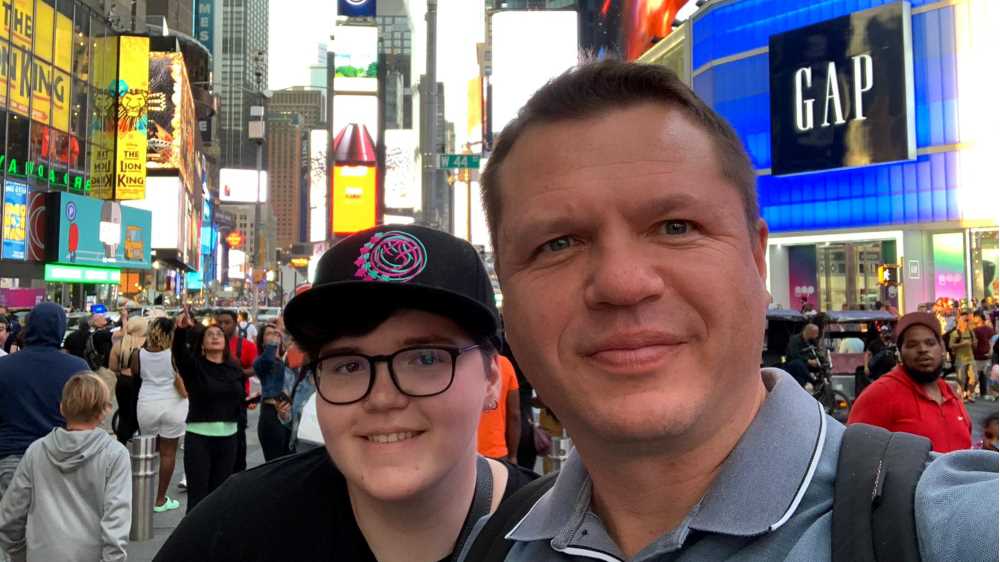 Exchange student traces father's footsteps by attending UWL
William Savinkova is walking — and studying — in his father's footsteps.
Savinkova, an exchange student from the University of Stirling in Scotland, is attending UW-La Crosse this fall as he pursues a degree in psychology.
In 1994-95, Savinkova's father, Dimitri, studied at UWL through a partnership with La Crosse's sister city Dubna, Russia. His positive memories of La Crosse and UWL were a driving factor in his son's decision to come here.
"I have chosen to come to UWL because I was the most familiar with this university thanks to my dad talking about his memories and time here," Savinkova explains. "My dad has been giving me advice and activities to do while I'm here, such as visiting the bluffs or going up to the river."
Savinkova was born and raised in France despite both of his parents hailing from Dubna.
He had originally planned to study abroad in another European country, but after learning about what UWL had to offer — both in terms of academics and family history — his mind was made up.
His first two months on campus have gone smoothly, he says, even if he's still getting used to life in the United States.
"The biggest adjustment here is probably the walking distances and the fact that everyone uses a car," Savinkova says. "If I need to fetch something downtown, I need to prepare for a 40-minute walk because I have no car, and I haven't tried the bus system out yet."
Savinkova says he misses the comforts of life back home — Russian food, language and culture. He misses his friends, too, especially since the time difference makes it hard to communicate.
All in all, he's embracing his time in La Crosse and taking new experiences as they come.
"It's important to keep in mind that the program is only for a limited time," says Savinkova, who returns home in December. "It's an opportunity to try something new while your home university makes sure everything goes smoothly and provides help in any case, so you're not completely alone in the experience."
It also helps that his father has his own experiences with UWL, and has been talking about them for years.
Dimitri, whose primary concentration was satellite communications, attended UWL to learn English in a university setting. His time in La Crosse provided him with a better understanding of the outside world and sparked his lasting love for the Coulee Region, his son says.
"He enjoyed the American lifestyle a lot, as well as life in college, to the point that he still talks about how good it was to this very day," Savinkova notes. "He feels like it is such a good coincidence that UWL was on my exchange list, and he hopes that I get to discover the exact same life that he did. It feels like a life accomplishment to him that I get to attend this university as well, retracing his steps."
After completing his undergraduate studies, Savinkova plans to earn a master's degree in clinical psychology or land an internship as a psychology assistant. His ultimate goal is to get his PhD in the United Kingdom and become a chartered psychologist.
Spending a semester at UWL allows him to pursue his passion while immersing himself in a new country and culture. It's an experience he'd recommend to others.
"The advice that I would give to anyone considering the study abroad program is simply go for it," he says. "The world is very diverse, and that could be a good opportunity to travel and to experience life within a different country."
Learn more about International Education & Engagement at UWL.