Posted 6 a.m. Sunday, May 23, 2021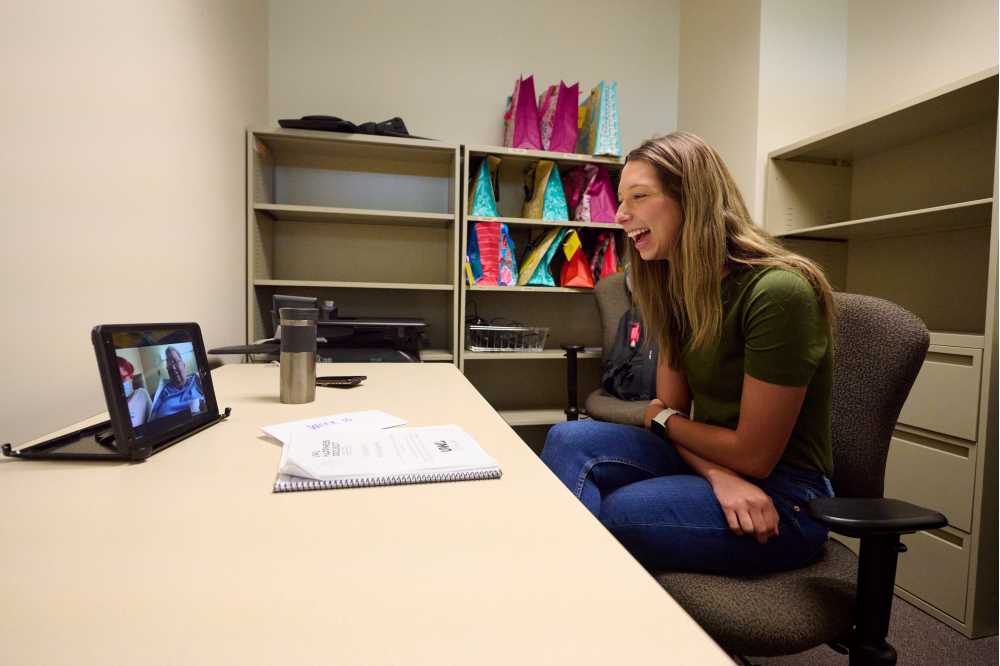 UWL students, Westby nursing home residents benefit from telehealth
The pandemic has closed doors and dampened spirits. But for one UW-La Crosse class and an area nursing home, it opened the door and raised spirits.

After COVID-19 hit last spring, Assistant Professor of Recreation Management & Therapeutic Recreation Jenn Taylor worked with graduate student Alyssa Doughty to create a telehealth project. The project would help therapeutic recreation students reach out to older adults living in nursing homes and assisted living units — something they could no longer do because of COVID.

Doughty created the "Happiness Project," which helped students telecommunicate with the older residents, as well as help those residents feel comfortable to reach out to their family members virtually. This spring, students in Taylor's class put the plan into action.

"Our goal was to create a reciprocal relationship that would benefit both the older adult resident through weekly interactions, as well as students looking to gain field experience in telehealth," explains Taylor. "Simply stated, the project has worked."

The class collaborated with Norseland Nursing Home, a small facility in Westby. The telehealth experience provided a unique opportunity for UWL students to engage with a different population in a rural health setting. And the residents got to interact with young adults.

"Students typically don't receive this type of field experience due to geographic barriers and proximity to UWL," Taylor notes. "We have received very positive feedback from the older adult residents who rarely interact with college students and have been unable to have in-person visitors for almost a year because of COVID-19 physical distancing limitations."

As part of their class assignment, students completed reflections on their telehealth experiences each week. Feedback was positive, even though many of the telehealth sessions were challenging and new for both residents and students. But UWL student Elizabeth Folz says the opportunity allows students a real-time opportunity to work through issues, solve problems and work on their facilitation skills.

"It is a space where there is no judging or grading based on performance," Folz explains. "A student is allowed to try out different techniques and adapt on the fly as they will have to do in the future as both an intern and a recreational therapist."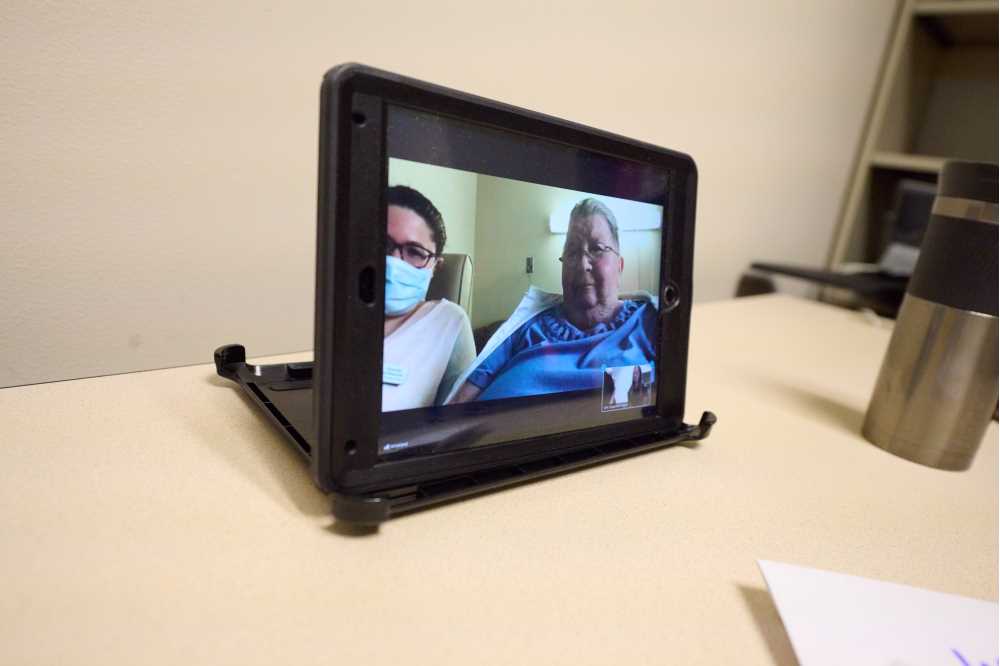 Norseland residents gave the project a thumbs up too. One resident, Edith Peterson, says she went in with an open mind and was ready to learn something new.
"The experience through these visits has gone way too fast, and I can't believe it's already been 10 weeks," she says. "I enjoyed meeting new students and seeing how they have progressed through these visits. I also got along really well with my student coach and really enjoyed her company!"
The telehealth project was supported through a grant from the UWL College of Science and Health, along with additional funding from the Recreation Management and Therapeutic Recreation Department. Taylor says since results have been good for students and residents, she plans to modify the project and use it again next spring.
"We also hope to add an in-person Happiness Project option next time to provide additional learning opportunities for our therapeutic recreation students pursuing careers in gerontology," she says.

Students are happy that despite COVID limitations with face-to-face fieldwork, they were able to walk away with practices they know they will need in the new health environment once the pandemic subsides.
"I feel that this has been a great project that has really helped me gain experience with working with an older adult, as well as with telehealth resources," says Mallory Hanson, a therapeutic recreation major. "I think that it has been successful for the most part and will continue to become more and more successful, as well as more beneficial for both parties."
Andrea Richmond, another therapeutic recreation major, says the interaction helped her grow not only professionally, but personally, too.
"I developed an appreciation of all the things I have to be thankful for in my own life due to interacting with a resident," says Richmond. "I was inspired by his optimism."
Interested in increasing your own happiness?
Check out "The Happiness Project" by Gretchen Rubin. UWL's Happiness Project was inspired by this best-selling book.