Posted 11:01 a.m. Wednesday, July 20, 2022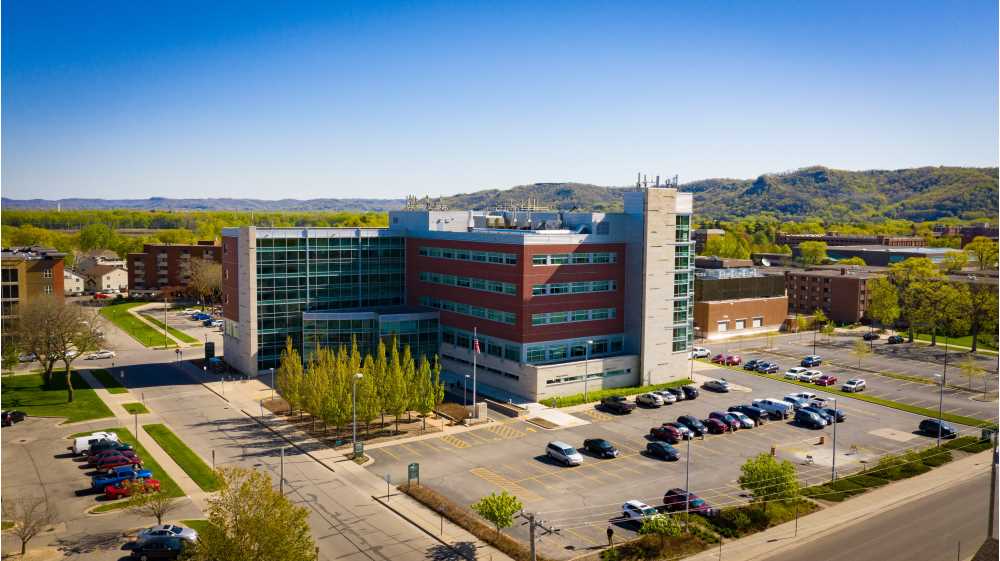 Agreement with Mayo Clinic brings world-class health care to campus
Starting this fall, the Student Health Center at UW-La Crosse will look a little different, as a new agreement between Mayo Clinic Health System and UWL will bring Mayo Clinic care directly to students.
The agreement, signed Wednesday, July 20, at the Health Science Center at UWL, enhances student health services with on-campus access to Mayo Clinic services and expertise.
"Convenience and access to high-quality health care services are essential for students to optimize their well-being and helps them return to their daily activities as soon as possible after seeking care," says Paul Mueller, M.D., regional vice president for Mayo Clinic Health System – Southwest Wisconsin region. "Mayo Clinic Health System will provide on-campus primary care services and seamless referrals to specialists if care is required outside the scope of the Student Health Center."
Mayo Clinic has provided health services to UWL on an interim basis since November 2021. Under the agreement, familiar Mayo Clinic and UWL staff members will continue to provide care at the Student Health Center.
"This partnership between UWL and Mayo Clinic ensures that our students will continue to receive accessible, high-quality health care right here on campus," says Joe Gow, chancellor of UWL. "We are fortunate to have such an incredible health care provider in our community, and we are thrilled that our students will have increased access to Mayo's outstanding staff, services and technology."
Mueller adds that this agreement brings peace of mind to parents whose students may be navigating their own health care for the first time.
"When your student is at university and needs care, it is comforting to know they're receiving care from one of the top health care organizations in the world," he notes.
Mayo Clinic and UWL expect the agreement to strengthen their collaborative relationship as they remain invested in the Coulee Region. Both organizations are committed to addressing educational and patient needs within the community.
"At UWL, we take great pride in not only our students' academic accomplishments, but in their health and physical well-being too," Gow says. "That's why our university motto translates to 'mind and body.' Mayo Clinic shares this vision of holistic care, and we look forward to working with them to advance our goals on campus and in the community."
"Outside of direct patient care, Mayo Clinic Health System and UWL have collaborated on many levels for several years," Mueller adds. "This collaboration includes joint community events and forums, educational opportunities, a research agreement and sports medicine and athletic training services. On top of that, many Mayo Clinic staff and leaders are graduates of the university and continue to serve, volunteer and support the university."
Under the agreement, the Student Health Center will continue to provide health services to Western Technical College students.
Mayo Clinic shares a similar agreement with Viterbo University, providing health services and medical directorship to Viterbo University students.