Posted 2:16 p.m. Monday, Nov. 30, 2020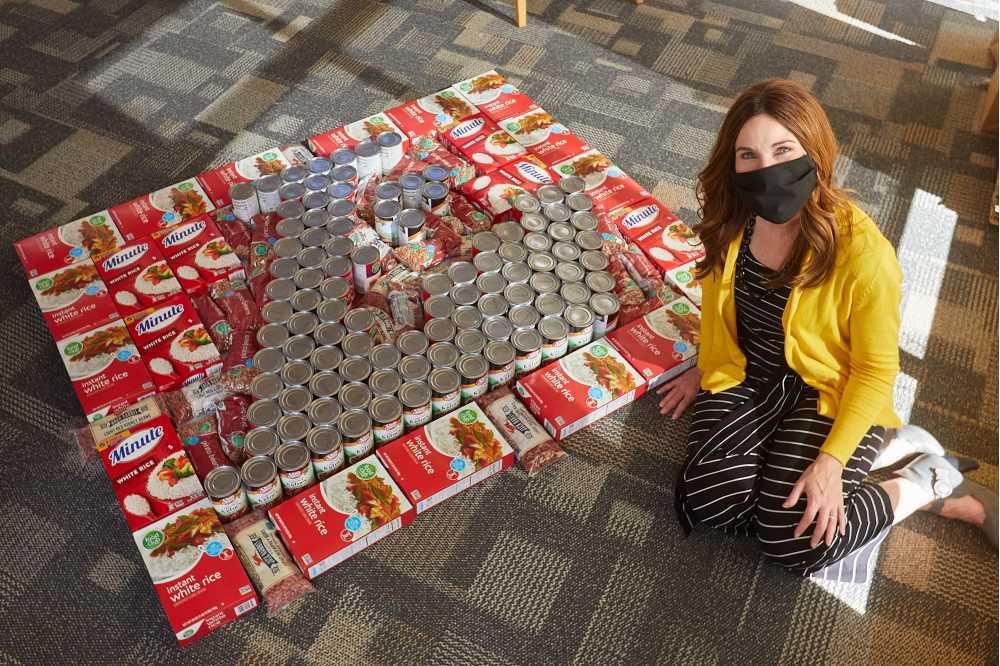 UWL Canstruction® project to support local food pantries
Forget sandcastles and ice sculptures. In La Crosse this fall, nonperishable food structures are all the rage.
UW-La Crosse Community Engagement is among the local organizations taking part in the Artspire "Canstruction®-Lite" competition hosted by the Pump House Regional Arts Center. The contest challenges teams to build structures out of canned and boxed food items and then donate them to local food pantries.
Lisa Klein, UWL's community engagement coordinator, recently used about 175 pounds of beans, tomatoes and rice to recreate the university's signature "L." The food will be donated to the Campus Food Pantry and the Hunger Task Force of La Crosse — the latter of which serves 80 meal sites across the Coulee Region.
"People know from watching the news and paying attention in the community that many people are in need, and food is one of those needs," Klein explains. "So when they reached out and asked if we would help collect food for our neighbors, we wanted to step up and be a part of that."
The original in-person Canstruction® event, scheduled for June, was cancelled due to COVID-19. It was revived and scaled back this fall, with teams building structures and submitting their entries individually.
Klein worked with Edward Scholl, a UWL facilities planner, who helped design the blueprints for the "L."
She found food items — purchased by Community Engagement and the UWL Foundation — that matched UWL's maroon and gray.
And with Scholl's help, she assembled the "L" box by box and can by can in the Cleary Alumni & Friends Center.
"This was a much simpler design than our original plan, but it came together really well," she says. "The top of the tomato and bean cans was the gray, and the rice boxes and bean bags was the red and maroon. It was a really neat fit."
The structures will be evaluated by a panel of judges, with awards across five categories: Best Meal, Structural Ingenuity, Best Original Design, Most Cans and Best Use of Labels.
Klein is holding out hope for the Best Meal award, noting that the items can be used to create the meal red beans and rice. Beans, rice and pasta sauce are also among the Hunger Task Force's most needed items year-round.
The Canstruction® event is open to all organizations and community members through Nov. 15.