Posted 12:18 p.m. Tuesday, Dec. 29, 2020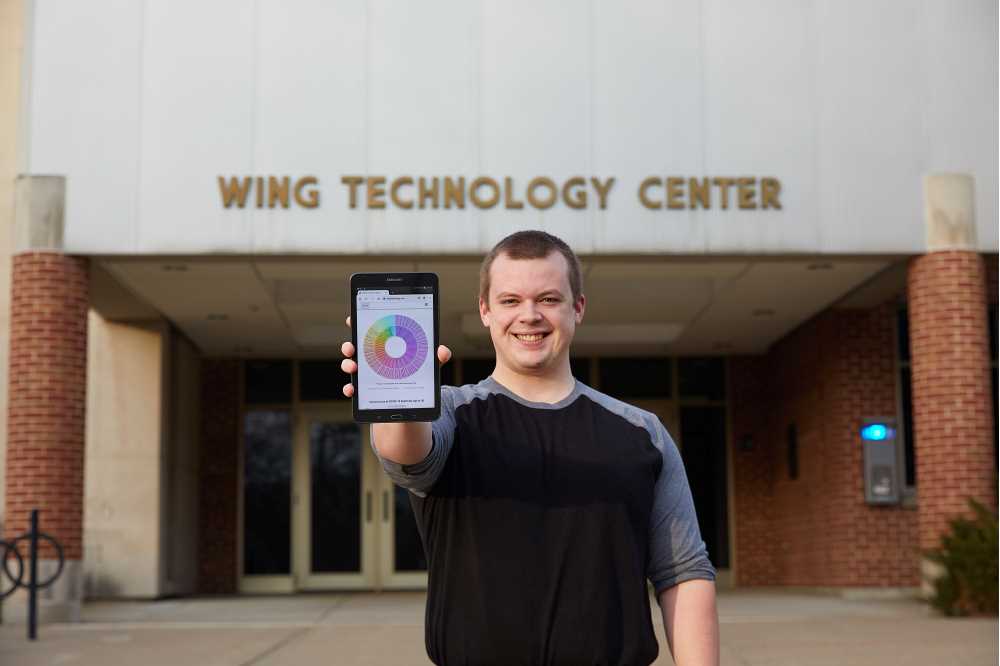 Student's app helps capture pandemic's impact
Four years ago, Jacob McAllister didn't know the difference between the "cut" and "copy" commands on a computer.
Now, the UW-La Crosse junior is working toward degrees in computer science and software engineering, and he has created an app that provides unique and informative illustrations of COVID-19 data nationwide.
"This has become quite an exciting and meaningful project to work on because the information it makes accessible is so relevant," says McAllister, who is in UWL's Computer Science and Master of Software Engineering Dual Degree Program. "It's surreal to be able to contribute in a positive way to a situation like this using skills that I've been building over the last four years. I hope that the application can be used by more people and that utility is continued to be found in it."
McAllister got the idea for the app over the summer when he found the same two problems on most websites that compiled COVID data. They were either too complex and difficult to navigate, or they included data that was too vague or potentially unreliable.
So, McAllister devised a better way.
He pulled datasets on various factors — age, location, comorbidities and more — from the Centers for Disease Control and Prevention, and then set out to present the information in an appealing and digestible way.
Ultimately, he used interactive sunburst graphs to display comorbidity data and standard bar graphs to display historical data on causes of death in a particular state.
The app is not yet a finished product — McAllister hopes to incorporate additional datasets and visualizations in the future. But the deployment of the app, he says, still felt like a significant milestone.
"This may sound cheesy, but I learned a lot about myself and what it takes to accomplish things like this," he explains. "There were a number of times where I felt overwhelmed with everything that I have up in the air right now, and times when I didn't feel like things were going to work out with this application. I persevered through that and was able to overcome every obstacle that came my way with this — and I built this completely on my own."
This type of work did not come naturally. McAllister is a nontraditional college student who did construction work during his first couple years after high school. He knew practically nothing about computers until he started taking classes at Western Technical College in 2016.
"Back then, if you'd have told me that I would have ended up going into a degree and career in computer science, I would have absolutely not have believed you. I was completely and totally computer illiterate," he says. "What suddenly turned my attention toward computers … was a quote I read by Steve Jobs one day when I was at the library: 'A computer is a bicycle for the mind.' I had never thought about computers in that way — that they are a tool for the mind. From then on, I was hooked."
McAllister also appreciates how many different career options exist within the computer science field. He hasn't decided what he wants to do after graduation, but the skills he's gained in the dual degree program will serve him well in a variety of careers.
"There are so many different directions that I could go with a degree in computer science and software engineering," he says. "This is one of the major reasons that the field appeals to me so much."
About the program
UW-La Crosse students can receive a bachelor's in computer science and a master's in software engineering in as little as five years.
Students can be accepted into the dual degree program anytime before they have completed 75 undergraduate credits hours. Applicants for undergraduate admission may also request admission to the program.
To remain in the program, students must maintain a 3.00 GPA.