Posted 8:46 a.m. Friday, Nov. 4, 2022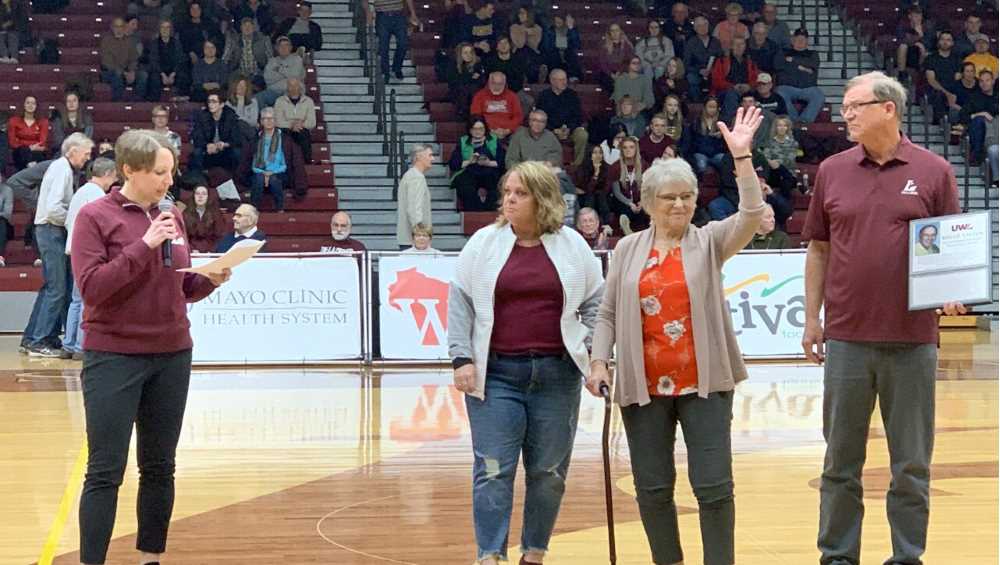 Endowment scoring for men's basketball program
An endowment established in 2019 honoring a long-time UW-La Crosse men's basketball coach is already scoring points for the program. An additional full-court pressure will add even more benefits.
Alumni from the UWL men's basketball team encourage others to join them Saturday, Dec. 10, to support the program and honor the legacy of Rollo Taylor: educator, mentor, coach and friend.
Taylor passed away in 2013 but continues to have a profound impact on campus and in the community. Taylor, a '56 UWL graduate turned faculty member, was the freshman men's basketball coach from 1965-92. Every year, Rollo and his wife, Kay (Bertelsen) Taylor, '57 & '68, would host the team for a spaghetti dinner for an end-of-season party.
This is the model for the legacy celebration Dec. 10 — former players, assistant coaches, students, UWL colleagues and community friends will come together to remember and honor the legacy of Coach Taylor.
Many are helping his legacy live on by supporting the Rollo Taylor Endowment for Men's Basketball, which is already providing funding for coaching excellence, recruiting efforts and team travel. The Rollo Taylor annual Outstanding Freshman Basketball Award also recognizes a freshman student-athlete showing leadership, scholarship, character and basketball ability.
The campaign for the endowment kicked off in fall 2019 with a $10,000 lead gift from Kay Taylor. With gifts from the Taylor family, along with those from former players, students and friends, the endowment has grown to more than $55,000. The goal is to continue to grow the endowment to provide additional support to the program so important to Coach Taylor and others.
Rollo and Kay's son, Todd Taylor, '80, says the family is grateful for the support so far, and hopes the endowment grows.
"Everyone thoroughly loved the first event," says Todd. "It's a great way to get re-connected with UWL basketball. We'd love to see you come."
The second Taylor event follows the 3 p.m. Saturday, Dec. 10, men's basketball game against Trine University in Mitchell Hall. A social begins at 5 p.m. in the Cleary Alumni & Friends Center, followed by the Spaghetti Dinner. Dinner is $25 and includes salad, spaghetti, garlic bread, and dessert. Purchase tickets to the event.
Donate to the endowment
To donate, visit the UWL Foundation website. Under Area you wish to support, select Athletics. Under Designation, select Men's Basketball (Rollo Taylor Endowment).
To also make a donation to the men's basketball annual fund, select Men's Basketball under Designation.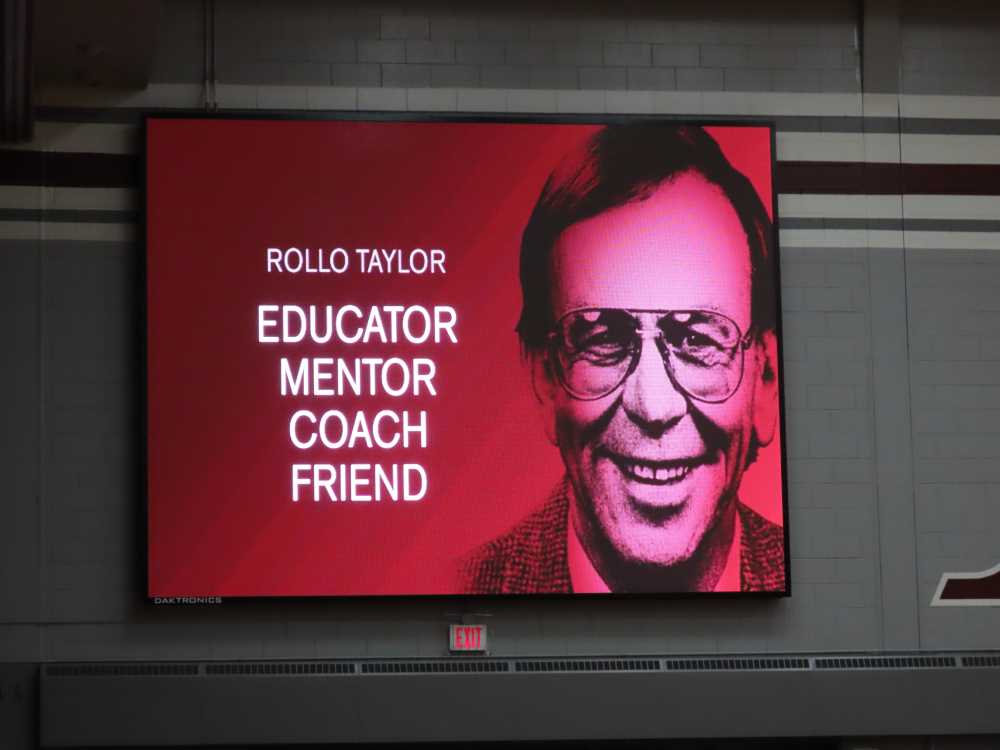 Rollo Taylor at UWL
1956 graduate, returned in 1965 to teach and coach for 27 years.
Achieved a 212-66 coaching record, including a 7-1 record as interim varsity head coach.
Mentored countless students, helped many find their first teaching and coaching jobs.
UWL Wall of Fame, Wisconsin Basketball Coaches Hall of Fame.
Community recognition included the Boys & Girls Club Wall of Fame, 1999 Oktoberfest Festmaster.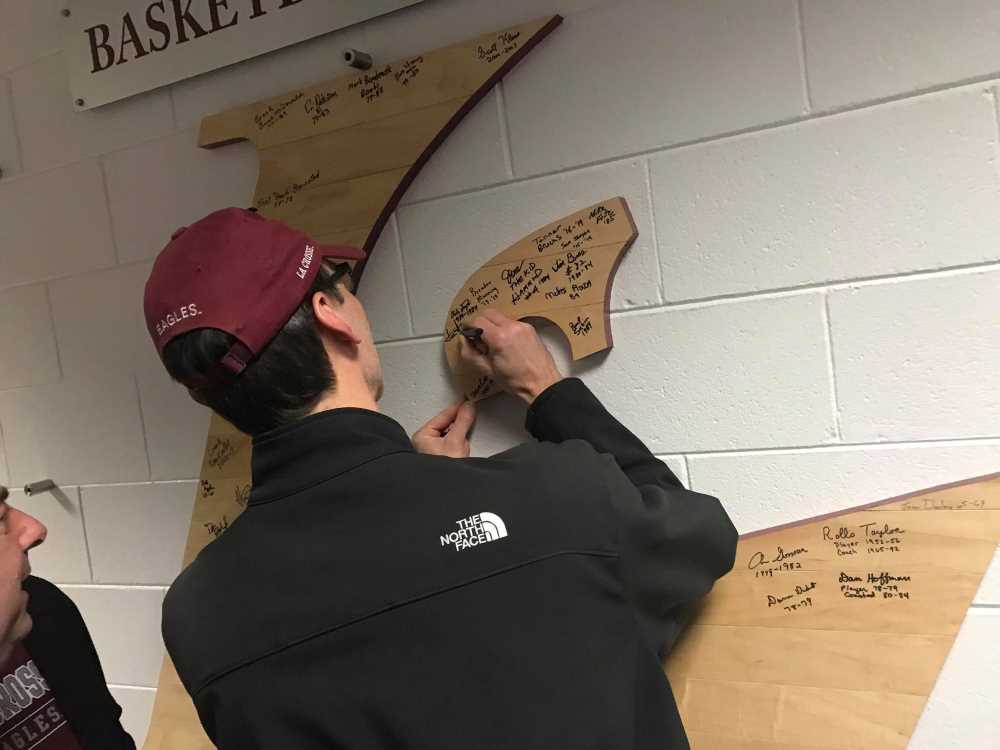 The 'Wooden L'
Former men's basketball players and coaches — and relatives of those who have died — can stop by Coach Kent Dernbach's office in Mitchell Hall to sign the "Wooden L." Dernbach set up the recognition in 2019. So far, nearly 100 former players and coaches have etched their names on the emblem.