Posted 8 a.m. Wednesday, Aug. 12, 2020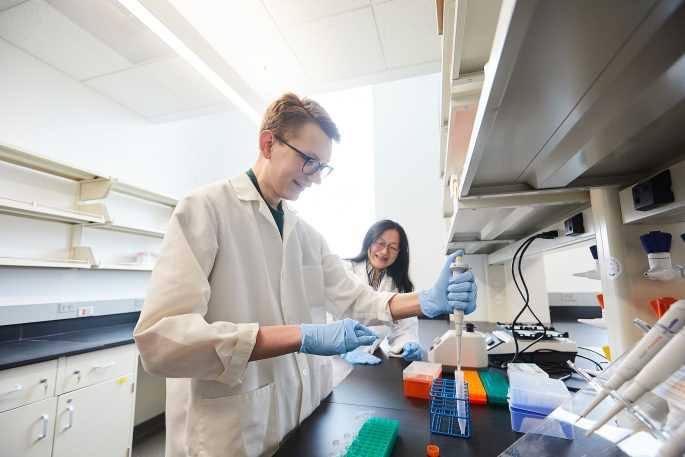 Leaving a Legacy: Gift supports student dreams, recruitment of top students
UWL student Matthew Wright wants to be a pathologist, studying diseases like the one that has upended our world. But his career goal came long before COVID-19.
When he was a child, Wright was diagnosed with syndactyly, a condition that has made his right hand less functional than his left. Wright learned to adapt and never let the condition hold him back. Instead, he emerged as a stand-out student.
Coming on campus in fall 2019, Wright was among 26 students offered a spot in UWL's Eagle Apprentice program. It provides freshmen scholars an opportunity to work side-by-side with UWL faculty on special projects or collaborative research with a $1,000 stipend. Students can continue the program their second year, bringing Eagle Apprentices to more than 50 annually.
Wright was paired with Biology Professor Sumei Liu, who researches effects of stress on gut functions. Wright is studying a barrier in the gut's inner lining that serves as a first-line of defense. If impaired, pathogens or allergens can get into the body and potentially cause diseases. The research lines up perfectly with Wright's interests, and the experience helps him get one step closer to his career goal in pathology.
"I love to learn and discover new things, and I want to give back after everything my doctors have done for me," notes Wright.
Normally, the Eagle Apprentice program includes 25 incoming students. In fall 2019 it offered one more to Wright. The additional student was possible because of UWL alums, Jerrilyn and Bruce Brewer, who provided additional funds. They say the Eagle Apprentice program fit with their goals of leaving a legacy in education.
The two spent their careers in education. Jerrilyn was a teacher and administrator in higher education. Bruce was a science teacher, activities director and coach at the secondary level. Supporting education is a core value for them and they hope their gift inspires others.
"It is a big decision to commit money — it really is," says Jerrilyn. "You have to think about it and find something that really hits your heart. This hits our heart and it makes us feel good about the future."
The two felt that feeling when they met Wright in his lab this spring. Walking out of the lab and back to their car, they knew they made the right decision.
"He was just a great person and so appreciative," recalls Bruce. "We both left feeling very touched."
Donor support makes research experience possible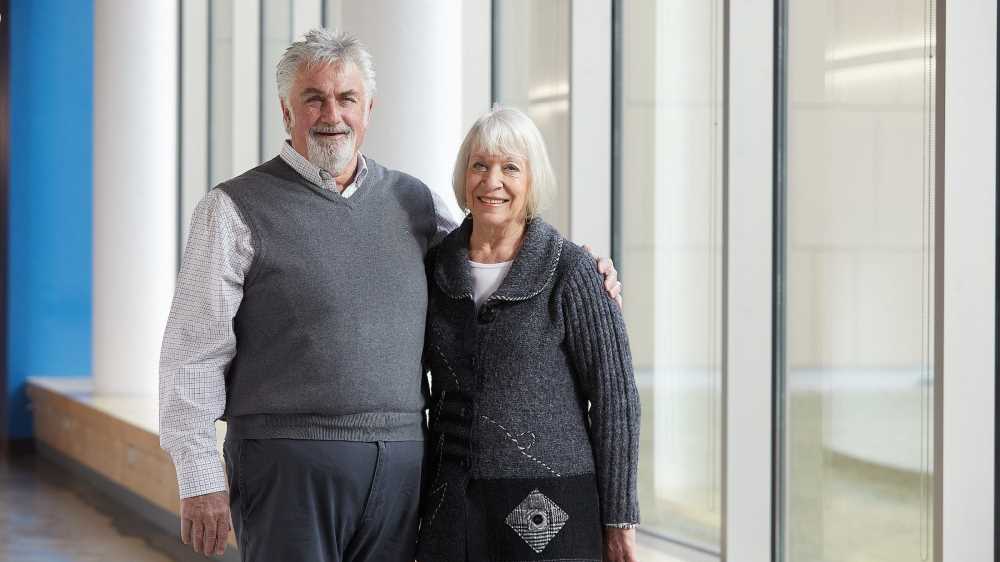 Wright says he wouldn't have the research experience without the Brewers. Being selected an Eagle Apprentice was the main reason he chose UWL.
"I was given an opportunity that I could never have anywhere else," Wright explains. "It really made me feel like the campus cares, and they want everyone here to be someone special."
"Eagle Apprenticeships are part of our successful student recruitment strategy and provide deserving students an experience not available elsewhere."
— UWL Director of Admissions Corey Sjoquist
Support the program To support the Eagle Apprentice Program, contact the UWL Foundation at 877.895.3863 or foundation@uwlax.edu