Posted 8 a.m. Monday, Oct. 30, 2023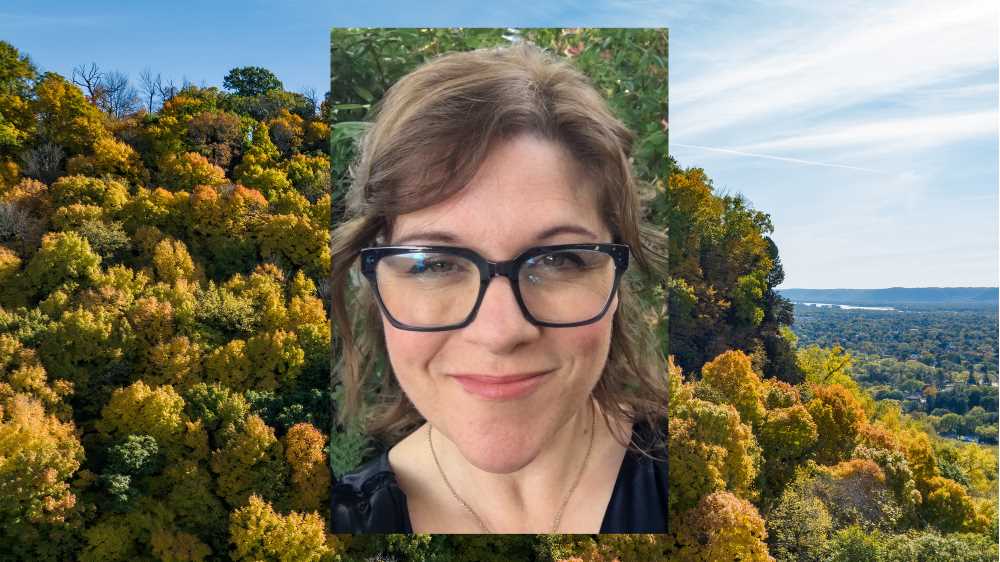 Bridget Hamlet, '01, named top school librarian in the United Kingdom
If a great library is the heart of a school, then what does that make a great librarian?
In the case of Bridget Hamlet, '01, it makes her the United Kingdom's Secondary School Librarian of the Year.
Hamlet was selected from a short list of England's top school librarians — an honor administered by the School Library Association and that Hamlet called "undoubtedly my career highlight."
"To be recognized by immediate colleagues in my school, as well as so many other librarians throughout the country, fills me with pride," says Hamlet, librarian and learning resources development manager at Rushey Mead Academy in Leicester, England. "My name being announced at the award event was surreal, and I could not contain my excitement. I think everyone who knows me is very aware that I absolutely love my job, and I show it!"
Hamlet's school serves about 1,800 students, ages 11 to 16, from an area of deprivation in the center of Leicester.
She runs a complex rotation of library lessons through English departmental time, which allows her to see every student in the school at least once every seven weeks.
Hamlet promotes reading for pleasure while working to ensure equitable access to books.
In addition to the library lessons, students can visit the library independently before school, after school and during breaks in their day. The library is so popular, Hamlet says, that it's not unusual to have a line of students at the door, waiting for space to open up.
"I enjoy expressing my enthusiasm for reading and matching books to readers," Hamlet says. "It's very rewarding when a student or colleague tells me they loved the book I recommended, and it helps me build meaningful relationships with everyone in my school. I also enjoy planning reading challenges and events, especially when I get to meet my favorite authors!"
Hamlet has used various activities and challenges to establish a strong reading culture among students and staff, and frequently supports teachers with their knowledge of books and literature.
She has also assisted in setting up libraries at other schools in the Mead Educational Trust.
"It means a lot that Bridget's phenomenal expertise has been recognized beyond our school," says Vicky Barwell, principal of Rushey Mead Academy. "She is thoroughly deserving of this prestigious accolade. We are all incredibly proud of her and grateful for the hard work and love she has committed to cementing our school library as the heart and soul of the school."
Hamlet, originally from Monticello, Minnesota, moved to England in 2002 after attending a friend's wedding there, where she also happened to meet her future husband.
Since then, she has worked as an English teacher, school librarian and advisory school librarian.
Hamlet followed in her brother's footsteps by attending UWL, where she majored in secondary education and English, with an educational media license minor.
UWL, she says, was an important step in her journey personally and professionally.
"My professors gave me the educational knowledge and foundation skills I needed to be a successful teacher and school librarian; they were teachers and role models," Hamlet says. "And I would never have moved to England if it weren't for the friendships I made at UWL. It is directly because of my friends and roommates that I met my husband and now have two gorgeous teenage boys, and a dream job that I look forward to every day."