Posted 2:36 p.m. Thursday, Dec. 10, 2020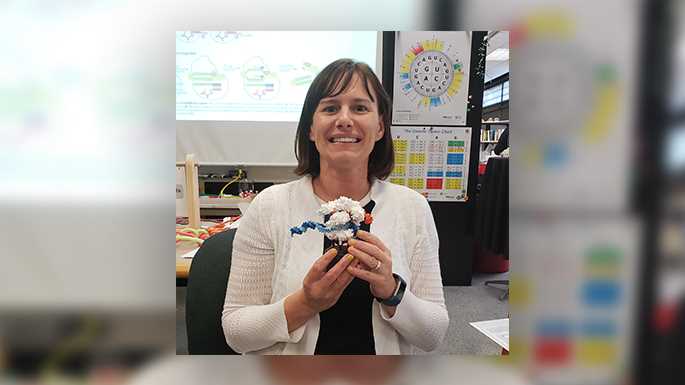 Alum named Wisconsin's Outstanding Biology Teacher of the Year
Michelle Griffin-Wenzel loves teaching because no two days are the same.
"Teaching is not mundane — there are always problems to solve and obstacles to hurdle," says Griffin-Wenzel, '06, a biology teacher at Germantown High School in southeast Wisconsin. "Not to mention unexpected fire drills, the internet crashing and inclement weather that throws you off your schedule. You just go with the flow and make the most of it."
There is no challenge Griffin-Wenzel, recently named Wisconsin's Outstanding Biology Teacher of the Year, is unable to meet.
She pays special attention to the unique needs of each student, looking to connect the classroom material to the world around them.
"I love experiencing those 'Aha!' moments where everything just clicks," she explains, recalling a recent assignment in which students looked at onion epidermal and Vallisneria cells under a microscope.
"One of my students asked why they could see chloroplasts in the green Vallisneria cells but not in the onion cells," she says. "I asked her to think about where the bulb of the onion grows, to which she replied, 'Underground.' Then the 'Aha!' moment came, when she said the onion isn't able to get sunlight underground and can't carry out photosynthesis, so the cells won't have chloroplasts."
Breakthroughs like this are some of the most rewarding aspects of teaching, she says. They're what drew her to the profession in the first place.
Teaching runs in her family — her mother taught Head Start for three decades, her father coached youth sports and her grandmother taught in a one-room schoolhouse. She was also molded by several great teachers who made school fun and informative, especially the sciences.
"The science teachers I had in high school were inspirational," she says. "They made science come alive in their classroom. Needless to say, I was surrounded by outstanding educators who made the profession seem exciting, fulfilling and magical."
Over the past 22 years, Griffin-Wenzel has had a remarkable career in her own right.
She has presented more than 15 times at state and national science and engineering conferences, speaking on topics such as National Board Certification, phytoremediation and modeling difficult concepts in a high school biology classroom.
She was part of a team of 24 educators nationwide who developed and tested innovative instructional materials for high school and college-level biology classes.
And she has touched countless lives in her day-to-day teaching, following in the footsteps of her mother and grandmother.
After working several years, Griffin-Wenzel decided to further her education. She considered a number of master's programs but struggled to find one that was affordable and compatible with her teaching style.
A few of her colleagues at Germantown suggested UWL's Master in Education and Professional Development program. The rest is history.
"They told me how the program fit so well into their schedule and how applicable the content was to their teaching," she notes. "It was the best fit for my family, as it was one weekend a month and had a very strong support network."
And while Griffin-Wenzel didn't become a teacher for the awards or accolades, she says being named Wisconsin's Outstanding Biology Teacher of the Year was deeply gratifying.
"It was a complete honor to be nominated for the award, let alone win it," she says. "I have collaborated with several winners from Wisconsin and other states via professional development opportunities and workshops. I have the utmost respect for the past winners, and I am humbled to be part of this distinguished group."