Posted 3:40 p.m. Friday, Sept. 24, 2021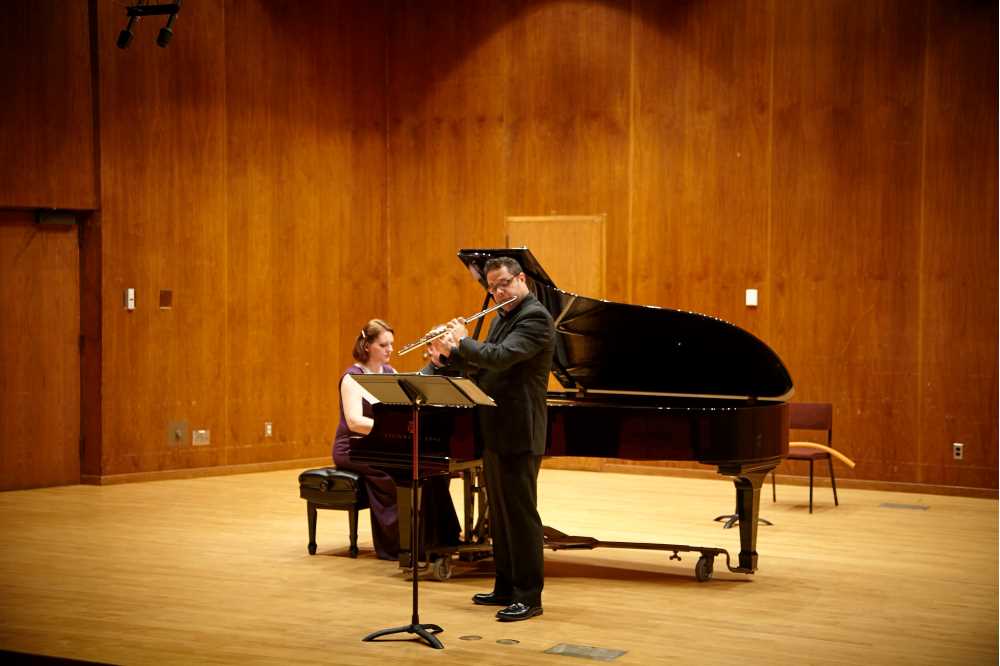 Events, free and open to the public, run through Oct. 15
Celebrate this year's Hispanic Heritage Month, Sept. 15 – Oct. 15, with events at UW-La Crosse and Viterbo University. Events include recitals, lectures, a film screening and more. All events are free and open to the public.
Hispanic Heritage Month Recital: "Music from Mexico"
Join Associate Professor of Music Jonathan Borja and guest pianist Lindsay Garritson in a recital of flute music from Mexico: re-inventing a style. Music by Moncayo, Márquez, Rodríguez, Gamboa, and a world premiere by Juanra Urrusti.
When: 4 p.m. Sunday, Sept. 19
Where: UWL Annett Recital Hall

"Not Even a Grain of Rice: Buying Food on Credit in the Dominican Republic."
Christine Hippert, UWL professor of anthropology, discusses her new book, which examines buying food on credit in corner stores in the Dominican Republic. Hippert's talk will highlight people's experiences with food, debt, and survival to reveal the emerging social changes of race, gender, class, and citizenship.
When: 6:30 p.m. Wednesday, Sept. 29
Where: 1404 Centennial Hall, UWL

"Amatzinac: Moncayo's Elusive Jewel."
UWL Associate Professor of Music Jonathan Borja discovers how a composition by one of Mexico's most performed composers seemingly disappeared for close to 50 years.
When: 2:15 p.m. Friday, Oct. 1
Where: UWL Annett Recital Hall
Film Presentation and Discussion: "Mucho Mucho Amor: The Legend of Walter Mercado"
A documentary film by filmmakers Cristina Costantini and Kareem Tabsch honoring the extraordinary life of famous Puerto Rican astrologer, fashion icon, and a champion for LGBTQ rights Walter Mercado. The film explores his complicated character, glamour, and his expansive legacy over his 50 years in public life. Film Discussion by UWL Professor of History Víctor Macías-González.

When: 5:30 p.m. Wednesday, Oct. 6
Where: UWL Student Union Theater
Panel discussion on Latinx in Higher Education.
The panel will feature Celeste Rosas, instructional coach at Hiatt Middle School in Des Moines, Iowa; UWL Vice Chancellor for Student Affairs Vitaliano Figueroa; Michael Gonzalez, director, partnership development and site coordinator at Viterbo University (Iowa Center); and Jose Jefferson, coordinator, athletics and student engagement at Viterbo.
When: 7 p.m. Thursday, Oct. 7
Where: Zoom. Email lasp@viterbo.edu for a link.

"Las Magníficas:" Three Legendary Latinas and the Transformative Power of Music.
A Chamber Music Theater Program by the Core Ensemble
When: 7 p.m. Wednesday, Oct. 13
Where: FSPA Lobby of the Fine Arts Center, Viterbo University
Latin American Student Association (LASO) Mentoring Social Join the Latin American Student Association (LASO) for an evening of networking.
Come meet and interact with faculty researching and teaching topics related to Spanish Language, Latin American and U.S. Latino cultures, and more. Learn about internship opportunities, outreach resources in the La Crosse area, study abroad programs and undergraduate research grants. Connect with LASO members and join their year activities celebrating and advocating for Hispanic and Latino cultures at UWL. Refreshments served.
When: 5:30 p.m. Thursday, Oct. 14
Where: 1404 Centennial Hall, UWL

Hispanic Heritage Month at UWL 2021 is organized by the Institute for Latin American and Latino Studies (ILLAS), and the Department of Global Cultures and Languages. Events are made possible with the support from the Office of the Dean of the College of Arts, Social Sciences and Humanities.
For more information, or special accommodations, please contact Omar Granados, associate professor of global cultures and languages, at ogranados@uwlax.edu