Posted 8 a.m. Wednesday, May 31, 2023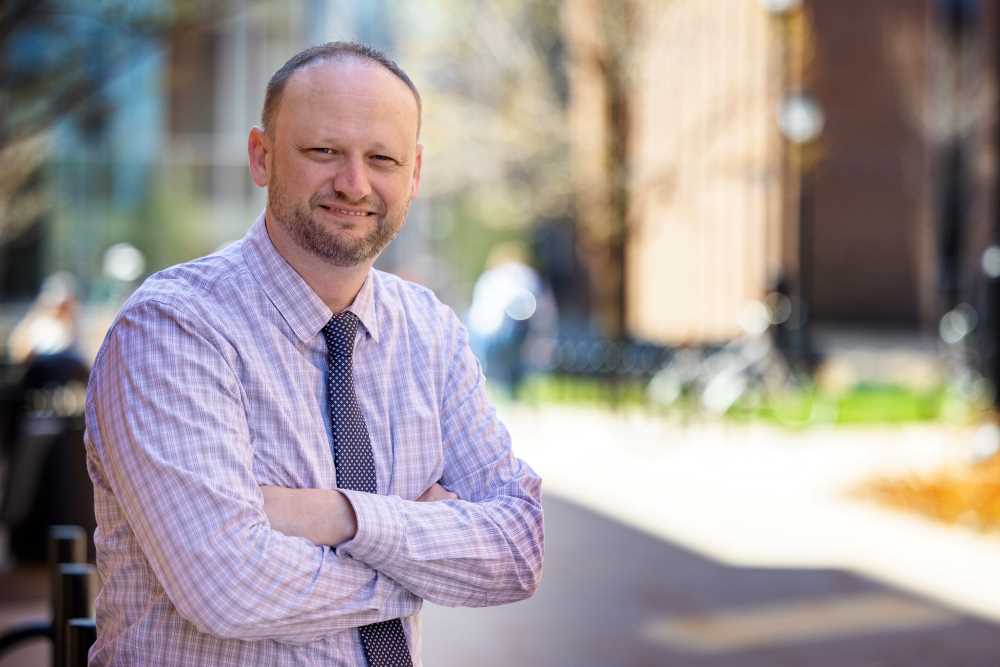 Tim Dale honored as advocate for higher education
Supporting students inside and outside the classroom.
That's what Tim Dale does as both a professor of political science and the general education program coordinator at UW-La Crosse.
And it's why the UWL Student Association selected him to receive its 2022-23 Higher Education Advocate Award.
"I don't think there is an award that is as meaningful to me as being recognized by students," says Dale, who has taught at UWL since 2012. "There are so many people that do so much on our campus and in the state to advance higher education. It is humbling to be chosen for this award, and inspiring that our students appreciate the work we do."
Dale came to UWL after teaching at two other universities. He quickly realized it was a good fit, in large part, because of the people.
"I enjoy UWL for the energy that the students and faculty bring to their work," he says. "There is a commitment to student learning, a spirit of innovation and a shared responsibility for student success that gives me energy."
That energy can be seen in Dale's passion for teaching political science and developing students into active, engaged citizens. His specialties include democratic theory, civil society, popular culture and politics, and the scholarship of teaching and learning.
"Democracy is not simply a fact of our society, but it is a process that needs constant attention and work," Dale notes. "I enjoy helping students recognize that they have the power and the responsibility to be involved in the world."
As the general education program coordinator, Dale has also been engaged in efforts to revise programming with an eye for enhancing student learning and experiences. Dale discussed some of the planned changes during a spring Student Association meeting.
Dale joins a list of distinguished individuals who have received the Higher Education Advocate Award. Among them: Gov. Tony Evers, former governor and former UW System interim president Tommy Thompson, and former Rep. Ron Kind.
For Dale, the most fulfilling part of his job is not awards or accolades — it is watching students grow in their capabilities and confidence.
"College is beneficial for students to prepare for careers, but what inspires me most is how we prepare students to have rich and meaningful lives as members of a society," Dale says. "It is inspiring every year to see students begin their college careers as nervous first-year students unaware that they are capable of great things, and then four years later graduating as interested and interesting members of society."