Posted 3 p.m. Monday, Nov. 9, 2020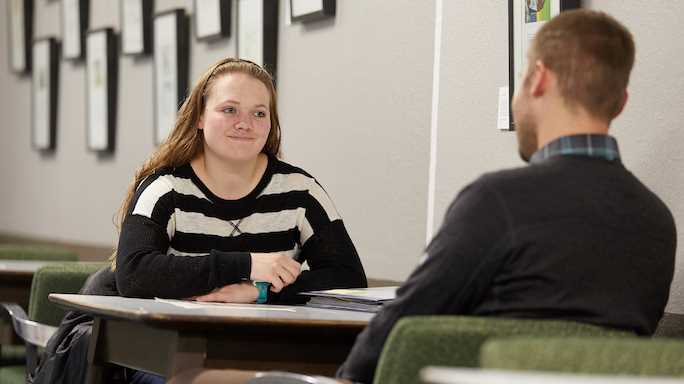 UW-La Crosse Spanish language students partner with Gundersen employees to help prepare them for medical service trips.
UW-La Crosse Spanish language students partner with Gundersen employees to help prepare them for medical service trips
At the start of spring semester, Alumnus Tom Davey knew some basic Spanish phrases — "¿Dónde está el baño?" and a few other essentials. However, the local physician assistant saw a need to acquire more. Spanish would be useful during late evenings on the emergency room shift while awaiting an interpreter and during his continued medical service trips to Nicaragua. Through a new partnership between
UWL's Global Cultures and Languages Department
and
Gundersen's Global Partners program
, Davey, '07, and other Gundersen staff are getting that language conversation practice with help from UWL advanced
Spanish
language students. The partnership formed about two years ago when Laurence Couturier, director of the
UWL Language Resource Center
, met with Liz Arnold, director of Global Partners, to discuss Gundersen's interests in and needs for languages and culture knowledge and support. Gundersen's Global Partners, which aims to improve the health and well-being of several global communities, sends Gundersen volunteers on service trips to Nicaragua and other locations annually. Many, like Davey, want conversation practice to better connect with the communities where they volunteer. UWL students have been staffing a conversation program through UWL's Language Resource Center for several years as a way to practice conversational language learning with a peer every week. Couturier saw the opportunity to extend the program to health providers. With help from Lynn Weiland, Continuing Education, and Megan Strom, a UWL Spanish faculty member who helped develop lessons, the group piloted the program this semester with four Gundersen staff who volunteer with Gundersen in Nicaragua. The four are partnered with UWL advanced-level Spanish students who plan to work in a medical location upon graduation. Over 10 weeks, Davey has dug into Spanish verb conjugation, phrases used in the medical setting, and vocabulary — including medical terminology — with help from Kaley Heiman, a UWL Spanish minor and biology major who will begin PA school in May. The two spend a good portion of their 30-minute conversation simulating real conversations between patients and providers. Through small talk before and after their conversation, Heiman has gleaned insights about her future profession and she is inspired to see how learning Spanish has been so beneficial to Davey. Davey sees a need for Spanish — not just on service trips abroad — but particularly at home during late evening emergency room appointments. With language practice, he has been able to start the conversation in time sensitive cases while awaiting a Spanish interpreter. Heiman anticipates regular interactions with patients in her future where her knowledge of Spanish language and culture will be useful. "As a PA, I will be meeting new patients from diverse backgrounds all of the time," she says. "It is important to be able to connect with them." That need was also apparent during PA school interviews. "In all of my PA school interviews, they had a question about your experience working with people who are different from you," she says. Heiman is grateful she had experiences and knowledge to share, including service trips as a UWL sophomore to Costa Rica and Guatemala. Her proficiency in Spanish and experience teaching a community partner are also an asset. Davey has made three service trips to Nicaragua through Global Partners and plans another in October 2018. There he teaches future nurses at a university — many who will serve as the main medical resource for their community. Because Nicaragua is mountainous, rural and one of the poorest countries in the Western hemisphere, access to medical service and doctors are limited. That's why providing relevant training to nurses is so critical, explains Davey. Davey uses an interpreter to translate his class lectures in Nicaragua. That will continue for at least a few years while he continues to improve his Spanish. But he looks forward to having enough conversational Spanish to engage his nursing students without an interpreter during his next trip. He already notices his ability to speak and comprehend Spanish more clearly and quickly. "The conversation partner program has exceeded my expectations," he says. "I was expecting just a conversation, but we are doing so much more. It is amazing," says Davey. "I'm really impressed by UWL's organization of this. They've put a lot of effort into making this a successful class."
More on Global Partners
Global Partners-Nicaragua
aims to improve the health of the people and their communities in the Matagalpa region of Nicaragua by promoting education and collaboration with Nicaraguan medical providers to improve access to vital healthcare. The program also supports changes that are seen as valuable by the citizens of the region and can be sustained by their own efforts.