Posted 1:19 p.m. Thursday, Feb. 3, 2022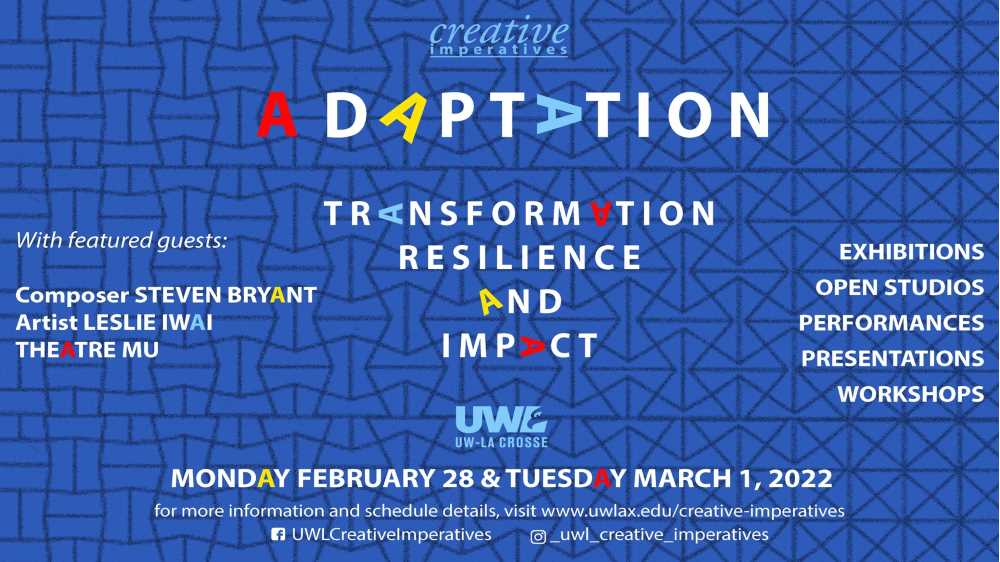 2022 festival highlights transformation, resilience and impact
The UWL School of Visual and Performing Arts has announced the return of the Creative Imperatives Festival. ADAPTATION: TRANSFORMATION, RESILIENCE AND IMPACT will run on Monday, Feb. 28, and Tuesday, March 1, on the UWL campus. All sessions are free and open to the public.
This year's festival celebrates the constantly evolving nature of the arts: finding inspiration in one work of art to create another, reconfiguring ways of work to embrace technology or survive a pandemic, and reinventing itself to help engage the community in conversations around social and cultural questions. To complement this year's featured guests, the festival will showcase the idea of adaptation through workshops, presentations, open studios and performances from faculty and students in Art, Communication Studies, English, Music and Theatre Arts.
For a full list of events, including sessions with this year's featured guests, visit www.uwlax.edu/event/creative-imperatives/.
For general information about the festival, visit www.uwlax.edu/creative-imperatives/.
Festival highlights
"Creating Correspondence through Collage": Learn about Dada Collage and use this art form to explore self-reflective narratives related to the pandemic.
"Creating Documentary Drama": View a documentary film exploring the process of creating the play "Severe Clear: September 11 from Memory to History."
"Adapting Classics in a Pandemic": Hear director Greg Parmeter discuss the transformation of Moliere's play "The Misanthrope" into a modern satire about Gen-Z social media influencers told entirely through a series of Zoom meetings.
"The High Art of Adaptation in Jazz and African American Music": Learn how the essence of jazz is found in adaptation and dialogue between musical cultures.
"The Catalyst — Student Art and Writing as Adaptation": Watch students writers and artists from The Catalyst showcase their work and discuss how COVID-19 led to adaptations in what and how they create.
Featured guests
Steven Bryant's music is chiseled in its structure and intent, fusing lyricism, dissonance, silence, technology and humor into lean, skillfully crafted works that enthrall listeners and performers alike. Winner of the ABA Ostwald award and three-time winner of the NBA Revelli Award, Bryant's music for wind ensemble has reshaped the genre. A prolific composer, his catalog of music is regularly performed throughout the world. The son of a professional trumpeter and music educator, Bryant strongly values music education, and his creative output includes a number of works for young and developing musicians. Learn more about Bryant at www.stevenbryant.com.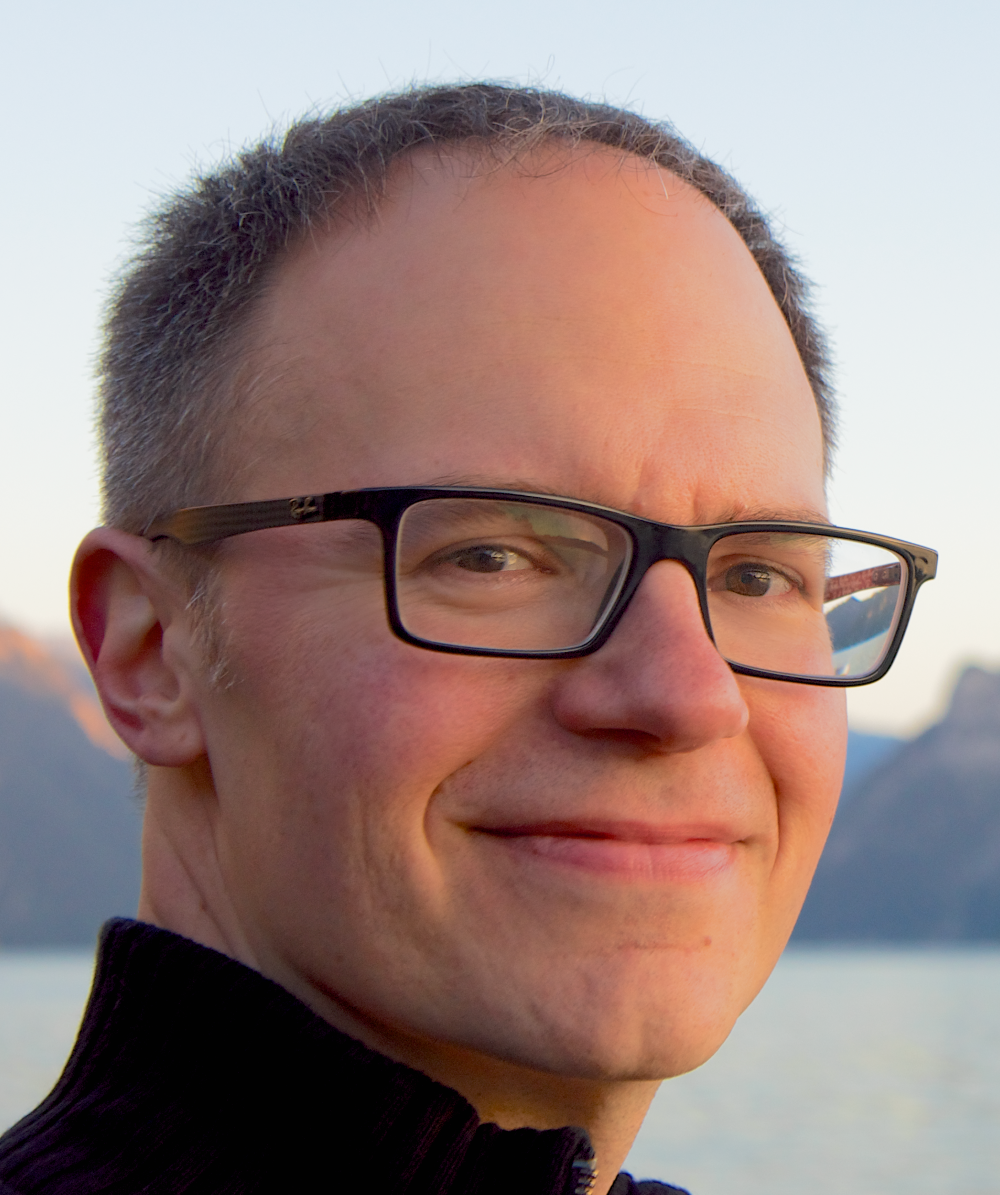 Leslie Iwai is an installation artist and sculptor whose studies in mathematics, chemistry and architecture inform her passion to bring unusual connections found in her research and artistic process to the surface for others' ruminations and inspiration. A celebrated artist with many awards to her credit, Iwai's work is in numerous private and public collections, including Duncan Aviation and the Omaha Public Art Commission. She has taught in both academic and community settings in Nebraska, Wisconsin, Illinois and New Mexico. You can view her artwork at www.leslieiwai.com.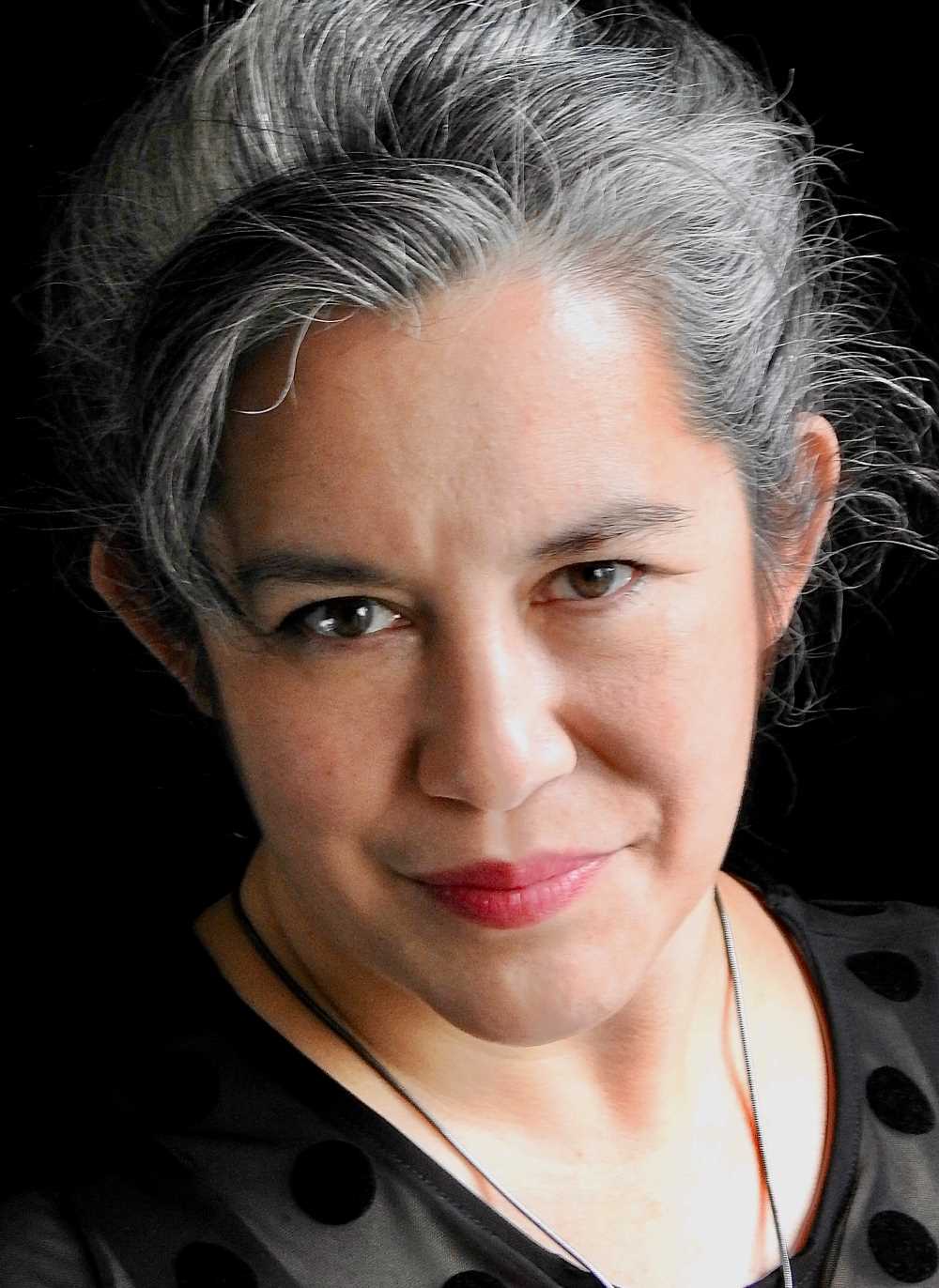 Theater Mu is one of the largest Asian American theater companies in the nation, producing memorable performances born of arts, equity and justice. Founded in 1992, Mu tells stories from the heart of the Asian American experience, presenting a fusion of traditional and contemporary artistic influences, which range from classics to up-and-coming voices in the Asian American community. Theater Mu's goal to celebrate and empower the Asian American community through theater is achieved through mainstage productions, emerging artist support and educational outreach programs. Theater Mu is a member of the Consortium of Asian American Theaters & Artists, as well as a member of the Twin Cities Theatres of Color Coalition. You can learn more about the company at www.theatermu.org.