Posted 8:03 a.m. Wednesday, Aug. 25, 2021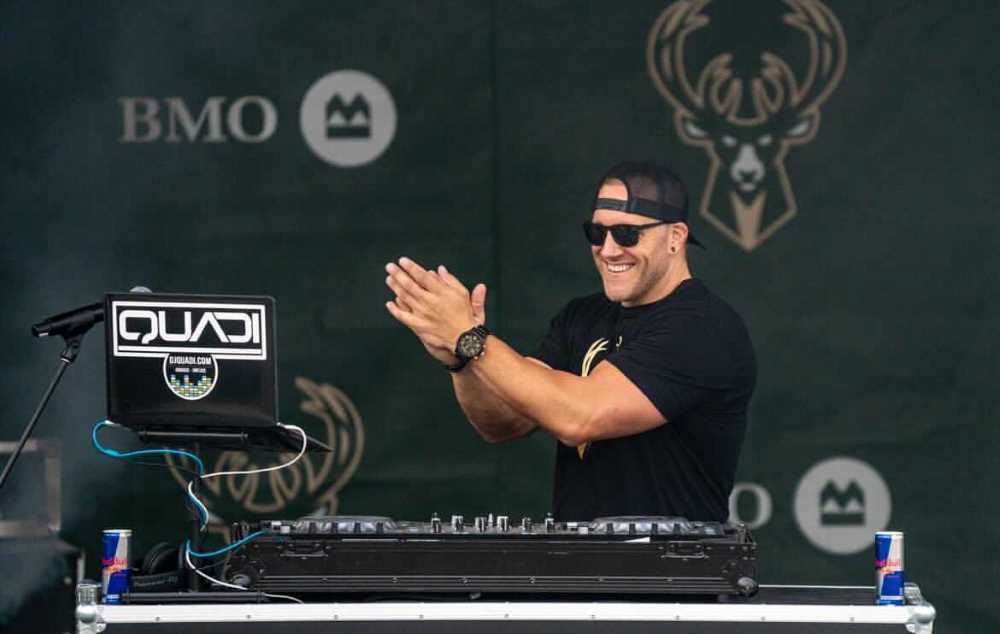 Alum powered the soundtrack to Bucks' championship run
Andy Ziemann isn't paid to be quiet.
As one of Wisconsin's most prominent DJs — known for working Bucks and Packers games, as well as countless weddings through the years — Ziemann is accustomed to being the life of the party.
But during game six of the NBA Finals this summer, as the seconds rolled away and the Bucks celebrated their first championship in a half century, Ziemann chose to take it all in and let the moment speak for itself.
"For as much of a talker as I was while DJing in the Deer District (outside Fiserv Forum) and hyping the fans up, I couldn't help but quietly sit back and watch the crowd celebrate with a huge smile on my face," says Ziemann '07, a lifelong Bucks fan. "To see people of every age and every color together supporting the same goal … it's one of those moments where you realize what we were a part of is bigger than sports."
Throughout the playoffs, Ziemann, who works under the name DJ Quadi, kept fans amped and engaged night after night after night.
The Deer District became an epicenter of local activity and an object of national interest. TV broadcasts frequently cut to images outside the arena, where tens of thousands of fans gathered in front of a jumbo screen, hanging on every block, basket and breakaway.
"The players really fed off the energy the fans brought to every game," notes Ziemann, who also DJed the championship parade, which drew more than 500,000 people to downtown Milwaukee. "To be a part of helping create that energy is something I'll appreciate for the rest of my life."
After an eventful summer, Ziemann does not plan to take it easy. He will be DJing at Packers games as fans return to Lambeau Field — an experience he missed last season due to COVID-19.
Before the pandemic, during the 2019-20 football season, Ziemann worked every Packers home game, entertaining fans and players during pregame warmups from his perch above the south end zone.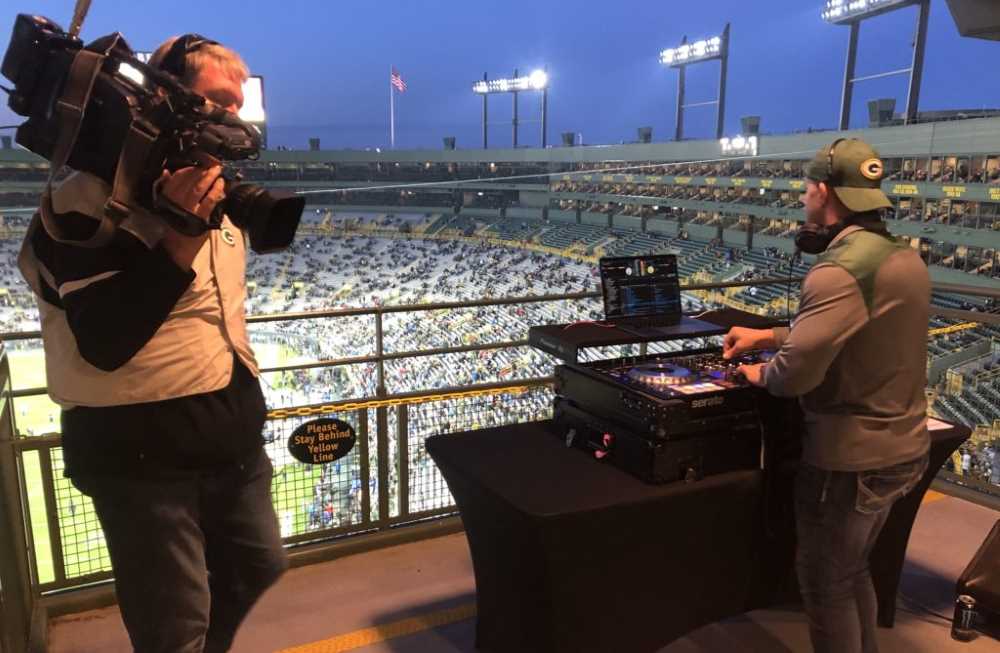 Ziemann's career has been filled with many pinch-me moments, which can be traced to the lessons he learned as a child.
His grandfather, a drummer, sparked his passion for music, teaching the young Ziemann to listen to a song and break it down into layers.
His parents also passed on their eclectic music taste, surrounding him with many genres and styles.
In high school, Ziemann regularly attended "teen night" at a Milwaukee club, which inspired him to buy his first turntables, mixer and microphone.
When he came to UWL in 1999, Ziemann planned to study athletic training. He changed his major a few times, looking for the right fit, but nothing held his interest.
On Thursday and Friday nights, he'd take his DJ gear to house parties and play music. He started as a "human Spotify," playing one song after another, but got increasingly creative as his skills and confidence grew.
"I quickly learned how a certain vibe or energy level can be created by nothing more than the order of your songs," he explains. "Music is such a powerful part of life, and to be able to use it to emit reactions and emotions really pulled me in."
Ziemann took a break from his education to run the Club Rhino bar in downtown La Crosse.
He soon returned to UWL with not one but two majors that piqued his interest — business administration and communication studies — both of which complement his DJing.
"I have a few professors and classes I always recall when thinking back on UWL," he says. "Ultimately, the whole experience of being in college prepared me for this. During that time, I developed into this and took a risk choosing to pursue it. Your job will take up a large portion of your life, so you should pick something you care about, right?"
After college, Ziemann performed at as many clubs and events as he could, trying to make a name for himself. He remembers reviewing the security footage from his performances, studying people's reaction to his sets.
In 2016, the official DJ of the Bucks, DJ O, offered Ziemann a job as a supporting DJ. He started off gradually but soon earned a more prominent role, which included opening for pop stars such as Shawn Mendes and Ariana Grande.
A couple years ago, when the Packers reached out to the Bucks for DJ recommendations, Ziemann was the first to come up.
DJing for pop stars and professional sports teams, he notes, is not always as glamorous as it seems.
Ziemann says it takes a tremendous amount of work to keep pace with trends in the industry. His career also demands late nights and odd hours, which cause him to miss holidays and family gatherings.
"This job can look fun, and I assure you, it usually is," he says. "But we sacrifice a lot to do what we do."
But the highs of Ziemann's profession are more meaningful and memorable than any of the lows.
There's a certain magic, he says, to matching the right music to the right moment, and to creating an atmosphere that brings people together.
"The love for the music and the craft of DJing is what keeps me in it," he says. "When done properly, you can truly take people on a musical journey and provide a soundtrack to some unforgettable moments."