Posted 12:01 p.m. Monday, Aug. 17, 2020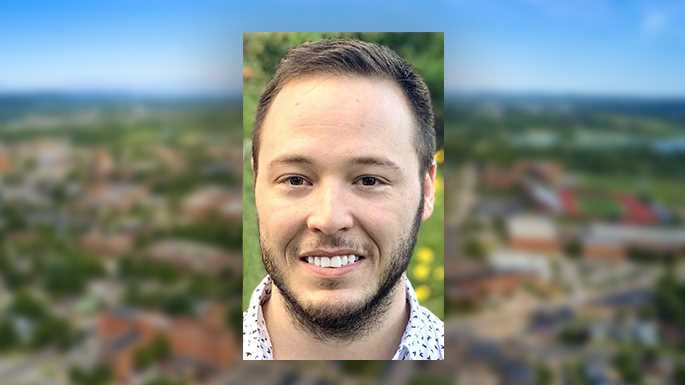 Student Jack Osness helps staff COVID facility near Milwaukee.
When COVID-19 swept the country and touched his home state, Jack Osness followed the call to service.
Osness, a radiation therapy student at UW-La Crosse, is part of a team of Wisconsin National Guard members helping support virus response efforts at the state's alternate care facility near Milwaukee.
Osness and others recently started a testing mission, after extensive training in nursing and specimen swabbing and collection.
"For me, the most fulfilling part is being able to serve my own state of Wisconsin," says Osness, a native of Merrill, Wisconsin, who will graduate in July. "This is a rare opportunity to directly impact the citizens of Wisconsin, and I do not take it for granted."
Members of the Wisconsin National Guard are assigned throughout the state, tasked with helping civilian health departments ramp up COVID-19 testing and treatment.
Osness is helping staff the newly built alternate care facility at Wisconsin State Fair Park in West Allis, which can act as an overflow center if and when other health care facilities reach capacity.
"Being in the radiation therapy program (at UWL) and 10 months into my internship, it was an easy transition to work with people who need care or testing in Wisconsin," Osness explains. "A lot of what we trained for is proper infection control and safety, which we take very seriously in our radiation therapy program."
Melissa Weege, director of UWL's radiation therapy program, says Osness has always shown an interest in helping others.
"What sticks out to me is his sense of purpose and duty to serve other people," Weege says. "This was something he really wanted to do, and I'm so proud that he's been able to provide patient care and use this time so well."
The hardest part, according to Osness, has been keeping up with coursework while training for the testing mission. Luckily, he says, instructors Amanda Carpenter, Amy Heath and Weege have been "extremely helpful and understanding of my situation."
"I do not think it would be possible to do this mission without their cooperation," he says.
Short term, Osness hopes to pass his radiation therapy certification exam, so he can work as a radiation therapist.
Long term, he'd like to find a job doing exactly that, while continuing to serve in the National Guard.