Posted 8:53 a.m. Monday, April 12, 2021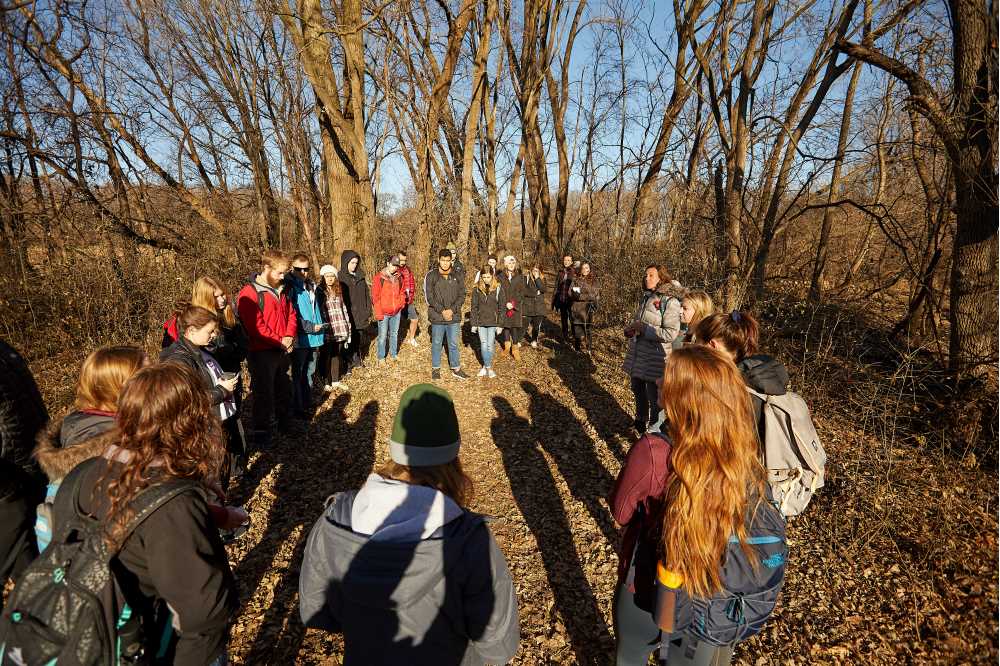 Environmental Studies minor attracts students of all majors
Few senior collegiate capstone courses include students from a dozen majors.
But this sort of variety is expected in UWL's Environmental Studies Program, a minor that highlights the fundamental connections between people and the natural world. In doing so, it appeals to a wide array of students and disciplines.
"We try to demonstrate that global and national environmental issues such as climate change, clean water, sustainable agriculture and others are all taking place in our backyard," explains Margot Higgins, an associate lecturer in the program. "Our courses share a common theme that there is no separation between humans and nature, and thus studying the relationship between the two can be applied to any academic field — from biology to sociology to art and literature."
Faculty say the 24-credit program is intriguing to students from all sorts of disciplines, in part because environmental issues are a growing global concern, affecting industries of all kinds.
Many students, notes Senior Lecturer Alysa Remsburg, have taken a genuine personal interest in the topics discussed in the program.
"Of the students that I've had in the capstone course this year, I count a total of 13 different majors represented," she says. "Each of these students is passionate about including environmental lenses in their careers or their personal lives. Environmental studies becomes a strong part of their personal identity as college graduates, not simply an afterthought or a means of earning credits."
Grace Koch, a senior majoring in biology and minoring in environmental studies, says she appreciates the program's multidisciplinary approach.
"We learn to think about not only the physical environment, but about health, social influences, communication, culture, politics, literature, technology and economics," she says. "The professors in this program are very passionate about the environment, and their classes always spark interesting student conversations. This program has allowed my own interests in climate change and human health to thrive."
While issues like climate change or the availability of clean water are often placed in a global context, UWL faculty have found innovative, hands-on ways to localize them.
Each year, students partner with about 20 different organizations for their capstone service-learning experience. Recent examples include sustainability initiatives with the Franciscan Sisters of Perpetual Adoration, prairie mapping with Friends of the Blufflands, energy monitoring with the School District of La Crosse and environmental education with WisCorps.
Faculty also arrange class field trips, including visits to a wastewater treatment plan, a landfill, Kane Street Community Gardens, the U.S. Geological Survey in La Crosse, and the La Crosse River Marsh.
"I really enjoy how pretty much all of the professors inside the program do a great job at connecting the program to the local community and our society at large," notes Jake Fischer, a sociology major minoring in environmental studies and Spanish. "We get the opportunity to work with and learn from community partners, seeing how the concepts we learn about in class actually play out or are put to use."
Environmental studies shouldn't be confused with environmental science, which is a field that strictly uses scientific processes to understand the natural world. Environmental studies, on the other hand, is a broader field of study drawing upon the natural sciences, social sciences, the arts and the humanities.
Faculty say there's growing interest in this kind of program. The numbers bear that out.
Associate Professor Sam Cocks, chair of the program, notes that there has been a roughly 50% increase in enrollment over the past five years.
This has led to conversation about adding new faculty positions, and potentially introducing an environmental studies major.
"People will care more about the environment if they feel connected, and people will feel more connected if they have a sense of place," Cocks says. "Our courses are taught in a way that helps students make connections between each other, between ideas, and between themselves and the community."