Posted 4:07 p.m. Monday, June 28, 2021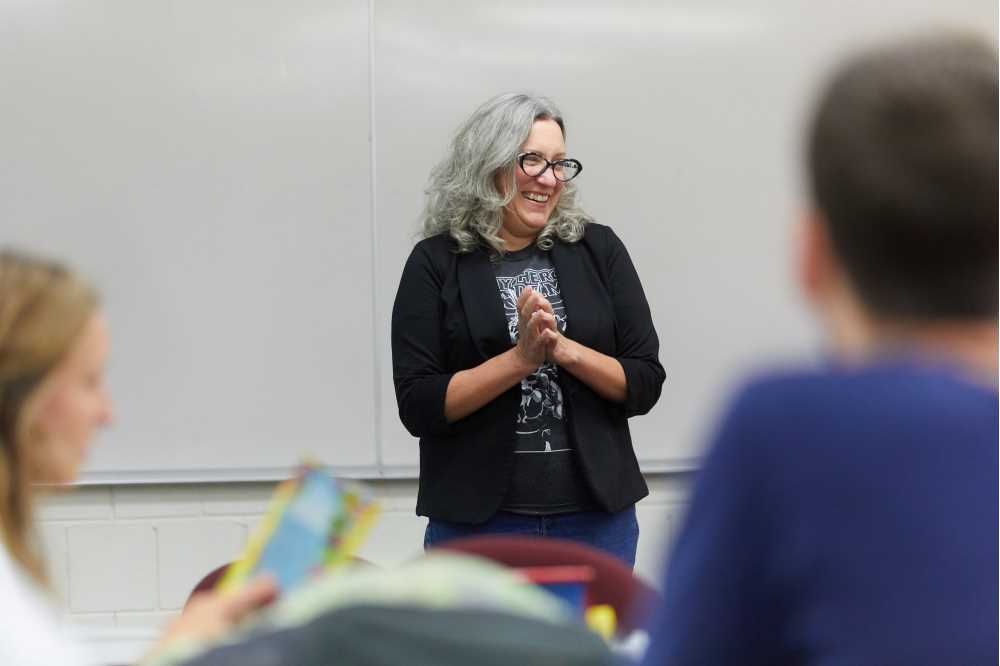 Merideth Garcia wins 2021 Eagle Teaching Excellence Award
During the 2020-21 academic year, UWL faculty were challenged like never before. From developing online courses to supporting students to dealing with the emotional weight of the pandemic, instructors in every department rose to the occasion. This year, UWL's Provost Office received hundreds of nominations from students hoping to recognize their favorite instructors.
From these nominations, a university committee selected six faculty to receive 2021 Eagle Teaching Excellence Awards. The winners will be highlighted on UWL's homepage in the coming weeks, along with being honored during Chancellor Joe Gow's opening remarks for the fall semester.
They are:
Merideth Garcia, English/English Education
Brian Kumm-Schaley, Recreation Management & Therapeutic Recreation
Lisa Giddings, Economics
Amy Nicodemus, Archaeology & Anthropology
Anthony Chergosky, Political Science & Public Administration
Kathryn (Kat) Skemp Moran, Theatre Arts

This is the first in a series of stories highlighting the winners.
Merideth Garcia, English/English Education
Started at UWL: 2018
Courses: I'm an SOE-affiliate in the English Department, and I teach literature, composition, linguistics and English teaching methods courses. I also supervise teacher candidates in their middle and high school internship placements.
Background: I completed my PhD at the University of Michigan in 2018, where I was a Graduate Student Instructor, teaching first-year writing, upper-division critical theory and writing courses, and both undergraduate- and graduate-level English teaching methods courses. Before that, I spent 10 years teaching English and English to Speakers of other Languages in K-12 classrooms — everything from second grade ESOL to dual-credit high school courses. I spent one year teaching in India and one year teaching at a community college.
Favorite part of teaching: I am most excited when students discover that they enjoy reading, that they write beautifully, that they think critically or that they love teaching. I love learning new things, and so I try to structure my classes to maximize opportunities for all of us to learn from each other. Having taught so many different grade levels and topics, I have a special appreciation for how learning across the lifespan develops and how learners at every stage can contribute to our community and common resources. At UWL, it's been especially satisfying to see my students become teachers who foster curiosity and critical engagement. I'm honored to receive this award and grateful for the colleagues and students who make my work possible.