Posted 2:10 p.m. Monday, Aug. 31, 2020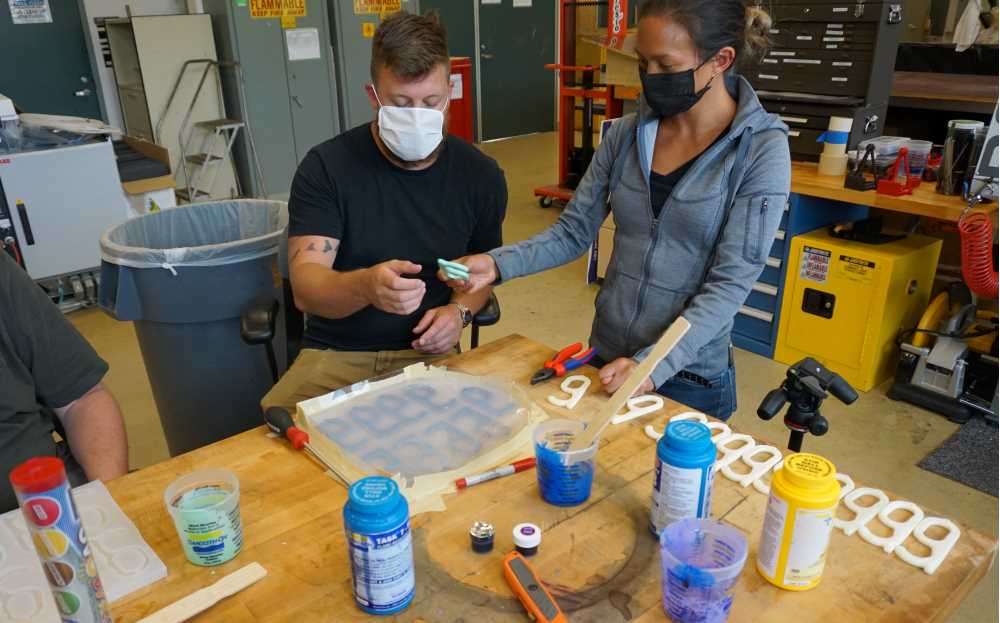 Alum says dual degree program 'opens many doors'
A UW-La Crosse alum has found an effective tool for fighting COVID-19: 3D printers.
Zach Heinkel, a composite materials engineer with the Carderock Division of the Naval Surface Warfare Center in Bethesda, Maryland, is part of a four-person team using 3D printers to produce masks, visors and hands-free door openers for employees at various naval facilities.
The past few months, he says, presented "a great opportunity to use our rapid response capabilities to help create a safer workspace."
"The COVID response project has been an unusual project for me and my coworkers," explains Heinkel, '18, who has dual degrees in physics (UWL) and composite materials engineering (Winona State University). "One of the biggest challenges during this pandemic is protecting yourself, and it's made harder since you can't effectively buy the supplies needed anymore. We looked to answer the COVID needs very quickly and determined what we thought to be the most efficient way to help out."
Heinkel's primary responsibility was creating the molds for each item, which made production more efficient and repeatable. His expertise as an engineer also came in handy when selecting materials — "which is, in many cases, just as important as mechanical design," he notes.
The team has printed hundreds of masks and visors for Carderock and Naval Sea Systems Command, along with helping assemble travel kits with PPE and other essentials for employees who must travel.
The success of the project, he says, illustrates the usefulness and versatility of 3D printers, especially when they're operated by someone with the right skills.
"We live in a time when anyone can have a 3D printer in their home, and they can also use it to make a tangible difference," he notes. "The ability to design and produce specialty parts in the comfort of your own home is extremely beneficial."
Heinkel's original career plans had nothing to do with physics or engineering. When he started at UWL, he was an astronomy major.
"But once I found out about the dual degree program … it seemed like a no-brainer," he says.
The program allows students to receive both a bachelor's degree in physics from UWL and a bachelor's degree in engineering from UW-Madison, UW-Milwaukee, UW-Platteville, UW-Stout, the University of Minnesota Duluth or Winona State University.
Students taking this track can earn their degrees within five years, three at UWL and two at the partner institution.
Heinkel described it as a perfect fit for his educational and career goals.
"There are many schools that participate in the program, so there is definitely one for you," he says. "It's also great to have multiple schools on your resume. Receiving two degrees in five years is an excellent feat and will help you land the job of your dreams."
Heinkel is still considering his long-term career options. For now, he's enjoying his time at Carderock, where he trains sailors and marines on additive manufacturing technologies as a civilian.
Down the line, he'd like to go back to school to further his education.
"I'm not sure where life will bring me, which is what I love about being in the engineering field," he says. "It is so versatile. Having a background in physics and composites really opens many doors for me."