Posted 4:08 p.m. Saturday, July 11, 2020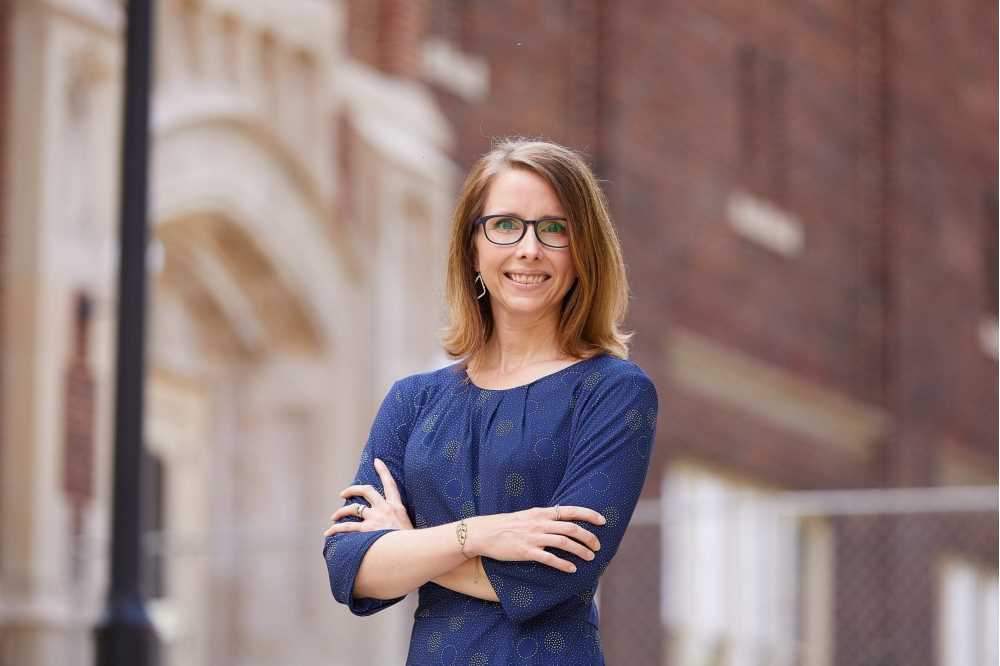 College of Business Administration names Hamman first campus fellow.
An innovative associate professor who has taught in the UW-La Crosse College of Business Administration for nearly a decade has been named the inaugural recipient of the college's first faculty fellowship.
Mary Hamman, who teaches in the Economics Department, has been awarded the college's first Swenson Baier Engaged Faculty Fellowship.
The fellowship rewards and supports outstanding CBA faculty who enhance the educational experience of their students by creating opportunities in their curriculum for students to engage with business and community leaders.
Hamman says she's thrilled to be selected and is excited to expand community engagement efforts with her colleagues. "We are so fortunate to have this opportunity," she says. "I am committed to putting these resources to good use."
Working with Economics Department colleagues, Hamman has been a driving force behind transforming "Economics 230-Data Analysis for Business Applications," a required class for all majors in the college. In the class, students are coached by industry partner representatives on data analysis and presentation.
Hamman says being able to correctly analyze data has become increasingly important — especially during the pandemic, which has caused economic restructuring and job turnover. She's excited to offer workshops not only for students, but alumni and business leaders as well at no charge.
"I am hoping this may help our students, alumni, and those in our local economy facing changes in employment, job roles, or plans for internships due to the pandemic," she says. "I plan to cover an array of beginner and intermediate topics and hope to engage a diverse set of participants in terms of life experience, race and ethnicity, and career goals."
Hamman's impact on student engagement with business and community leaders extends beyond her own classes. She and Economics Department faculty have worked to present a systematized, assessable approach to benefit all students regardless of their instructor.
Hamman says the three-year fellowship allows her to complete formal training on teaching methods to ensure both her workshop and classroom teaching offer students the best opportunity to learn. She plans to extend those new skills to area businesses.
"This training should enable me to deliver tailored workshops for area employers to engage and support our local economy," she says. The fellowship begins July 1.
Hamman, who has taught at UWL since 2011, is an empirical microeconomist and expert in applied econometrics and analysis of complex data sets. Her areas of interest include the economics of preventive healthcare, retirement policy and workforce aging, and long-term care.
Hamman's work has appeared in Health Economics, Health Affairs, and the American Journal of Public Health. She has received funding from the Social Security Administration, Alfred P. Sloan Foundation and the Steven H. Sandell Grant Program.
Hamman is a faculty research fellow at UW-Madison's Center for Financial Security and an associate director of UW-Madison's Retirement and Disability Research Center. She teaches courses in health economics, business research methods, and labor and managerial economics.
Funding for the fellowship is provided by 1985 CBA graduate Scott Swenson and his spouse, Cynthia Baier. This is UWL's first philanthropically-funded faculty fellowship supporting the vision and recognition of business faculty who are industry-engaged. Swenson was attracted to fund the fellowship because he believes it provides the greatest return on investment for student education and career preparedness.
"I had a couple professors that were really integral in not only my success at La Crosse, but my success beyond that," Swenson explains. "One of the things that I've seen in the business world is that I compare a professor to a boss or a manager. A boss or a manager, a good one, can impact hundreds or thousands of people and clearly that's the same with a professor."
Swenson says motivated professors can relate to students and bring in things from the outside world, impacting many and setting them up for a bright future.
"It was a no-brainer for me," says Swenson. "Investing in faculty was a better path for us than any other one."
UWL CBA Dean Laura Milner says the generous gift will help keep the college competitive. "The Swenson Baier Faculty Fellowship is at the forefront of those types of gifts that change a college's trajectory," Milner explains. "Faculty have such an aggregate and cumulative impact on multitudes of students that dividends for years to come beyond the length of the gift itself are provided."
Milner says on behalf of the college, she expresses profound gratitude to Swenson and Baier for sustaining the CBA's competitive edge and by embracing its 50 Years Forward theme of "Engagement, Transform and Transcend."
Swenson has 35 years of leadership experience in general management, financial and executive roles. He has owned Quest Engineering, a distributor of flow control parts, since 2013. Prior to that, he was a vice president at Polaris Industries, where he directed all operations for Polaris Snowmobile, PG&A(parts, garments and accessory), and financial services divisions, which generated more than $600 million sales and over $200 million operating income.
The fellowship selection committee included Peter Haried, chair, Department of Information Systems; Will Mass, associate professor of accountancy; David Annino, lecturer of Information Systems; Mark Sandheinrich, dean, College of Science and Health; and Tanner Holst, vice chair of administration of Mayo Clinic Health System and CBA Board of Advisors member.