Posted 11:42 a.m. Wednesday, Nov. 25, 2020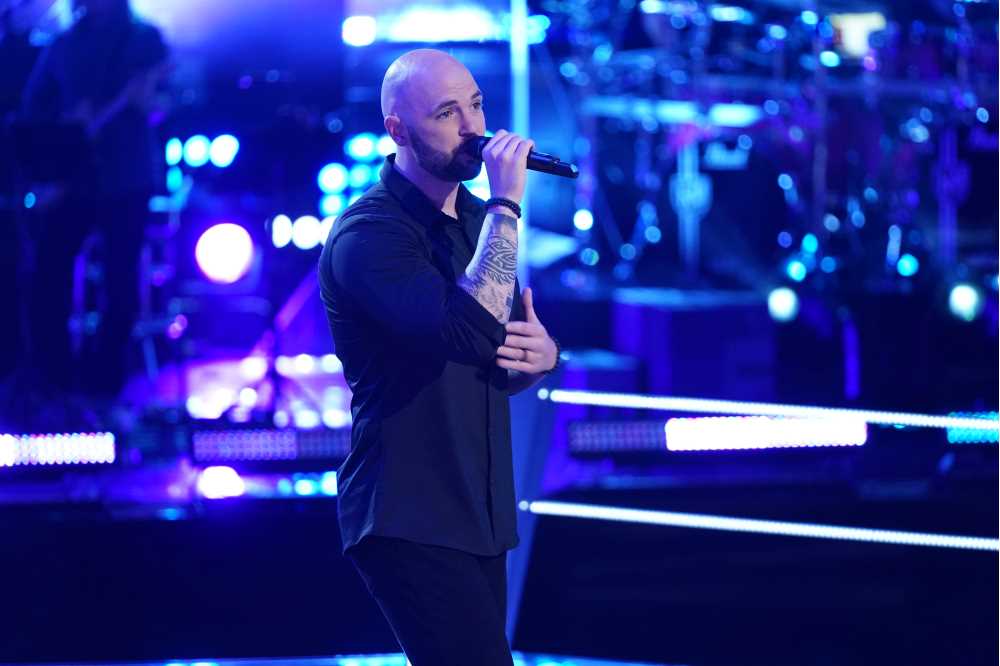 Alum Aaron Scott stars on hit singing show
For Aaron Scott, the road to stardom began in a dorm room.
In 2005-06, Scott was a junior at UW-La Crosse — spending his days studying art education, wishing he was on the football team and experimenting with his friend's recording software.
It was the last of these pastimes that led to Scott's recent and remarkable appearance on NBC's "The Voice," where he broke through the round of blind auditions and stamped his ticket to Hollywood.
"I was always interested in music — growing up, my mom played piano and was a singer at our church," notes Scott, '07, a special education teacher in the Tomah Area School District. "But it was my friend, Micah Juliot, who taught me guitar and made some music with me there in Coate Hall, that really sparked my interest. I joined a band with some friends after graduation, and that's when I got into my groove in terms of genre, style of music and vocal tone."
Scott, a native of Wilton, never dreamed he would appear on "The Voice," or on any TV show.
As a teacher, husband and father of three, he wasn't exactly flush with time to devote to his craft. He was content just to write an occasional song with his band, One Way North, and to rock out on weekends and at regional festivals.
But everywhere he went, Scott heard varying versions of the same comment: "You're not just good — you're special. You should be on 'The Voice.'"
Reluctant, but curious, Scott began watching the show last fall. It wasn't until a final nudge from his principal — "What are you doing teaching? You should be a singer." — that he decided to apply.
In January, Scott went to Nashville for preliminary auditions. Of the many thousands who apply, only a tiny fraction get to audition in front of the show's panel: Blake Shelton, Gwen Stefani, Kelly Clarkson and John Legend. Scott was among the chosen few.
The blind audition would be the biggest performance and brightest spotlight of his life.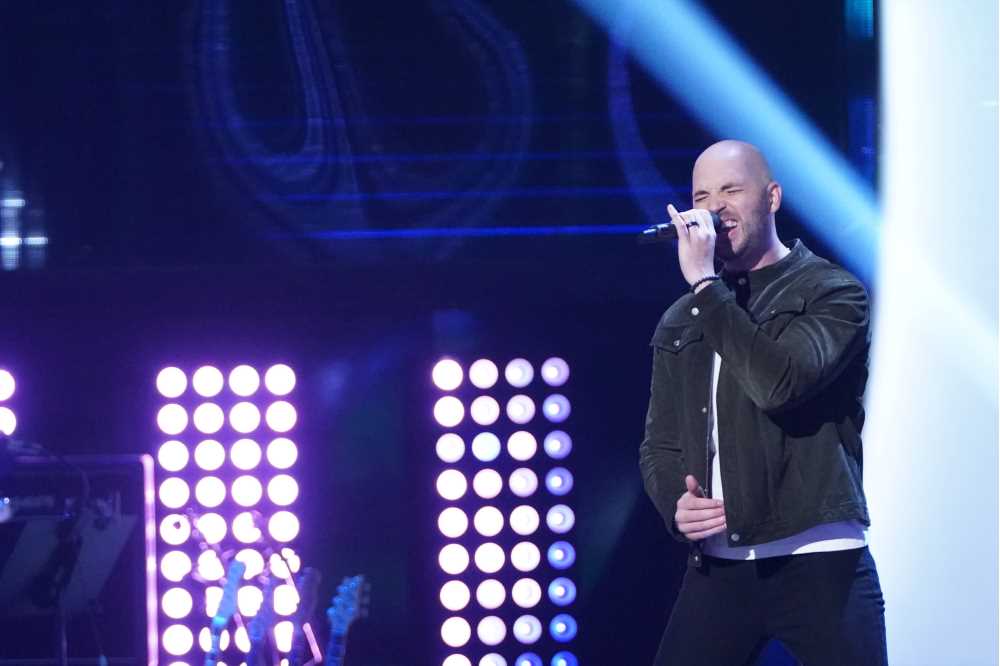 "It was a whirlwind, an absolute whirlwind," says Scott, who decided to sing "Hemorrhage (In My Hands)" by Fuel — a grunge rock song released in 2000. "Managing your emotions and nerves … I still don't know how I was able to do it. And because of COVID, we were only able to meet with our vocal coaches virtually. So when it came time for the blind audition, I couldn't see them in person or get any pointers or positive vibes. I was on my own."
That loneliness didn't last long.
Scott knew his wife, Lorraine, and children were supporting him from a distance, watching a live feed of the audition back home.
Then, about 15 seconds into Scott's performance, as the song built to its first crescendo, Legend slapped the red button that turns his chair to face the stage — a trademark of the show. Legend wanted Scott on his team.
Shelton followed by pressing his button, and after powering through the rest of the song, Scott was faced with a choice.
Ultimately, he opted to join the country legend Shelton over the pop pianist Legend. But it wasn't Scott's singing that left the deepest impression with his students in Tomah.
The day after the episode aired, all his students could talk about was how Scott had winked at Clarkson after she complimented his song choice.
"They thought that was so cool," he says. "They couldn't believe I winked at her."
Through the fall, Scott's students begged him for spoilers. Subsequent episodes of "The Voice" had been filmed at the end of the summer, so Scott was teaching at the same time he was an active contestant on the show.
"They kept asking: 'Can you tell us what happened? Can you tell us what happened?'" he says. "And I had to keep saying: 'No, I'm not allowed to tell you anything.'"
Scott's time on "The Voice" ended in an episode that aired Nov. 16. He was knocked off in the Battle round after he and his teammate performed "Have You Ever Seen the Rain?" by Creedence Clearwater Revival.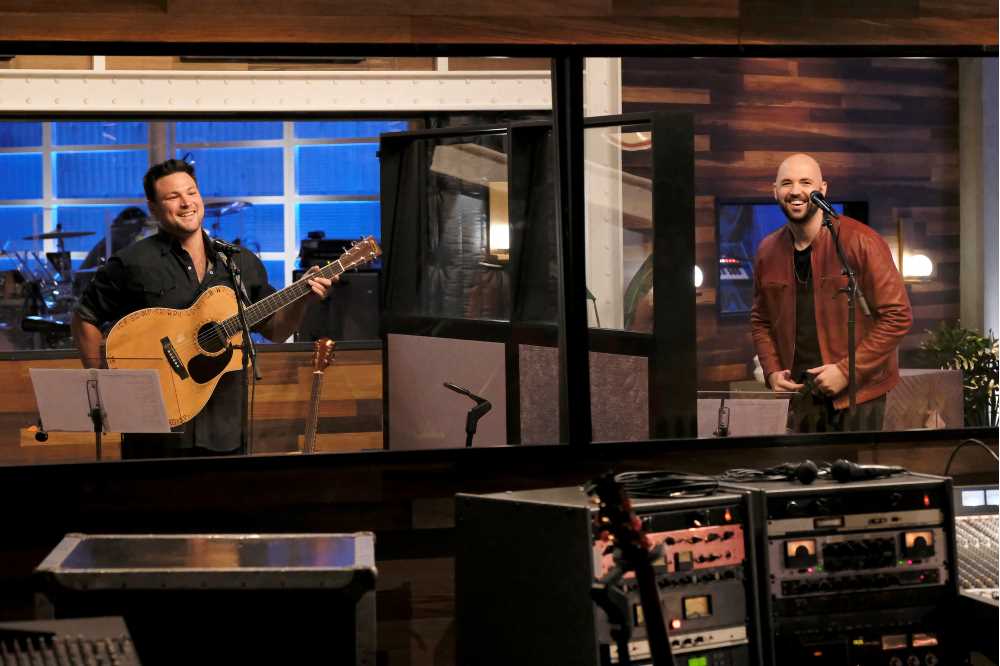 That exit did nothing to diminish what Scott described as a once-in-a-lifetime experience.
"I heard from so many people in Tomah and the Coulee Region — even from people I don't know — that they were happy something good finally happened in 2020," he explains. "Just to hear that positive feedback from the community … that would have been more than enough to convince me it was worth it.
"The second thing was the validation. Part of me doubted if I would even have a chance, if they'd even think I was good. But now I don't have to look back and wonder, because I did it. And there are thousands and thousands of people who tried and didn't make it."
Getting voted off "The Voice" might seem like an ending. But to Scott, it's a beginning — a chance to more urgently pursue his aspirations in music.
When COVID subsides, Scott plans to continue playing festivals around the Coulee Region and across the Midwest.
He plans to write new music with his fellow bandmates, and launch a solo endeavor featuring more of an acoustic sound and intimate feel.
And he plans to return to where it all started, UW-La Crosse, whether it's for a concert or to speak to students about his experience.
"That school has so many memories and so many ties to where I am today," he says. "In some ways, my life started at UWL, from humble beginnings in Coate Hall."