Posted 8 a.m. Thursday, Oct. 21, 2021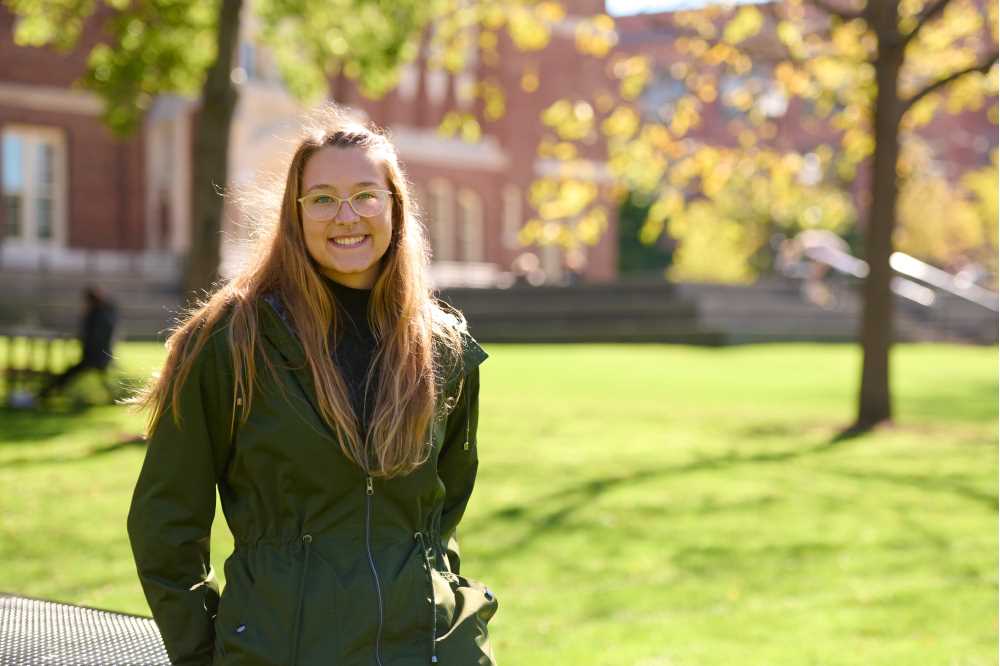 Transfer student Emma Trettin 'fell in love' with UWL
To mark National Transfer Student Week Oct. 18-22, UWL is highlighting the stories of transfer students who have found their home at UWL. This is the third installment of the series.

To learn more about National Transfer Student Week, visit www.nists.org/national-transfer-student-week.
UWL junior Emma Trettin
Major: Geography (environmental science concentration)
Hometown: Hutchinson, Minnesota
Previous college: St. Catherine University
Q: Why did you choose to transfer to UWL?
A: Deciding to transfer was a long process. I had no idea I was going to fall in love with La Crosse as much as I did. Five minutes into the campus tour, I knew. Something about campus just made me feel at home. The atmosphere is so welcoming and comforting. I was an undecided major when I transferred, and UWL had a lot of cool majors I was excited to explore. There were also a lot of activities and clubs that piqued my interest.
Q: Tell me about how you started in higher education.
A: I've always loved learning, so I knew from a very early age that college is the way to go.
Q: What advice do you have for transfer students? What advice would you give a first-year transfer student?
A: One of the first things I would recommend is to join some form of work, club, activity or sport. This is one of the quickest ways to meet new people and a good start to getting involved on campus. It's also a really good way to get your mind off of schoolwork, which is also really important for stress relief.
Q: What has surprised you here at UWL?
A: I was surprised by all of the outdoor activity. Whenever the sun is out, people are out. There are some amazing study spots outside and some really good trees for hammocking. I was also surprised by how many indoor study spots there are for the colder months. It's so easy to get out of your bedroom and into a new atmosphere in case you need the rejuvenation for schoolwork.
Q: Who has helped you or helped you in your transition to UWL?
A: My RA from Reuter. We talked so much about school, our goals, our mental health, basically anything that was on our minds. Those kinds of conversations are what made me more confident about my decision to transfer because I was able to voice any of my concerns, and then talk through them.
Q: What would you like to do with your degree after you graduate from UWL?
A: I do not have a specific career path I want to follow with my geography degree just yet, but I know there are so many options out there for me to explore. Ultimately, I would love to use my degree to get a job that allows me to travel all over the world.
Q: Anything else you would like to share?
A: Transferring schools is really hard. Even during normal semesters when there is not a pandemic going on. But in the long run, it is worth it because you're giving yourself a second chance to find an education and a social circle that fits who you are.