Posted 8 a.m. Wednesday, Aug. 25, 2021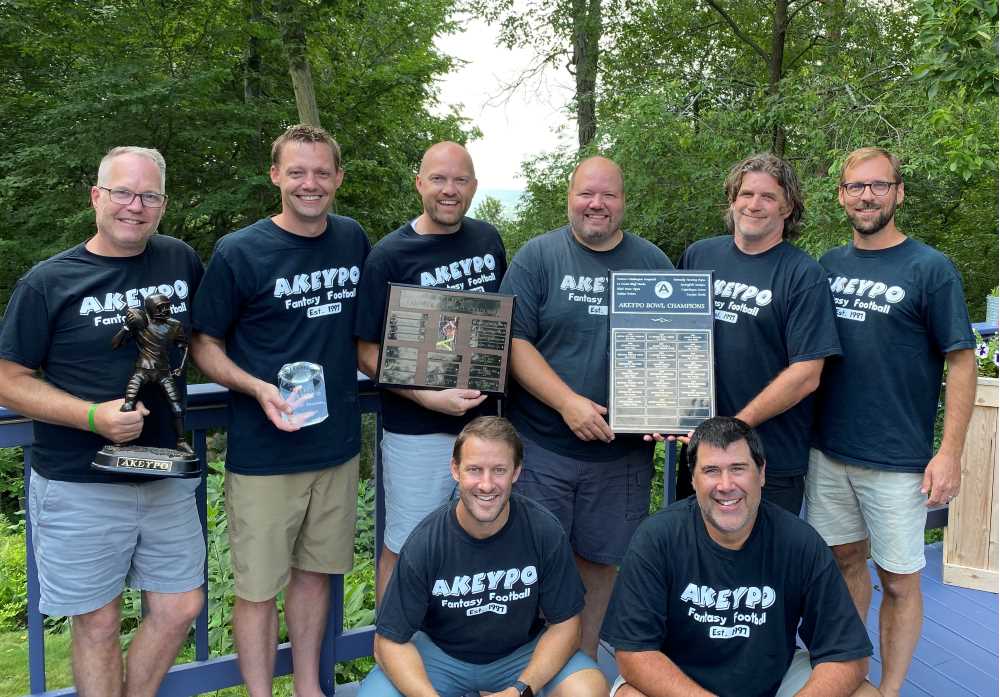 Alums remain close, competitive after 25 years
As college ended, Patrick Heise didn't want his friends from Hutchinson Hall 2A to drift apart.
"I was never good at staying in touch, and I didn't want to lose these seven friends of mine," explains Heise, '98, now the assistant director of Residence Life at UWL. "So I had this late-night scheming session, and I came up with an idea."
Heise's friends found a letter under their door, inviting them to join a fantasy football league — a somewhat novel idea since fantasy football was not yet a billion-dollar industry.
Now, 25 years later, the league and the friendships it was built upon have stood the test of time, even as the group has started families and spread out across the country.
"I wasn't sure if it would last this long. I've seen a lot of other groups try to do something like this and then fizzle out," explains Heise, who was league commissioner for the first two decades "I'm proud of everyone for being so committed to this, even if it means jumping on an airplane so we can all get together. I did not see that coming."
Fantasy football leagues can be run remotely. You can draft players, make trades and track scores using your phone or computer.
But an online experience would have defeated Heise's original purpose.
So, each year at the end of July, the group comes together for a nostalgia-filled weekend when they draft their teams, go on hikes or other adventures, and catch up on everything they missed over the past 12 months.
And since group members live all over the country, they've held draft weekends from coast to coast and most places in between, including Lambeau Field.
"It's amazing that, with how busy everyone is with work and families, we still manage to get together annually," says Troy Richter, '89, league treasurer and the director of Parking Services at UWL. Richter is the elder statesman of the group, having served as the Hutchinson Hall director in the late '90s. "Patrick's intent was to create this sort of artificial way for us to stay connected, and I'd say that dream has come true."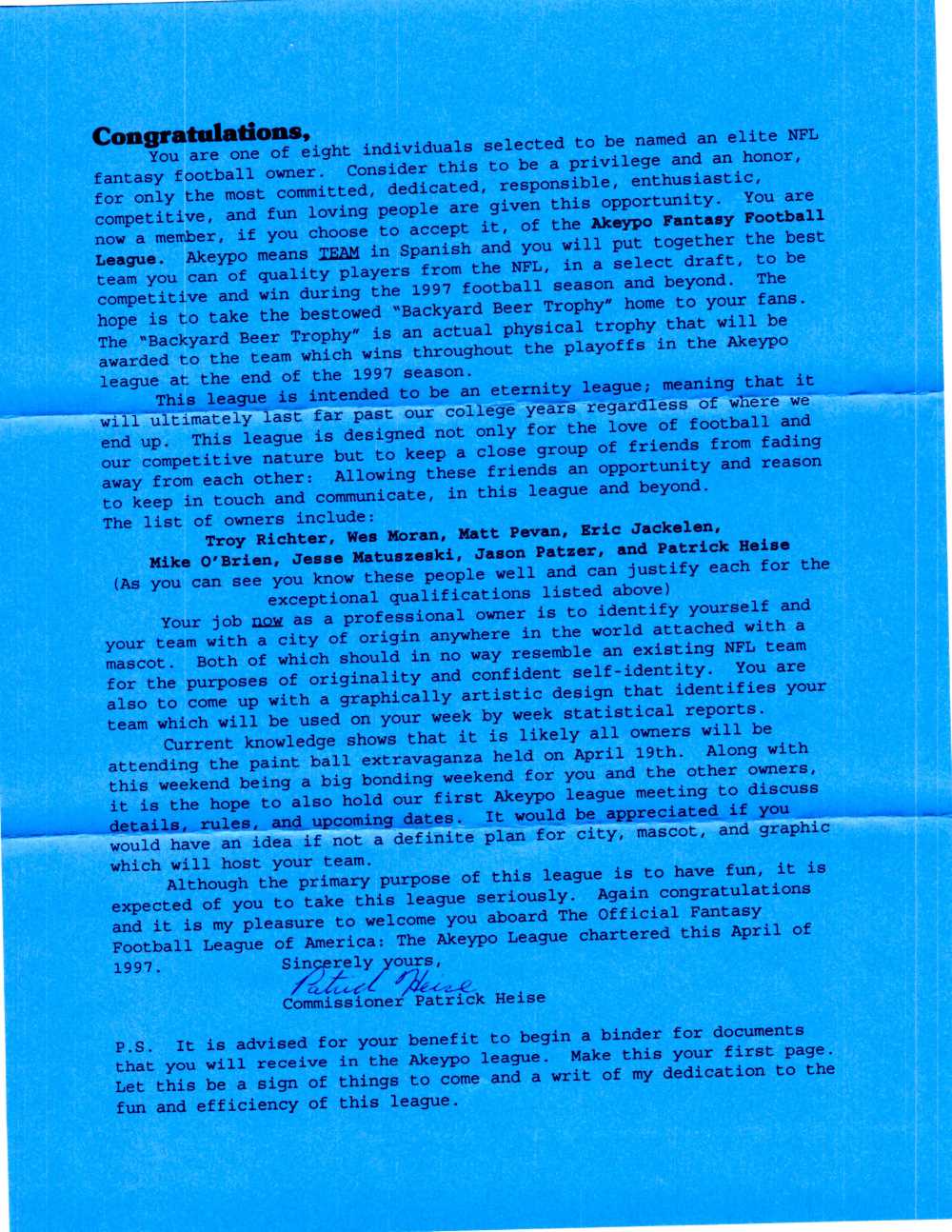 Make no mistake: All eight — Heise, '98; Richter, '89; David Fehring, '00; Eric Jackelen, '00; Wes Moran, '96; Michael O'Brien, '00; Jason Patzer, '94-'00 attendee; and Matt Pevan, '00 — want nothing more than to dominate their friends.
Trophies and bragging rights are major motivators, but so is the punishment for a poor performance.
The person who scores the fewest points during the last week of the season is crowned the "Mediocrity Bowl Champion," and must wear a bright blue shirt, now filled with holes, declaring: "I'm mediocre."
Lately, a new tradition has emerged: not washing the shirt from one year to the next.
"I can't say I support that," Heise jokes.
The name of the league — AKEYPO — is a phonetic adaptation of the Spanish word "equipo," which means "team."
It's a reference that dates to their college days. Whenever the residents of Hutchinson Hall 2A made plans to go out, and one of them was debating whether to go, saying the word "team" was the trump card.
"If you said the word 'team,' the guy would have to go with you," Heise notes. "We'd get that herd mentality."
That sense of commitment and camaraderie has only grown with time, and with the obstacles and opportunities that have come along in life.
"We've shared our tragedies as a group — major illnesses with loved ones, the death of parents and a child, a divorce, relocations across the country," Richter says. "But we've shared our joys, too — starting new jobs or a new relationship, watching our kids grow up."
Adds Heise: "As years have gone by, it's become less and less about football and more and more about the camaraderie and the brotherhood we share."
While much has changed since their time at UWL, much has remained the same.
Within a few minutes of getting together, Richter says, they'll inevitably revert to their college days, as if they hadn't spent the past year apart.
Recently, they've joked about the possibility of their children creating their own fantasy league: AKEYPO 2.0.
"Do I envision this going on for another 25 years?" Richter says. "Absolutely."
Read more stories from the September eLantern.