Posted 7:06 a.m. Monday, July 4, 2022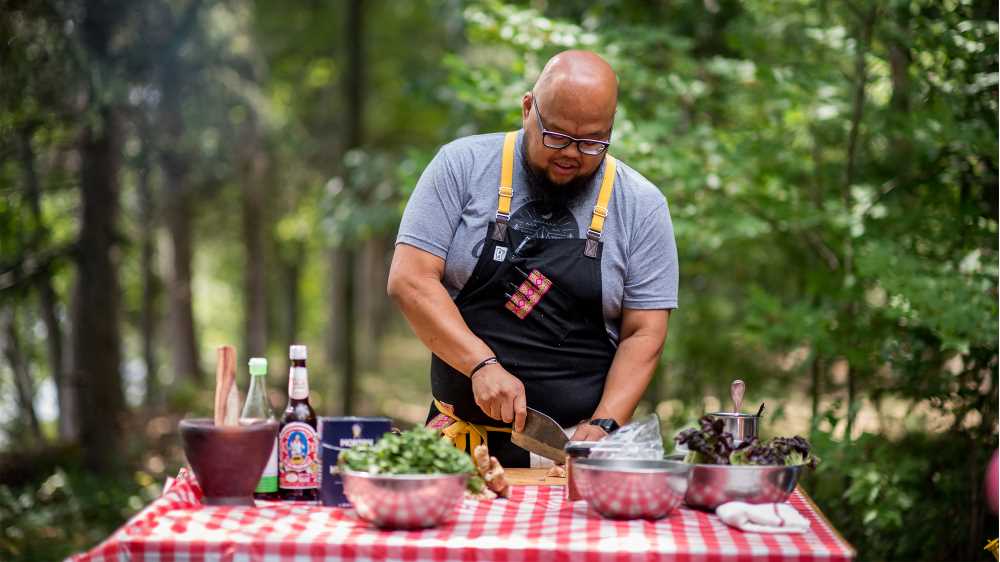 Known for Hmong cuisine, Yia Vang is a rising restaurateur
Yia Vang used to wash dishes and count the days until he would never again have to work in a restaurant.
Then he had an epiphany.
"I always looked at working in restaurants as a job I did, living paycheck to paycheck," Vang, '10, explains. "One day, I had this aha moment where I realized that food isn't just sustenance. It's a universal language we can use to speak to one another. You can tell a story through the food you make."
A decade later, Vang is one of the most celebrated chefs in the Midwest, known for his highly successful Union Hmong Kitchen in Minneapolis. The window-service-style restaurant blends two of Vang's favorite things — Hmong food and storytelling — and has helped him become a rising star in the food industry.
On June 15, Vang and fellow Twin Cities chefs Mike Yuen and Marshall Paulsen were featured in the premiere episode of Netflix's reboot of "Iron Chef." On the show, guest chefs such as Vang square off against resident Iron Chefs in a timed cooking competition based around a secret ingredient.
It was a pinch-me moment for Vang, who was born in a Thai refugee camp, attended school in rural Wood County, Wisconsin, and grew up watching the iconic cooking show.
"When I walked into the Kitchen Stadium and saw the whole operation, I felt like a kid again," Vang says. "Then when I saw the Iron Chef we had to battle against, when they revealed who it was, I freaked out. It was such an honor to be there."
Even when the cameras were off, it was surreal.
"It was my first time flying first class, and I was like, 'OK, act like you've been here before,'" he says. "And then when you get there, they put you in a green room with a personal assistant. At one point, I asked for some gum, and he came back with five different types. It was just incredible."
While it was a thrill being treated like a star, that's not why Vang loves to cook. His motivations are much more genuine and heartfelt.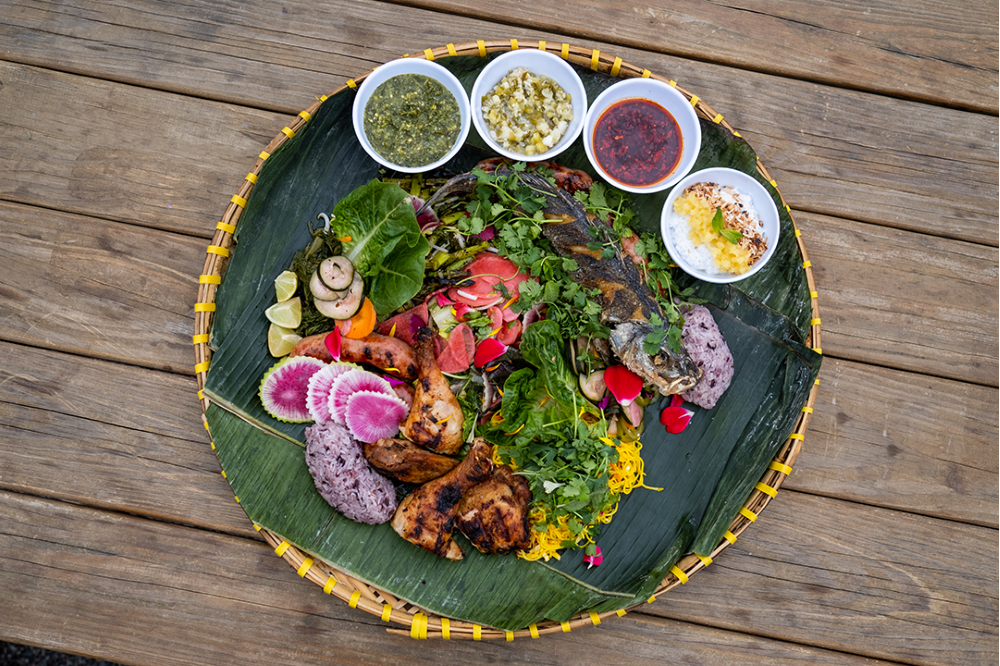 Cooking is how Vang connects with his Hmong heritage and shares it with the world, one plate at a time.
It's also a chance for him to use the lessons he learned as a communication studies student at UWL.
"In Hmong culture, our DNA is intricately woven into what we eat. It tells the story of where we've been, where we are and where we're going," Vang notes. "As a communications student, I learned a lot about how to communicate that and how to get people to interpret your message. Those are definitely skills I use as a restaurateur."
Vang says he owes a debt of gratitude to Hmong chefs who, after immigrating to the United States in the 1970s, became trailblazers in the restaurant industry.
He is also grateful to his parents, who passed down qualities like creativity and resourcefulness in the kitchen, both hallmarks of Hmong cooking.
"No matter where Hmong people go, we make use of the produce and products around us," Vang says. "Traditionally, we might have bamboo and certain kinds of vegetables and seasoning. But we're in the Midwest, so instead we're going to have root vegetables, heavy grain, pork and beef. Hmong food is reflective of the land. That's an important part of the story."
Building upon the success of Union Hmong Kitchen, Vang plans to open a proper sit-down-style restaurant in Minneapolis later this year. It will be called Vinai, named for the Thai refugee camp where Vang and his family lived before coming to the United States.
"The restaurant is really a love letter to my parents and where we've been as a family," he says. "It's going to encompass what Hmong food is all about."