Posted 11:27 a.m. Tuesday, Nov. 21, 2023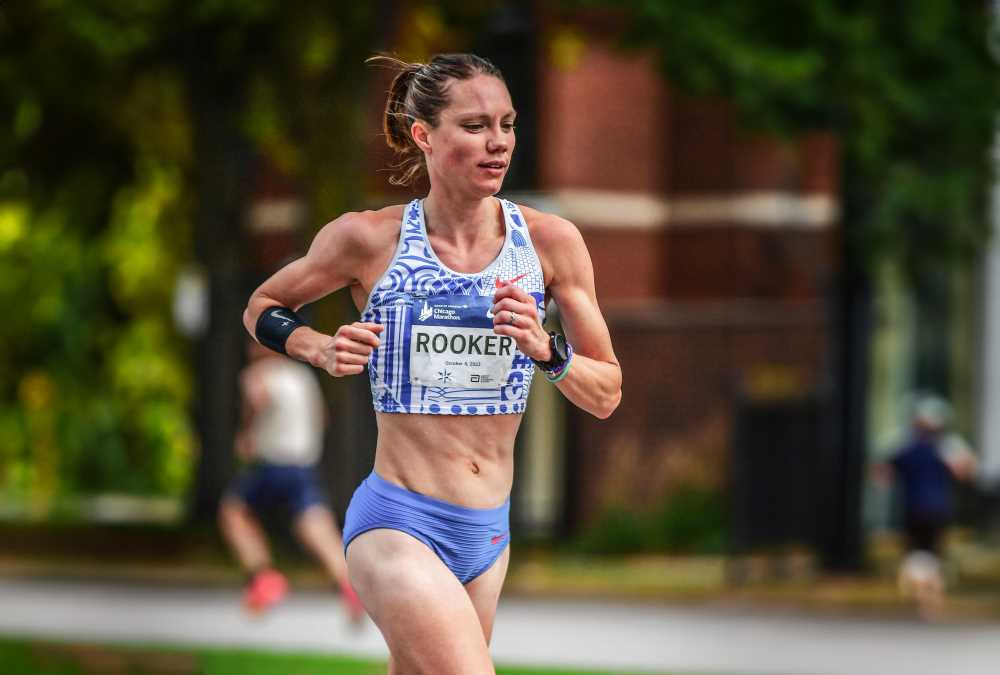 Former UWL gymnast turned marathon runner speeds her way to Olympic Trials this winter  
As a UW-La Crosse gymnast Gabi Rooker set goals every day. Whether reducing wobble on the beam or perfecting the end of a twist, Rooker made goal setting a habit with the help of her former UWL Gymnastics coach, Barbara Gibson.
Today, Rooker, '10, is still setting goals; her next big one is to go to the Olympics in Paris, France.
Rooker is a former gymnast with national titles, yet she appears to be an even stronger runner. She'll be in the Olympic Trails this February in Orlando, Florida, in the marathon. The top three finishers go on to the Olympics in August 2024.
Rooker transitioned from gymnastics to running post-college as she was exploring sports as a hobby. "I didn't have a lot of time for other sports in school," she says "After college, I did a sampling to figure out what I liked: running, yoga, CrossFit, soccer, swimming... "
Running seemed to come naturally to Rooker. She liked that it was physically engaging and meditative. It didn't matter what pace she set, she still felt like she was making progress toward a goal.
"As I found I had a knack for it and I loved being a competitor, I could sign up for local races and set tangible goals," says Rooker. "No matter where you are in the running process, you can always have a goal."
Rooker realized she had elite-level talent at her new hobby after completing a 10-mile race in the Twin Cities in 2019. Her time was 62 minutes and six seconds, which is a little over six minutes a mile. She finished No. 9 out of 7,153 females and decided she should keep going and try a full marathon. The result has been more racing success. At the Chicago Marathon on Oct. 8, she was the 11th female finisher with a time of 2:24:35, below two hour and 37 minute threshold to qualify for the Olympic Trials.
"It feels like huge honor, and I'm really excited to get to run with this group of fast women," says Rooker.
Seeing Rooker climb the ranks in her running division reminds former gymnastics teammate Kelsey Foss of watching Rooker compete in gymnastics, especially at National Championships competitions. Rooker had handled an unexpected fall at nationals with tenacity and grace — helping her bounce back to lead both the team and herself to national titles.
"As Gabi's teammate and roommate, I've seen her ability to push for goals first-hand with endless focus, persistence and courage," says Foss.
Preparing for race day 
As race day nears, Rooker says it's overwhelming to think about her end goal, so she instead focuses on the day-to-day training goals, much like UWL Gymnastics Coach Barb Gibson encouraged her to do in gymnastics practices. She clocks about 100 miles every week, split up into several easy runs, a long run, and two or so days of intense interval sessions.
"What I've learned is that my easy pace has to be slow and comfortable. That is how you get aerobic improvement," says Rooker. "A couple times a week, I run fast, and it is mentally and physically challenging, but I look forward to it because I've spent so much time trotting along."
One of the biggest challenges of marathon training is finding the time, she says. She works full time as a physician assistant at M Health Fairview in Minneapolis, so finding hours each day to train often means sacrificing time with friends, family, travel and day-to-day chores.
Her husband, Alex Rooker, '11, a UWL Track & Field alum, is her personal coach and has helped her keep a perspective of gratitude as she thinks about the big race ahead.
"My husband says this (Olympic trial) is icing on the cake," she says. "Everything I've accomplished in the last two years is beyond what I ever thought possible when I started marathon running."
Who is your biggest running hero?
Keira D'Amato, a former real estate agent with two kids who is also the American record holder for the half marathon.