Posted 10:20 a.m. Monday, Jan. 25, 2021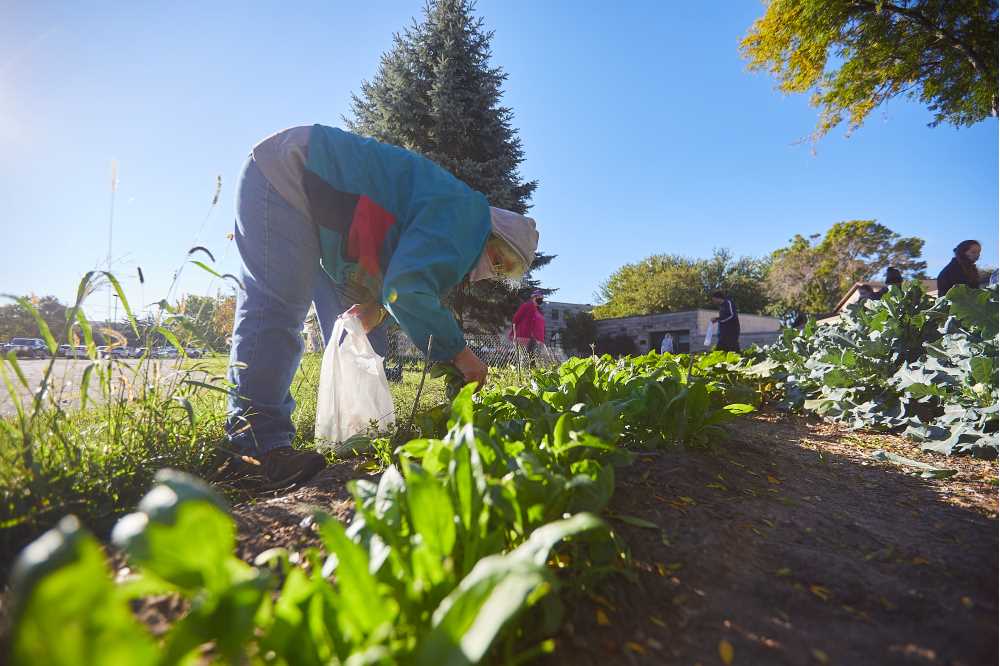 La Crosse's victory gardens reach end of successful first year
Dozens of La Crosse area families are feeling the simple satisfaction of eating locally grown food, thanks to a series of victory gardens planted around the city.
The gardens, a collaborative effort between city officials and local volunteers, have yielded countless grocery bags full of fresh fruits and vegetables, which are being distributed to the Hunger Task Force of La Crosse and the Salvation Army.
The project, intended to relieve food shortages caused by the pandemic, is supported by research from UW-La Crosse environmental studies students Kelly Flynn and Joe Rampolla.
"Especially during a time where many people are no longer financially stable and food-secure, victory gardens can provide access to local, healthy food," Flynn says. "It's definitely rewarding to see a project I'm passionate about come to life."
The city helped get the project off the ground but has since turned it over to community volunteers.
Cathy Van Maren, a former longtime employee in UWL's Upward Bound program, has helped lead harvesting at the victory garden at Aptiv Inc. each Friday.
With the help of Aptiv clients, Van Maren and other volunteers have harvested a tremendous amount of produce — everything from potatoes and kale to radishes and spinach.
"We haven't weighed it all, but every week we've had an entire picnic table covered with bags full of produce," says Van Maren. Three other gardens (at city hall, Hogan Administrative Center and Kane Street Community Garden) are having a similar output.
"It wasn't that long ago that everyone grew their own food. Then we got into the mode of having to buy everything," she explains. "I just feel like we need to take back control of that part of our lives, instead of buying food that was sprayed with chemicals and shipped in from 1,000 miles away."
Sue Dillenbeck, another core volunteer at the Aptiv garden, says the benefits extend beyond health and nutrition, and can be particularly impactful during a pandemic. Anyone in the community is welcome to lend a hand with upkeep or pick a few things for dinner that night.
"There's an economic value, because it's cheaper to grow your own food," Dillenbeck notes. "But it's also a way to connect with your neighbors. It's a way for the community to come together and get to know each other."
Many of those responsible for planting this spring and harvesting this fall are UWL retirees or alums.
Traci Otto, '20, a day services associate with Aptiv's adult program, is part of the team that helps Aptiv participants pick ripe vegetables each Friday. Spending time in the garden has helped instill valuable life skills, she says.
"That is a big part of Aptiv's mission — to help the participants learn and maintain life skills that they can use at home," explains Otto, who majored in psychology. "I also just enjoy being able to see the joy that volunteering brings to the participants."
Volunteers hope the gardens will be back next year — only better.
They've been making a list of the most and least popular fruits and vegetables, and will be adjusting their planting accordingly.
They're also hoping to enlist more volunteers, so the gardens can look and grow their best. (Those interested in volunteering can contact Jack Zabrowski with the City Planning Department: zabrowskij@cityoflacrosse.org.)
If the gardens continue to prove popular, Van Maren says, there may even be opportunities for expansion.
"I think we should have a garden in every neighborhood," she says. "But this is a start."