Posted 4 p.m. Tuesday, Aug. 6, 2019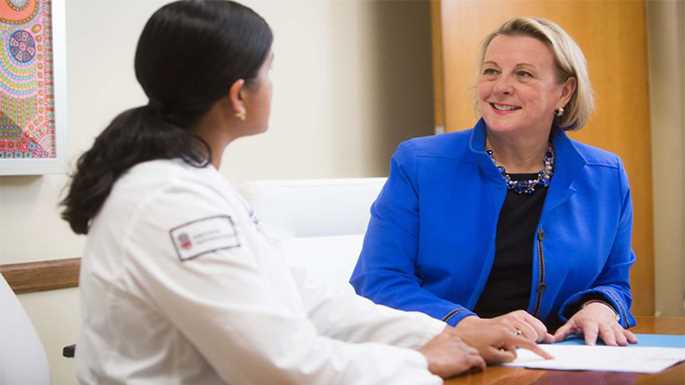 Alumna, CEO grateful for her start in community health education, supports future students in the same field
As a UWL student, Margaret M. Van Bree took community health education classes where students put public health initiatives into action. In Assistant Professor Robert Jecklin's class, students helped community members quit smoking through a partnership with the American Cancer Society.
The experience and connection helped Van Bree land her first job after graduation as the area executive director of the American Cancer Society, Wisconsin Division.
Van Bree, now president of Rhode Island Hospital and Hasbro Children's Hospital and professor of practice at Brown University, says her background in community health education also proved valuable over the long-run of her career as she has held numerous leadership roles with complex teaching hospitals across the U.S.
Over the last decade, these hospitals have become increasingly interested in how community health affects patients as opposed to orienting themselves toward providing simply episodic, acute services. This trend has made Van Bree appreciative of the relevancy of her undergraduate program. It got her thinking early on about the health needs of a community and how that impacts the healthcare delivery system.
"That is really important. For me, having started in that realm, it is a more natural connection," she says. "I think it has made me a better healthcare system leader."
Now, Van Bree is taking steps to help future healthcare leaders emerge with a similar background in community health education. She is setting up an endowed scholarship for female students enrolled full time in UWL's Community Health Education program. The student also must demonstrate leadership potential through campus and community activities.
Taking on a leadership role is not easy, yet future healthcare leaders are incredibly important, notes Van Bree. She also understands how a scholarship can help.
"I remember what is it like to be a student and having to worry about finances — even a small amount can make a huge difference," she says.
As an undergraduate student Van Bree had a lot of enthusiasm for community health education and "set herself apart" in classes, explains Jecklin. In a consumer health class where students investigated issues related to health-related products, most students chose to investigate a single product such as aging cosmetics. Van Bree analyzed a complex consumer health issue of the time — the legal action between chiropractors and the American Medical Association.
Jecklin makes it clear to students that questions are welcome before, during and especially after they've taken his classes. Some students take his word more seriously than others. He appreciates those, like Van Bree, who do.
"You get a chance to see where student go, what they do and how they develop," explains Jecklin. "It gives you clues about what you are trying to do with them on campus."
That open line of communication with Van Bree after graduation transformed into a friendship that has grown to include both dogs and children. Van Bree dog sat for Jecklin after she graduated from UWL and later Jecklin's children babysat for Van Bree's child.
In Van Bree's current position she still refers to specific community health education lectures from Jecklin. He was encouraging, provided a challenging learning environment and ultimately was "a huge influence," she says.
"I'm very appreciative of people in my life who have taken the time to mentor me," she says.
That's why she has repaid the favor many times by mentoring others. Now Van Bree's scholarship will provide another form of support to those looking toward their future.
Margaret M. Van Bree's story appeared in the summer Lantern alumni magazine.