Posted 1:18 p.m. Monday, Aug. 17, 2020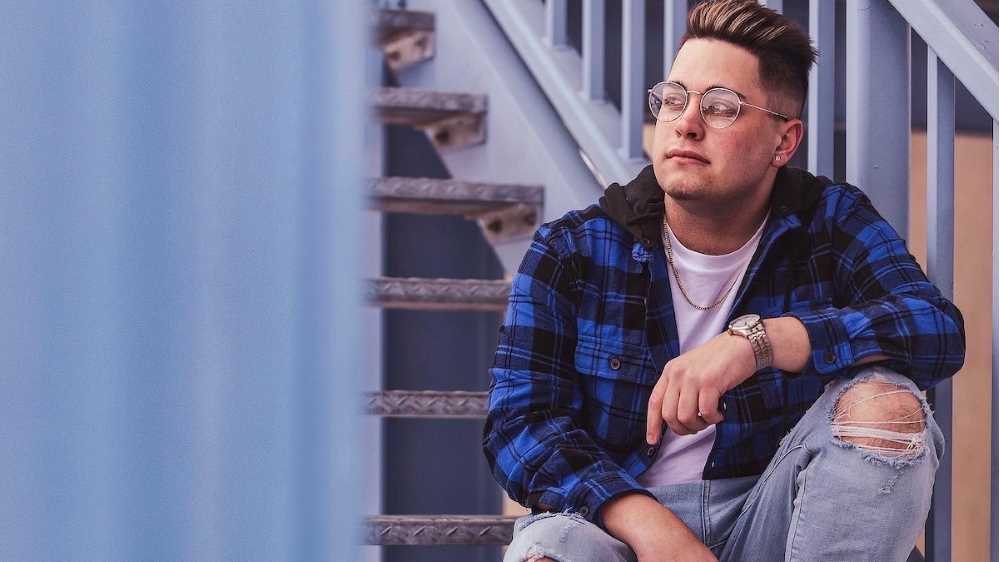 UWL student hip hop artist launches business, lands on Forbes Communication Council
Christian Anderson recalls late nights cruising down Main Street in Middleton, Wisconsin with high school buddies. He was 16 years old, rapping along as the radio blasted. As he improvised on some lyrics, he was surprised by a friend's remark, 'Hey, you're not really terrible. You should try recording your voice."
The tempered compliment was Anderson's first clue that he could potentially have a career in music.
As a junior at UW-La Crosse studying marketing, that career is now beginning to bloom. Anderson's latest hip hop album, "Lapse," made with a good friend, Marc Sharp, a.k.a. Bkwds, charted on iTunes in the Top 20 Hip Hop releases in July 2019.
Anderson, who also goes by the stage name Trust'N, was so good at promoting his own music that he decided to go into the business of helping others do just that. He became a PR executive for Bently Records in summer 2019. He is now starting his own a public relations and management business with fellow UWL student Bryce Vander Sanden and two others, called Lost Boy Entertainment.
His strong start in PR and business recently landed him on the Forbes Communication Council, an invitation-only community for executives in communications, marketing and public relations.
But his rapidly growing music career hasn't always been so easy, Anderson admits. When he was 17, he recorded his first hip hop songs and then blasted them out on social media, as well as his car speakers, for friends to hear. While most encouraged him, others didn't.
"I felt like I had to prove myself a lot," he recalls. "Some of my friends were like, 'What the heck are you doing? You should stop!'"
Anderson began to feel awkward and self-conscious about his work. While he had a natural ear for melodies from a childhood of piano lessons, he was always seen as the athlete and not the musical one in his family. He wasn't sure if he was good.
But he kept moving forward because he loved making music. And he found a close friend in his church youth group, Mantae Urban – a.k.a. 0-S9X, who had a similar drive. "He kept me going and would come over to my house all the time," notes Anderson. "He made a lot of my first songs and projects with me."
Anderson says music has always been an outlet. That became increasingly clear one year ago when he had a bad breakup. Along with his friend, Marc Sharp, who was also having struggles, the two heartbroken teenagers poured their souls into collaborative work. Their songs became the album, "Lapse."
"A heartbroken soul is something a lot of people can relate to," says Anderson. "Hearing all the feedback about the album makes you feel you're not alone in what you are going through, and it makes you work to get you back on your feet and get rebuilding."
Anderson has many people on his list who have been part of that rebuilding. Dan Wallace, UWL associate lecturer in marketing, is one. After learning about how to improve Anderson's LinkedIn profile page in a class, Wallace reached out to Anderson to connect with him about his impressive young start in business.
"He has been super insightful and helpful," says Anderson. "He really cares about what I'm doing outside of class. If have questions, I know I can go to him."
Wallace has provided business advice from his own entrepreneurial experience, which also started when he was in school.
"I can relate to what they are doing. I also believe it is important that a business college support entrepreneurs and support students who are doing difficult and impressive things," says Wallace. "It is not easy to be an entrepreneur."
UWL's Small Business Development Center, which frequently supports students interested in entrepreneurship, has also been a resource to Anderson — now helping him form an LLC.
"Every year, a number of UWL students start new businesses. Their enthusiasm and innovative ideas are remarkable," notes Anne Hlavacka, UWL SBDC director.
The SBDC also offers the UWL Innovation Lab and supports competitions to help students start and grow businesses.
"It is so weird because this was a hobby," says Anderson. "Then, I started to meet more people in the industry, and I started to hone my craft and promote myself. Over time, I have met the right people and they have helped me grow into the artist and person I am today."
A new member of the Forbes Communication Council
Anderson was vetted and selected by a review committee based on the depth and diversity of his experience. Criteria for acceptance include a track record of successfully impacting business growth metrics, as well as personal and professional achievements and honors.
"We are honored to welcome Christian into the community," said Scott Gerber, founder of Forbes Councils, the collective that includes Forbes Communications Council. "Our mission with Forbes Councils is to bring together proven leaders from every industry, creating a curated, social capital-driven network that helps every member grow professionally and make an even greater impact on the business world."
As an accepted member of the council, Anderson has access to a variety of exclusive opportunities designed to help him reach peak professional influence. He will connect and collaborate with other respected local leaders in a private forum. Anderson will also be invited to work with a professional editorial team to share his expert insights in original business articles on Forbes.com, and to contribute to published Q&A panels alongside other experts.
Finally, Anderson will benefit from exclusive access to vetted business service partners, membership-branded marketing collateral, and the high-touch support of the Forbes Councils member concierge team.
Need help launching your business idea?
The SBDC also offers the UWL Innovation Lab and supports competitions to help students start and grow businesses. For more information, contact the SBDC at sbdc@uwlax.edu or visit the Center for Entrepreneurship and Innovation website to learn about upcoming UWL Innovation Lab activities.