Posted 2:22 p.m. Thursday, July 13, 2023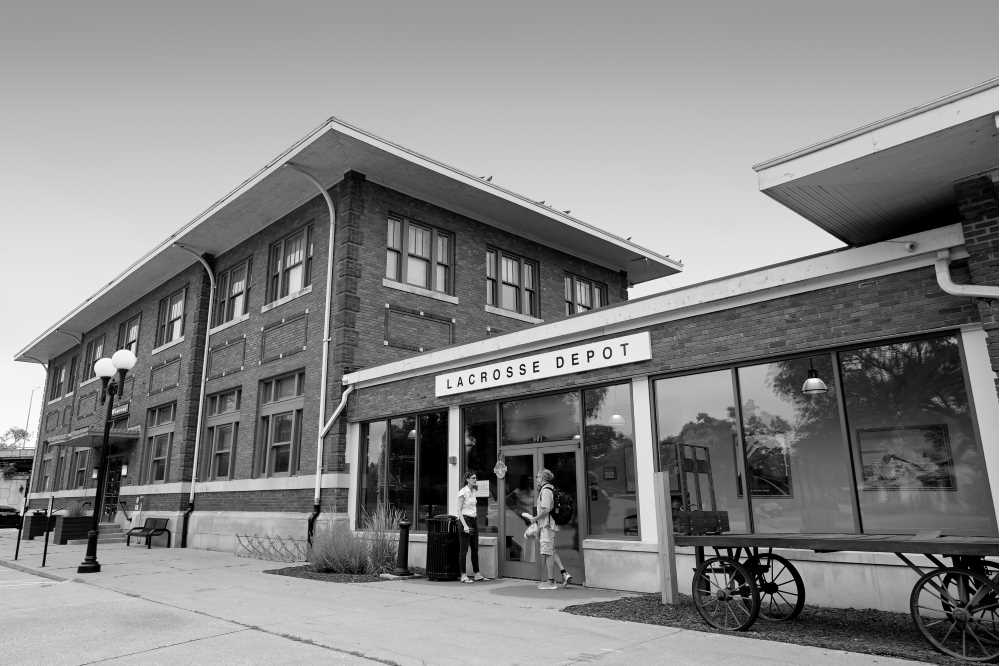 Join the 'Hear, Here' class to learn about and tell untold local history, open to all  
UW-La Crosse's award-winning community oral history project, Hear, Here is expanding to the North side of La Crosse and offering a new public class to collect oral histories from this new section of the city.
"I think it is important for all voices to be heard, but especially those who are not typically heard," explains UWL History Professor Ariel Beaujot, who launched the Hear, Here project with UWL students in 2015 and will teach the new course.
People from the La Crosse community of all ages are invited to join the class, which will take place Wednesday evenings over 15 weeks starting this September at the Black River Beach Neighborhood Center. Community members will be able to audit the class. Seniors citizens age 60 or older who are Wisconsin residents can audit for free or a minimal fee, depending on materials needed. Other auditors will pay $246 (Wisconsin resident), $324(Minnesota resident) or $1,062 (non-resident) for the three-credit class. Learn more on how to register.
Sara Krueger, a high school social studies teacher at Logan on the North side, plans to join the class. "I feel that being part of Hear, Here project's expansion to the Northside is incredibly important and rewarding, and also can be an experience I bring back to my students," she says. "I worked on Hear, Here as an undergraduate at UWL, and couldn't be more excited to return to it as a community member."
Carolyn Mahlum-Jenkins, a La Crosse community member, was also involved in the initial Hear, Here project. "It was an exhilarating experience in many respects," she says. Mahlum-Jenkins took advantage of the multigenerational composition of the class to get help getting reacquainted with the technology used in the classroom, and she found plenty of opportunities to share her own experiences.
"Some of the course content gave me time to reflect on what my life experiences were like growing up privileged in comparison to how others may have experienced the same period in time from another perspective. It opened my eyes," says Mahlum-Jenkins. "When I shared my high school, college and initial career experiences in the class, students were spellbound and listened carefully. What they were hearing about the 60's, 70's and 80's was history to them only exposed by books because their parents were too young to know first-hand."
Sharing non-traditional stories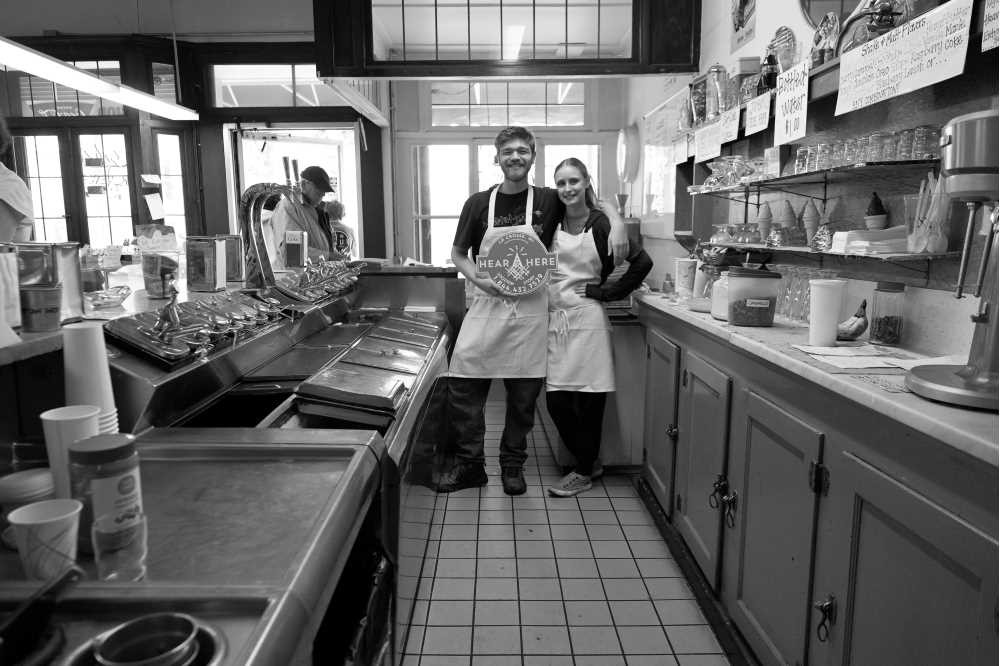 The original Hear, Here project started in downtown La Crosse in 2015. Since then, the project has expanded internationally. Beaujot wanted to expand to the North Side because of its unique history in La Crosse. The North Side started as a separate community, connected to the South Side by a plank road, which is now Copeland Avenue. After the lumber industry crashed at the turn of the 19th century, it was the North Side's industrial growth that employed laborers looking for jobs, and it was this growth that makes La Crosse what it is today. The North Side was the home to factories like the La Crosse Rubber Mills and Electric Auto Lite, and dozens of sawmills that lined the riverbank. The locals supported their own downtown that included a theater, butcher shops, spaces for social groups, a library, and small grocers. As a result, the North Side has its own rich history that should be celebrated, explains Beaujot.
"One of the goals of this project is for North La Crosse to be more 'seen' in the larger community — for the North Side to be able to tell their stories in their own voices and to be heard and recognized within the neighborhood but also to be heard by those from the rest of the city as well," says Beaujot.
The Hear, Here project's methodology of collecting oral histories was originally a way to get voices into the historical record there that were not there in traditional written sources held by archives, says Beaujot. The very first group of people that were represented in oral histories were working-class men. This is a group that is important for the North Side given the number of factories that were previously in the area, its connection with the rivers, and the train. The North Side was also home to the Moss family, one of the only Black families in La Crosse for many years. It is a place that Ho Chunk people had a summer settlement and various new immigrants made their homes.
Community member Glen Jenkins, who took the previous Hear, Here course, says it encouraged him to step outside of his comfort zone and engage in conversations that challenged perceptions and expanded his perspectives while providing him with practical tools to navigate difficult conversations and conflicts constructively in other areas of his life.
"I became more aware of my own biases and learned how to approach conversations with an open mind and heart," he says. "I use the lessons I learned [in the first Hear, Here course] every day, and I am committed to continuing to be a compassionate listener and an advocate for meaningful conversations."
About Hear, Here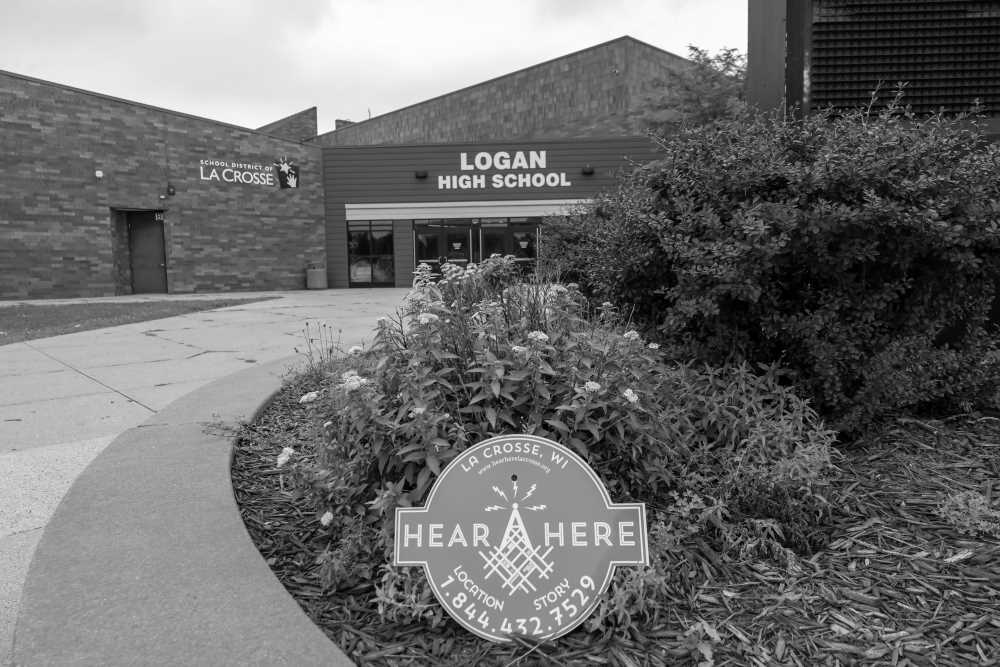 Hear, Here is based on the concept that everyday people can share their location-based stories, providing a unique way to communicate history through multiple narratives, including voices that are normally overlooked.
The basis of the original Hear, Here project was developed by UWL History Professor Ariel Beaujot and her students in 2015. The project provides audio recordings of stories from people of all backgrounds at specific downtown La Crosse locations. The project is now expanding to the North Side of La Crosse. They are accessed by dialing a toll-free number at orange street signs.
Since 2015, the Hear, Here project has become international, being replicated in London, Canada (2018); Luxemburg Europe (2022); and Guelph Canada (2023). It includes not only stories from the past but poetry and partnerships with other UWL departments, K-12 education and community organizations. Hear, Here has won four major awards in the U.S. and Canada, as well as a provincial award in Ontario.
"For me the most exciting part is that we get to keep expanding the project worldwide while keeping the original project in La Crosse," says Beaujot. "We can take pride in such a successful international project originating in La Crosse, Wisconsin."
About the class
Two consecutive classes, HIS 318 and HIS 418, will be offered to both community members and UWL students. Both classes are 15 weeks long. Taught by UWL History Professor Ariel Beaujot, the classes will be Sept. 6-Dec. 20 and Jan. 24 - May 8. Classes are on Wednesday evenings from 5:30-8:15 p.m. at the Black River Beach Neighborhood Center.
The class will use 30 stories that have already been recorded from UWL's Oral History Program. Every student will record and edit at least two additional stories during the first semester. It is anticipated the project will include a total of about 70 North Side stories when it launches next April.
For the first of the two classes, HIS 318: Exhibition Development and Design I:
How to conduct oral history interviews
Conducting research on the North Side of La Crosse
Researching stories in archives
Contacting narrators
Conducting interviews and editing them

For the second class of the series, HIS 418: Exhibition Development and Design II:
Adding stories into the Hear, Here website
Developing a brochure with story locations
Preparing signs and having them mounted
Moving stories into the phone system
Preparing social media and a launch event for the community