Posted 9:58 a.m. Tuesday, July 25, 2023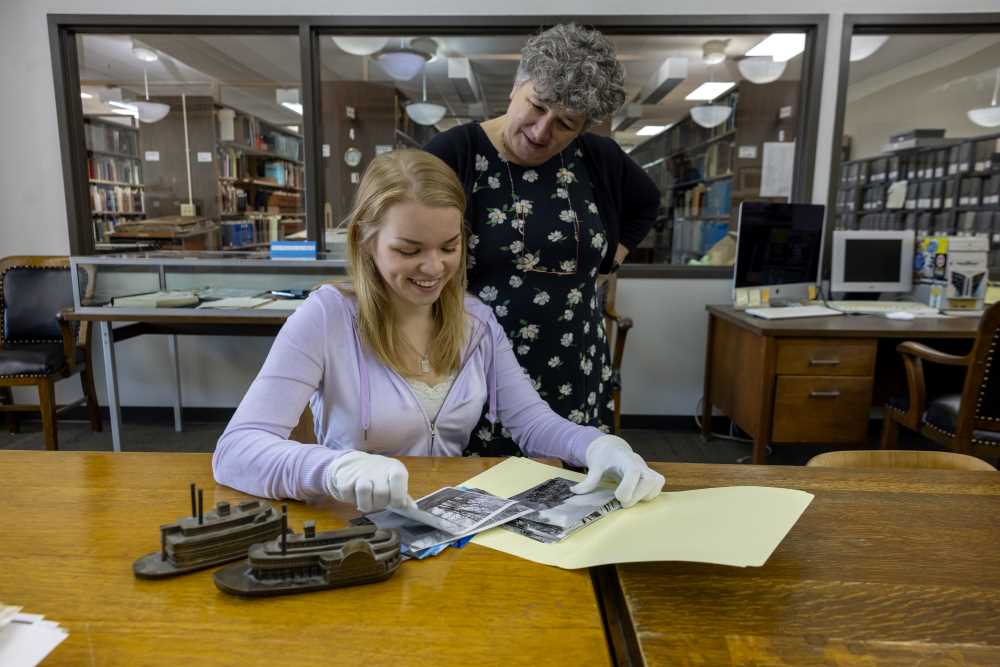 Professor, visiting scholar dive deeper into freshwater history
Back in the late 1860s, Geologist John Wesley Powell traveled down the Colorado River through the Grand Canyon describing natural wonders — powerful water, sandstone canyons and adventurous nights spent in caves. His finished diary, "Down the Colorado" would capture the imagination of Americans curious about life and travel out West. Powell's trip was sponsored by the Union Pacific Railroad Company, which completed the U.S. Transcontinental Railroad, linking the eastern and western U.S.
"They wanted this broad audience to be excited about going West, so selling the West as an exciting adventure makes perfect sense," explains UWL Associate Professor of History Penelope Hardy, who studies global waterways and oceanic history.
A lot of important U.S. history happened on waterways, but we often think of water only as a side note to history, defining borders and transporting goods, says Hardy. Hardy is working to help others think about water history more deeply. She and her undergraduate research assistant created a collection of primary sources on the history of freshwater from around the world this summer through the Freshwater@UW Summer Research Scholar program. Three other UWL professors are also conducted research with undergraduate visiting scholars from other universities this summer as part of the program, sponsored by the Freshwater Collaborative of Wisconsin. A total of 31 students participated throughout the UW System.
Hardy's student research partner, Gillian, is an undergraduate student from a university in Texas. She is pulled together a collection of sources for the research and Powell's was one of her first finds.
"I found it fascinating. The language that he used describing this water was very animated, kind of like reading an adventure novel," says Gillian. "He knew his audience to be a broader spectrum of readers — not just scientists or geologists."
Creating a collection of primary sources to better understand water history comes at an important time when water has proven to be a limited and valuable resource that has been adversely impacted by human consumption. The very Colorado River that Powell travelled has reached a dangerously-low water levels from chronic overuse of water resources and a historic drought, made worse by a warming climate.
"Every part of our situation today has historical roots," says Hardy. "If we realize how we got to where we are today, we would have a better shot at solving the problem. In the case of the Colorado River drying up, as agriculture moved West, settlers believed they would change the climate in a good way because 'the plow brings rain,' but we now know that that's a myth and that climate change is severe and has created serious problems like not having enough water for agriculture."
Gillian, who will be applying to graduate school for history, says the program has given her more experience conducting research before continuing her education.
"I like that I get to work with a faculty member one-on-one. Dr. Hardy has helped me with a lot of graduate school questions," says Gillian.
Research on the history of freshwater waterways is just a portion of Hardy's overall research goals. She eventually aims to collect primary sources of history on oceans from all over the world to be published by Routledge in hard copy format and as an online database. She also teaches a class "Knowing the Oceans" and the collection, once developed, will be used in that class. Working with an undergraduate student gives her a chance to preview how students would interpret the texts that are selected.
Gillian presented her research at the Summer Research Symposium in August at the Discovery Building in Madison as part of the Freshwater@UW Summer Research Scholar Program. The 2023 program is funded by the Freshwater Collaborative of Wisconsin, Wisconsin Sea Grant, the University of Wisconsin Water Resources Institute, Water@UW-Madison, and the UW-Madison Graduate School.