Posted 4:09 p.m. Thursday, Sept. 10, 2020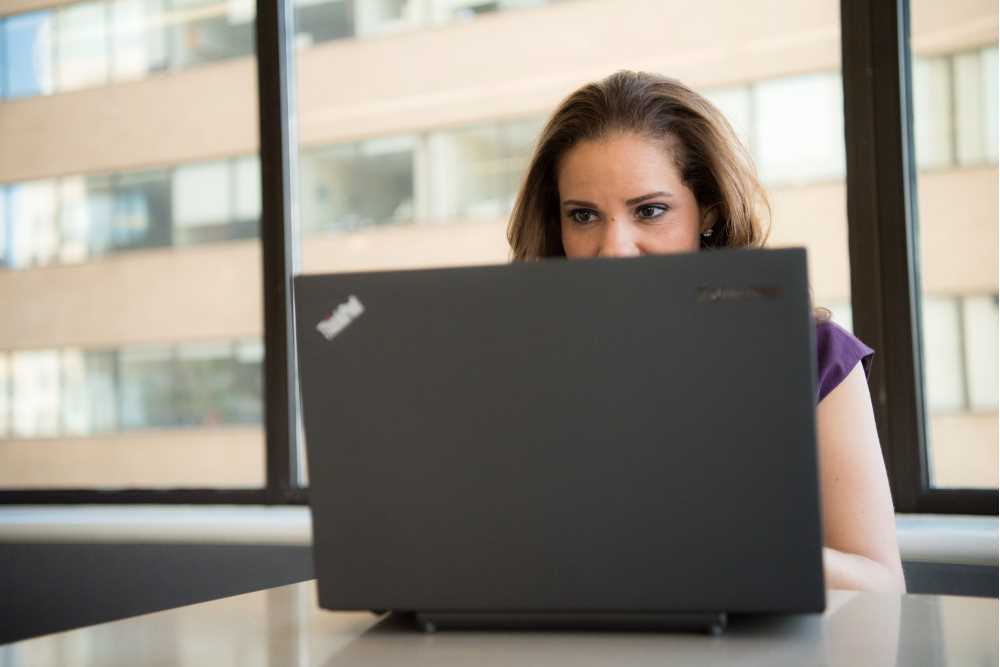 Career advising expert shares the dos and don'ts of virtual interviewing
With COVID-19, virtual interviews are becoming the norm. The good news is that many of the traditional principles that guide successful in-person interviews apply to virtual interviews too. One key component of both is that the more prepared you are, the better you will do.
UW-La Crosse's Academic Advising Center and Career Services
shared best practices to help nail the virtual interview during a
UW-La Crosse Alumni Association
What's New Wednesdays virtual event in August.
UWL alumna Karolyn Bald, '97 & '99
, led the presentation.
How to prepare for a virtual interview
Practice makes perfect. Talk to yourself and write out answers to questions you can anticipate. Think of scenarios where you can demonstrate your abilities. Key scenarios include: how you problem solve, how you are a team player and how you show leadership. These can be adapted to multiple questions.
Think STAR. You will likely be asked behavior-based questions where you need to describe a situation and how you handled it. These questions follow the STAR formula where you describe the situation, task, action and result. Practice articulating answers in this way. A good way to end these questions is by highlighting what you learned. This shows you are reflective and a hard worker.
Know your resume and the job description. Be comfortable discussing everything on your resume. Also, read the job description very closely, so you know the position you are interviewing for and what to highlight.
Prepare your questions. Write down your own questions for the company such as: "What are some of the challenges and opportunities of this position?" "What can I do now to prepare for day one?" and "When do you expect to make the hiring decision?"
Know what employers are likely looking for. Some common competencies include communication, critical thinking, problem solving, adaptability and more.

See a full list.
How to answer virtual interview questions
Make good eye contact — in this case with the camera/people on the screen.
Actively listen to the speakers to ensure you are fully answering each question.
Smile and nod at appropriate times just as you would during an in-person interview.
If you don't know the answer to a question, don't be afraid to admit it or ask that it be restated.
Being nervous is normal. Interviewers expect you to be. This shows that you are truly interested in the position. Your nerves will be eased if you have practiced.
Bring a cheat sheet. A benefit of a virtual interview is that you can have your interview preparation materials right out in front of you as a reference.
Have a notebook. Jot down any important notes that come up.
Be positive.
What to wear for a virtual interview
A positive first impression starts with dress — and this remains true with a virtual interview. First and foremost, wear something that makes you feel comfortable and confident. Dress with the appropriate attire for the work setting you are applying to whether business casual or formal dress.
Where to do a virtual interview
Look for a quiet and distraction-free space in your home or apartment. Then, be sure to turn off the computer and phone notifications that could interrupt.
Keep your background clean and simple — you want it to blend in and not distract.
If possible, find a background the speaks to you as a candidate. For instance, a home office communicates that you've spent time and resources creating an effective workspace.
Consider lighting: Bright lights behind you could hide your face. Overhead florescent lights may not be flattering. Natural lighting will provide a clear and detailed image of your face.
Technology for a virtual interview?
Do some practice runs with the technology and settings you are planning.
Wear headphones. They will improve sound quality and block out sound distractions.
Set a 10-minute alarm to be in front of your computer, review notes and check technology prior to your interview. At one minute to go, log in.
Realize technology is not perfect and there may be glitches. Remember that how you handle issues with technology will reflect on you.
What are common interview questions?
Tell us about yourself. Start at the point in your life that is directly related to this position whether that was school, study abroad, or an internship. How did it impact you or prepare you for this time in your life? Also, don't be afraid to share something unique about yourself. Do you like fly fishing? Play the ukulele? Your interests may help you connect or stand out.
Why are you interested in XYZ company? Do your homework. Learn about the company.
Why are you interested in this position? Employers want to know why you want this position and how you will grow within this position. They don't necessarily want to know about your dream position – that isn't related. So, be sure you are speaking to the right position
Don't forget to say thanks.
Send a thank you card or email after the interview. Don't be generic when writing your thank you note. The more specific you can be referring to a conversation or something specific someone shared with you, the better. It shows you were paying attention and you care. Thank each person on the team or ask that the primary contact to share your thanks with everyone. If a decision will be made quickly, an email thanks may be best. 
Watch the "Conquering the Virtual Interview" event on demand
through Sept. 22.
'Thriving in the Wake of COVID-19's New Normal'
Catch the next virtual What's New Wednesday's event, "Thriving in the Wake of COVID-19's New Normal," presented by Gary Gilmore and Dan Duquette, professors in UWL's Health Education Health Promotion Department, from 5-6 p.m. Wednesday, Sept. 23.
Pre-registration is required.
Access career-search resources as a UWL student or alum
UWL alumni can check out the
Alumni Association page for tips on the job search.
UW-La Crosse students, alumni and employers have access to the Handshake platform. Here employers can post jobs and UWL alumni and students can access job postings and career resources for free. One resource is "Interview Stream" where you can practice interviewing from home virtually. The system will ask you a question and record you answering it for your review.
Join Handshake at:
uwlax.joinhandshake.com