Posted 3:51 p.m. Thursday, Nov. 19, 2020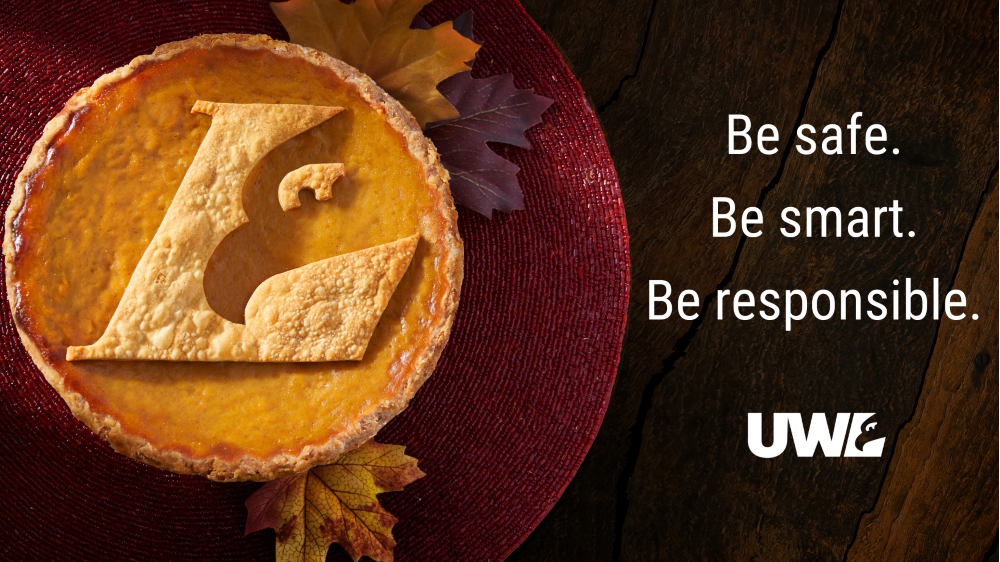 Stay home, postpone travel to protect yourself and others
The holidays are a time when we look forward to gathering with family and friends. But this season, we must also consider the safety of those we love.
The La Crosse area is seeing an increasingly large number of COVID-19 cases and hospitalizations. Traveling away from campus and connecting with people outside of your current La Crosse area household increases your chances of accidentally spreading COVID-19 to friends and family.
The Centers for Disease Control and Prevention recommends instead celebrating virtually or with members of your own household — those who currently live and share common spaces in your housing unit. Still, some may choose to travel.
If you choose to travel
Get a COVID-19 test prior to traveling. If you are an off-campus student, UWL staff member, faculty member, or community member, you can schedule an antigen test at the UWL Surge Testing site. Sign up on the website before you go, as walk-ins are not accepted. Students living in the residence halls continue to be tested regularly through the Residence Life Testing Program.
Remember: A negative test only indicates that you did not have enough of the virus in your system to be detected at the time of the test. This could either be because you truly do not have COVID-19, or it may be because there was not yet enough virus in your system for the test to detect it. Even with a negative test result, you should still take care to follow the additional guidelines below.
Check travel restrictions before you go.
Get your flu shot before you travel. Flu shots are available by appointment at the Student Health Center.
Always wear a mask in public settings, when using public transportation, and when around people who aren't a part of your La Crosse area household.
Stay at least 6 feet apart from anyone who is not a part of your La Crosse area household.
Wash your hands often and use hand sanitizer.
Avoid touching your mask, eyes, nose, and mouth.
Questions to consider if traveling
These questions from the CDC can help you decide what is best for you and your family. Talk with friends, family and the people you live with about the risks of traveling over Thanksgiving break. If your answer is "yes" to any of these questions, consider making other plans, such as hosting a virtual gathering or delaying travel.
Are you, someone in your household, or someone you will be visiting at an increased risk for getting very sick from COVID-19?
Are cases high or increasing at your destination? Check CDC's COVID Data Tracker for the latest number of cases. Remember, La Crosse County is currently experiencing a very high number of new COVID-19 cases.
Are hospitals in your community or your destination overwhelmed with patients who have COVID-19? To find out, check state and local public health department websites.
Does your home or destination have requirements or restrictions for travelers? Check state and local requirements before you travel.
During the 14 days before your travel, have you or those you are visiting had close contact with people they don't live with?
Do your plans include traveling by bus, train, or air, which might make staying 6 feet apart difficult?
Are you traveling with people who don't live with you?

Travel recommendations and questions adapted from the CDC website. Find additional information about the risks of traveling home for Thanksgiving, and tips for a virtual gathering here.