Posted 2:41 p.m. Tuesday, April 19, 2022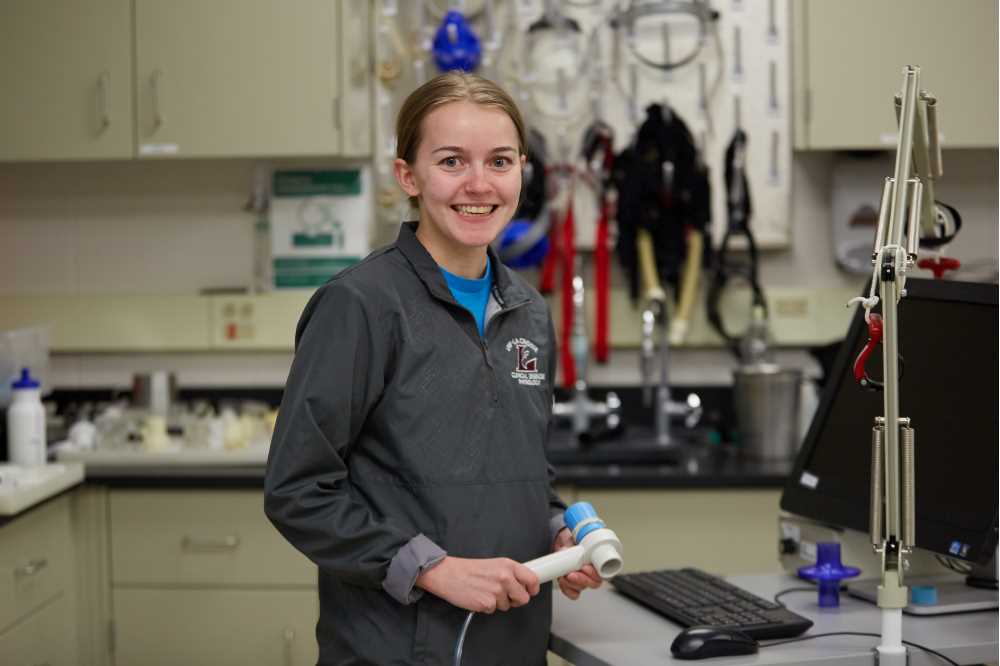 UWL's Grace Vogt wins 3 Minute Grad Project competition
It's a problem many people have faced during the pandemic: wearing a face mask while exercising.
Grace Vogt, a graduate student in UW-La Crosse' clinical exercise physiology program, set out to determine whether masks truly make it more difficult to work out.
The project, paired with Vogt's skilled delivery, recently earned her a first-place finish in this year's 3 Minute Grad Project (3MGP). The event challenges grad students to squeeze months of research into a 180-second presentation for a general audience.
"I was overjoyed and very thankful when I found out I won the competition," says Vogt, who received a $500 scholarship for her efforts. "It's really rewarding knowing that all the hard work I've put into the research project and 3MGP competition was recognized."
Vogt's research arose from a study by her faculty advisor, Kim Radtke, an associate professor in the Exercise and Sport Science Department. Radtke had previously studied the effects of wearing a face mask during a six-minute walk test.
Building on this, Vogt recruited La Crosse community members for a multi-week trial. She monitored their self-paced exercise on a stationary bike, with and without N95 masks.
She compared overall workload, as well as heart rate and other measurements related to lung activity. She also recorded participants' perceived shortness of breath and perceived exertion.
After reviewing results from three workouts with each participant, Vogt concluded that there was no significant difference in workload. However, there were increases in perceived exertion, labored breathing and end tidal carbon dioxide levels.
"Possible reasons for this include the fact that the N95 mask has a tighter face feel, which can cause increased heat and humidity levels inside the masks, as well as increased breathing resistance," she explains. This insight can be helpful, she adds, among both exercise scientists working with clients and the general population.
The research portion of the project came naturally to Vogt, who aspires to a career in cardiac rehabilitation.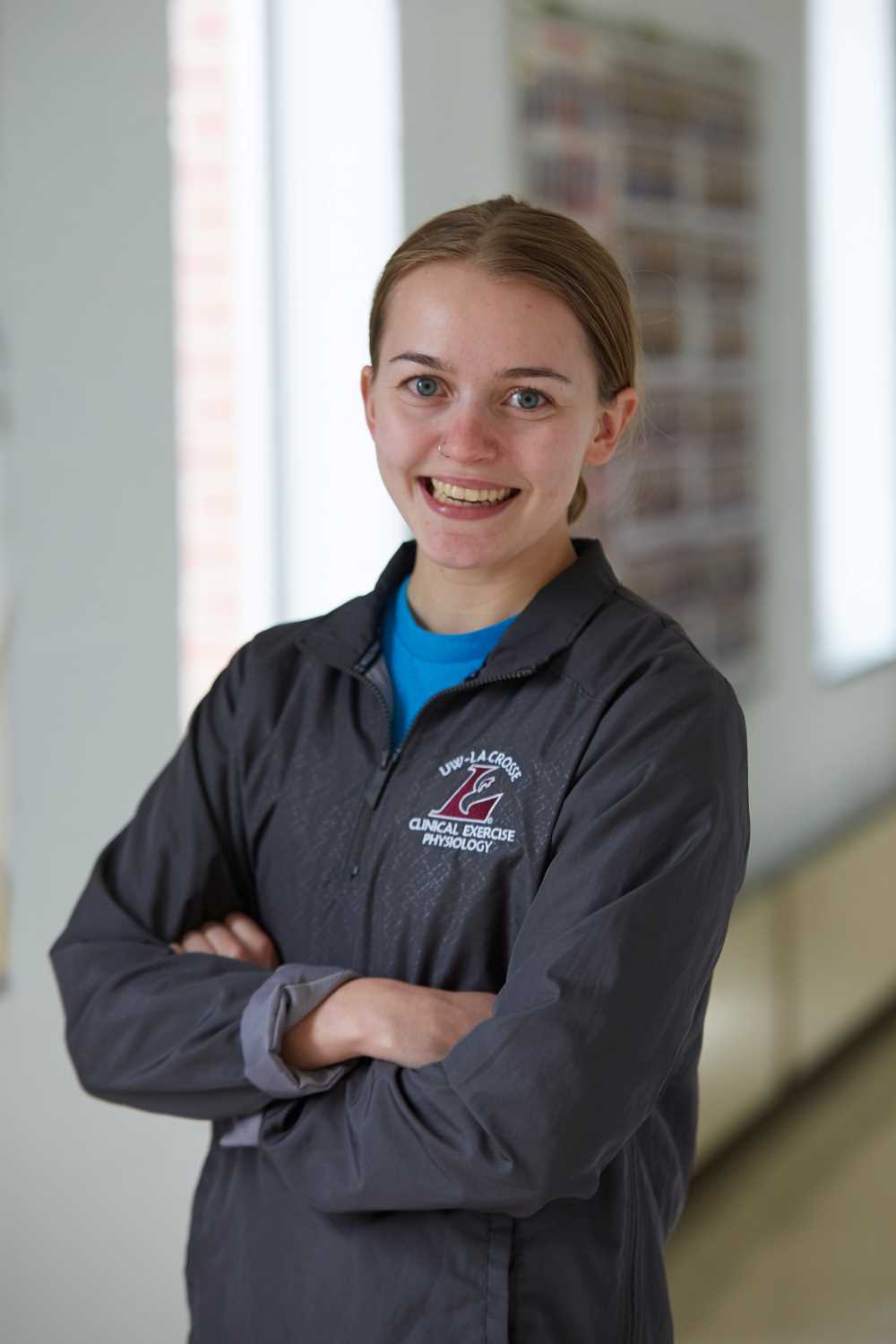 What proved more difficult, she says, was synthesizing months of research and mountains of information into a three-minute presentation that would be digestible and engaging for a mixed group of listeners.
"Three minutes is a very short amount of time to talk about a research project you've been working on for months," she notes. "When practicing for the 3MGP competition, I found myself talking really fast for two reasons. One is that when I get excited about what I'm talking about, I end up talking really fast. The other is that there was a lot I wanted to say and explain, but I had to fit everything into a very short timeframe."
Vogt spent considerable time simplifying abstract terminology and refining the outline of her presentation. All that work paid off, according to the judges, who declared her the winner from a field of 12 presenters, whose backgrounds ranged from biology, to physical education, to psychology.
Radtke, who assisted Vogt throughout the project, says the honor was well-deserved.
"Grace has been very easy to mentor," Radtke explains. "She is an excellent writer and is very curious about learning more in her field of study. She is self-motivated and driven, and has made this whole process seem easy to the other graduate students, even though it has required a great deal of time and effort. I have really enjoyed mentoring her for this project and look forward to watching her grow in her professional career."
Conducting and presenting this research is just one aspect of Vogt's education in UWL's clinical exercise physiology program.
Three days a week, Vogt and her classmates also help run the La Crosse Exercise and Health Program at UWL — a chance to practice skills they'll need in their careers.
They also cover clinical rotations at Gundersen and Mayo health systems in La Crosse, which provides a taste of what it's like to work in the community.
"This program," Vogt says, "offers experiences that increase our knowledge and confidence in skills that will allow us to be successful when we start our first job in the field."
About UWL Graduate & Extended Learning
UWL offers more than 20 graduate programs, including online, on-campus and blended programs in the areas of business and management; higher education; K-12 education; science, engineering and math; clinical fields; and health and wellness. Learn more about graduate programs at www.uwlax.edu/graduate-studies/graduate-programs/.