Posted 10:51 a.m. Tuesday, Oct. 19, 2021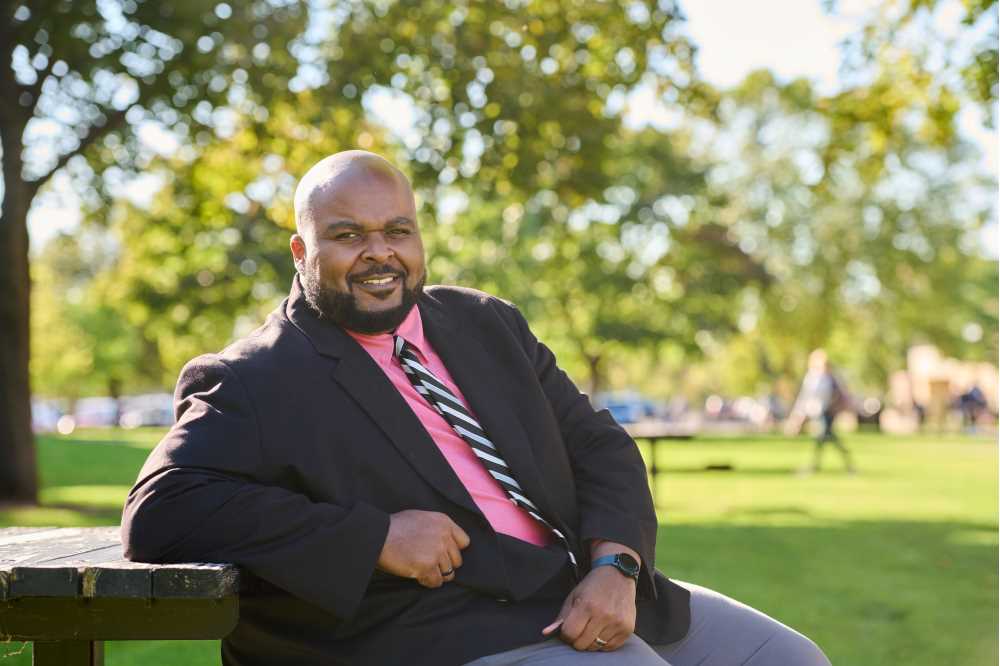 Transfer student Damian J. Combs found perfect fit at UWL
To mark National Transfer Student Week Oct. 18-22, UWL is highlighting the stories of transfer students who have found their home at UWL. This is the first installment of the series.
To learn more about National Transfer Student Week, visit www.nists.org/national-transfer-student-week.
UWL senior Damian J. Combs
Major: Instrumental music education
Hometown: Columbus, Indiana
Previous college: Indiana University
Q: Why did you choose to transfer to UWL?
A: I chose to transfer to UWL because I moved to La Crosse and this school was the best fit for me, especially as a musician and going into teaching music. To me, UWL is a small university, with the feeling of a big university. I love the fact that this is a smaller campus because everything seems more personable, especially when it comes to one-on-one help, and it really feels like a family here.
Q: Tell me about how you started in higher education.
A: I started out majoring in business administration/information systems from American InterContinental University. I graduated with an associate degree. I then transferred to Indiana University and went there for two years, majoring in informatics, before transitioning to UWL to study music education.
Q: What advice do you have for transfer students? What advice would you give a first-year transfer student?
A: My advice would be to make sure you learn everything about the university as much as you can. It is important to become familiar with your surroundings, and join a club, sport, etc., so you can become the true Eagle you are developing into during your time here! It's okay to also indulge yourself in only academics, too.
Q: What has surprised you here at UWL?
A: What surprised me about UWL is the campus' size. However, it still has that feeling of a big university, which is appealing, especially if someone wants the big university feel, but likes the campus to be smaller. I am also surprised at how helpful everyone has been during my time here. You can always find answers, and the communication is top-notch! I have never felt lost.
Q: Who has helped you or helped you in your transition to UWL?
A: Hands down, Ashley Cree from SOE (School of Education). She has helped me beyond any words I can say! I am so thankful for her support and guiding me on the right track to graduation. She has broken everything down for me so that I know I am on track. I could not be more appreciative of her guidance and overall support!
Q: What would you like to do with your degree after you graduate from UWL?
A: I would like to teach music in a middle school to start, but I am not opposed to teaching high school to begin my music-teaching career. The opportunity to teach music at the high school level also appeals to me. Regardless of where I begin, I would be content splitting my time between teaching music at both a high school and middle school.
Q: Anything else you would like to share?
A: I am blessed and grateful beyond words to be a student at UWL. I am doing so well, and I have met some great people, from students to faculty. UWL really feels like home to me. I am enjoying my time as a music student, and continue to learn a great deal. I am right where I need to be, and I am thankful for this opportunity to learn and grow musically and personally.