Posted 2:53 p.m. Tuesday, May 4, 2021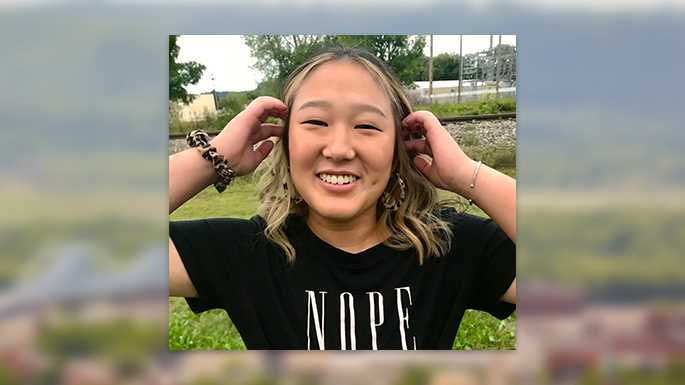 UWL May graduate reflects on transformative college experience
Faith Fisher can sum up her college transformation in one word: confidence.
"The thing I'm most proud of is how much more comfortable I am in front of people, how much more comfortable I am in my beliefs," says Fisher, a sociology major and psychology minor — one of more than 1,500 soon-to-be graduates who will be honored at UW-La Crosse's commencement Saturday, May 15. "I've grown a lot since my freshman year, when I was sometimes scared to put myself out there. I've really come out of my shell and stood up for what I believe in."
The Burlington native has been a stellar student and highly involved on campus.
She holds a 3.45 GPA, 3.5 in her major.
She has served in a variety of roles on campus, including resident assistant in Wentz Hall and several positions with the Student Association, most recently director of staff.
And she has devoted time to helping the broader community, interning at a La Crosse County Systems of Care camp for at-risk youth.
Lisa Kruse, associate professor of sociology and criminal justice, says Fisher has been a model student, using her knowledge and experiences to enrich classroom discussions.
"She truly embodies the spirit of sociology in speaking truth to power," Kruse says. "There are some students whose presence you know will increase the quality of your sociology classes because of their capacity for critical reflection, dedication to learning, and willingness to take on and challenge cultural narratives. Faith is one of those students. Her compassion and unwavering dedication to social justice is inspiring, and I have no doubt that we will be proud of the work she does."
Fisher's most fulfilling work on campus has been with the Student Association, which she joined as a freshman, representing the Asian Student Association. She remembers the first meeting being "long and intense," but she quickly realized the group could make a positive difference.
As a junior, Fisher became the Student Association's inclusivity director. In this role, she and her peers created a campaign bringing attention to sexual assault and domestic violence.
She also helped spearhead fundraising efforts for the Student Association's Womxn of Color Scholarships. This year, the team exceeded their goal by raising $3,700 toward the scholarship program.
"That's probably the thing I'm most proud of," Fisher says. "Especially during COVID, money is tight and times are hard. I wasn't expecting people to have this as their priority, but it was really exciting to see so much support and generosity."
Fisher also left her mark on the La Crosse community.
The summer before her junior year, Fisher interned with the La Crosse County Systems of Care camp for at-risk youth. She and two other camp counselors spent the summer getting to know the children, taking them on trips and teaching them cooking, money management and other life skills.
"It was super fun, but it was also stressful and hard work at times," Fisher says. "It was fun to build relationships with kids and figure out what works and what doesn't work in terms of communication."
Much of Fisher's efforts have involved diversity and inclusion. Growing up in a predominantly white community, she learned at a young age to get off the sidelines and advocate for her beliefs.
"When it comes down to it, I'm a person of color, and I've seen how racial injustice not only affects the Asian community — but the Black community, the Native community and the Latinx community," she says. "Hopefully we can inspire more people to be a part of the cause, and people will realize that we don't only have racist people in our society, but racist infrastructure as well. Those structures won't just go away — we have to change them."
Fisher plans to continue doing her part.
After graduation, she and some friends are moving to Chicago. There, she will spend a year with City Year, an education nonprofit, working with at-risk children in the local school system.
"I've really liked UWL and La Crosse, but I'm excited to see a different atmosphere, different people and a different culture," she says. "I'm a little nervous, but I'm definitely far more excited than nervous."