Posted 9:11 a.m. Tuesday, March 23, 2021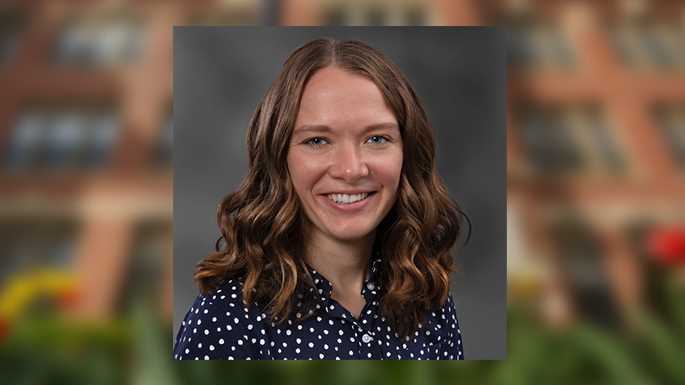 Through fellowship, alum shares importance of diet, exercise
An alum is helping physician assistants across the country promote health and nutrition in their communities.
Whitney Brusich, '17, is a nutrition outreach fellow for the Physician Assistant Foundation. The national organization provides support, resources and learning opportunities to more than 130,000 physician assistants nationwide.
Brusich says it's fulfilling to share her insight with physician assistants who can make a real difference in the lives of their patients.
"I've seen firsthand the consequences of poor nutrition in the clinic — infected wounds in patients with diabetes, abdominal discomfort from constipation, joint pain for osteoarthritis worsened by obesity, and much more," notes Brusich, who lives in Green Bay and works in urgent care in Manitowoc. "On the flip side, I've also seen patients thrive and reap the benefits of eating well. Unfortunately, all the education in the world doesn't really help unless I have a way to share it with people before they become my patient."
The fellowship — entirely online due to COVID-19 — has allowed her to achieve that through virtual meetings and presentations.
While nutrition hasn't been one of her specialty areas academically or professionally, Brusich has enjoyed diving into the subject and sharing best practices.
"It really comes down to the idea that eating well keeps people feeling well," she explains.
Medicine has made incredible advances with new medications and surgical procedures, she says. But many are unnecessary for a healthy patient who eats a balanced diet and exercises regularly.
"I get excited working with people who find that a few small changes to their daily routine can really make a difference over time," Brusich says. "The biggest win for me is educating and empowering people, so that they don't need to come into the clinic for more than routine preventative visits."
Brusich appreciates the variety in her clinic work but wouldn't mind transitioning to a specialty. No matter her specialty, the importance of sound nutrition will always be at the forefront, she notes.
A native of Lawler, Iowa, Brusich earned a bachelor's degree in human physiology and psychology from the University of Iowa in 2014. She graduated from UWL's Physician Assistant Program in 2017.
Brusich calls her time at UWL "some of the most challenging and important years of my life."
"I couldn't have made it through without my classmates and our supportive faculty," she says. "More than any particular lecture or lab exercise, the passion all the faculty brought to their classes sticks with me. I couldn't have asked for better professors or classmates."
For more information
Non-medical professionals interested in learning more about this topic can find a virtual presentation here.
Those who view the presentation are asked to complete this survey.