Posted 10:50 a.m. Thursday, July 29, 2021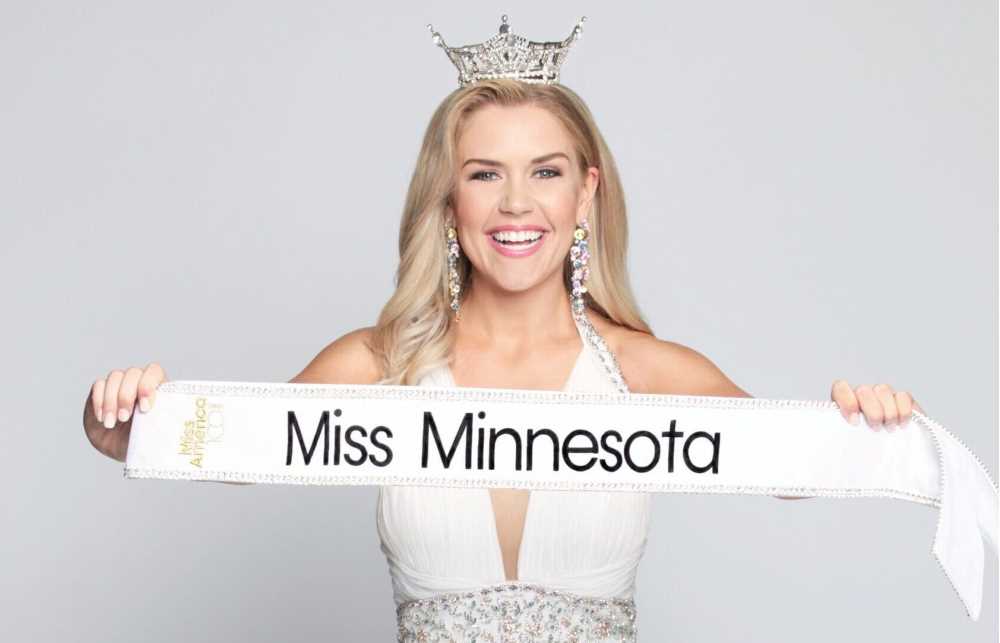 Alum Elle Mark making a difference as Miss Minnesota 2021
Many girls grow up dreaming of becoming a queen. For Elle Mark, that dream is reality — times three.
Mark, a May 2019 graduate with a public health and community health education major, was crowned Miss Minnesota 2021 in June. She entered the competition as the 2019-20 Miss St. Croix Valley, a title she won following her year as Miss La Crosse/Oktoberfest in 2018-19.
"I've dreamt of being Miss Minnesota since I was a young girl, but I had no idea where to start," explains Mark. "It wasn't until I got involved in the Miss La Crosse/Oktoberfest organization that I realized how. Once I realized that I could compete for Miss Minnesota, my heart was set on making my dream a reality."
It was the Red Wing, Minnesota, native's first attempt at becoming Miss Minnesota. She had participated in the Miss Wisconsin pageant during her Miss La Crosse/Oktoberfest reign.
Mark says her year reign in La Crosse was key in helping her find success in becoming Miss Minnesota. She learned not only the "in's and out's" of the Miss America Organization, but also recognized the crown and title was more of a job and less of a hobby.
"Miss La Crosse/Oktoberfest is kept incredibly busy and you hit the ground running, and it's been the same way with Miss Minnesota," notes Mark. "You have to have plans put in place for your title before winning the crown or you'll be behind on day one."
Mark credits campus experiences for paving the road to her titles. On campus, she was involved in Eta Sigma Gamma (the Public Health Honorary fraternity), Love Your Melon, Kinesis Dance Theatre and the UWL Dance Team. Along with those extracurriculars, her classes pushed her to think beyond her own preconceived ideas and beliefs to understand what was happening around her.
"That type of critical thinking is crucial in preparing for the interview portion of the competition," she says. "I also was able to do a bit of public speaking and performing in my time at UWL which helped me to develop a stronger stage presence."
Besides preparing for the 100th Miss America competition in December, Mark will spend the upcoming year spreading the word about the Miss Minnesota scholarship program. She will also promote her social impact initiative, "The Campaign to Change Direction: Changing the Culture of Mental Health." She anticipates many visits to local festivals and competitions, along with schools and Boys and Girls Clubs.
Mark was drawn toward her "5 Healthy Habits of Emotional Well-being" campaign after being diagnosed with a mental health disorder in college.
"I felt terribly alone," she explains. "Now, I strive to be the voice for someone who may feel this same way."
Mark was introduced to the Campaign to Change Direction while serving as Miss La Crosse /Oktoberfest and was drawn to their five habits to help prevent mental health crises.
"This appealed to me as a public health professional," she says. "I've been advocating for the organization since."
Mark is also working with the campaign's national office to develop a health habits curriculum for students of all ages.
Despite what happens during the Miss America competition, Mark sees herself returning to school for a master's degree in public health and epidemiology. She has earned nearly $20,000 in scholarships by competing in Miss America-sponsored events to help fund her dreams.
Mark says the opportunity to win scholarships and grow confidence in public speaking and more shows that those who say the Miss America program is only a beauty pageant don't understand it.
"No part of the Miss America scoring judges a woman on her appearance," she notes. "Rather, the judges look to see the impact a young woman has made on her community."
Mark says those she has met along the way should take part in her success.
"I'm so grateful for everyone who has believed in me on this journey —including my professors and classmates," she says. "I'm so proud to be an Eagle!"
The Elle Mark notebook
Crowned the 85th Miss Minnesota June 25.
Competes for the title of 100th Miss America in December, live on NBC.
Awarded more than $20,000 in scholarships, including $10,000 from the Miss Minnesota organization upon winning the title.
Performed the song "No More Fear" from the Broadway Musical, "Freaky Friday," as her talent.
Promotes her platform of preventing mental illness with a program of "5 Healthy Habits of Emotional Well-being."
Often spotted at local dog parks with her rescue pup, Willmar Taffy.
See her crowning: https://www.dropbox.com/s/biib5liedo50o2j/Elle%20Crowning.mov?dl=0#
Want Miss Minnesota at your event? Visit: https://www.missminnesota.org/miss-minnesota.html