Posted 11:10 a.m. Monday, Aug. 31, 2020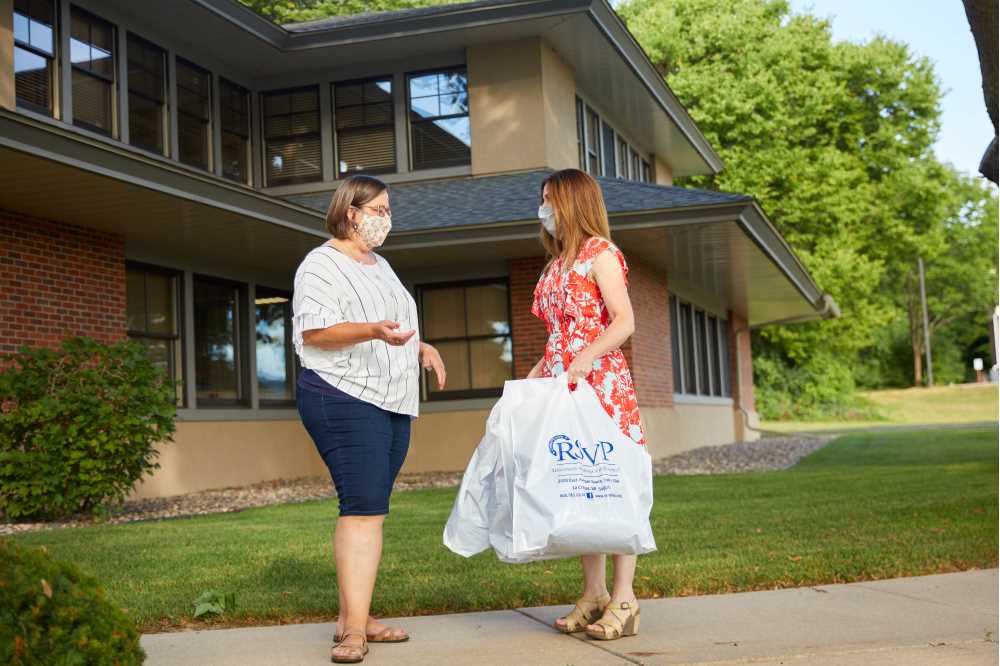 Volunteers donate 300-plus masks for UWL move-in
A generous donation from the community will help ensure the safety of UW-La Crosse students and their families as they move into the residence halls next week.
The Coulee Region Senior Volunteer Program (RSVP) has donated more than 300 no-sew masks that will be available to resident students and their families during the move-in, Sept. 2-6.
"We know students have heard many times of the need to wear masks, but our staff are anxious about those who may choose to show up without a mask," explains Lisa Weston, assistant director of Residence Life. "We are confident in our ability to address those concerns, and it makes it much easier to ask someone to put on a mask if you can also hand them one while making the request."
More than 3,000 students are expected to move into the residence halls during the five-day window, which was expanded from two days due to COVID-19.
With an influx of people on campus, adhering to health and safety guidelines will be even more critical — which is why RSVP's donation was so appreciated.
All UWL needed to do was collect T-shirts and fabric donations; RSVP's volunteers did the rest.
"Our priority is the La Crosse community, and we wanted to help where the need is greatest," says Heather Gilles, RSVP's executive director. Lately, the greatest need has been for masks, and the organization has responded by making nearly 10,000 of them. "With the support of the La Crosse Community Foundation and United Way, we were able to get material in the hands of our talented volunteers, and they have continued to create masks for children and adults."
A plentiful supply of masks is one less thing for Residence Life staff to worry about during what will be an unconventional move-in.
"Move-in always requires a high level of patience and flexibility. This is more true now than ever," Weston says. "I know that every staff member is doing their best in a very difficult start to the year. We need to be patient with ourselves as we navigate a new type of university that we've never seen before."
Weston also hopes students will feel supported and cared for — whether it's a volunteer helping transport luggage and furniture across campus, or a staff member handing out masks.
"I'm constantly in awe of the support and care that community members in La Crosse, like RSVP, provide," she says. "Our students can truly feel the love from others when they show up in La Crosse."