Posted 9:56 a.m. Friday, Oct. 22, 2021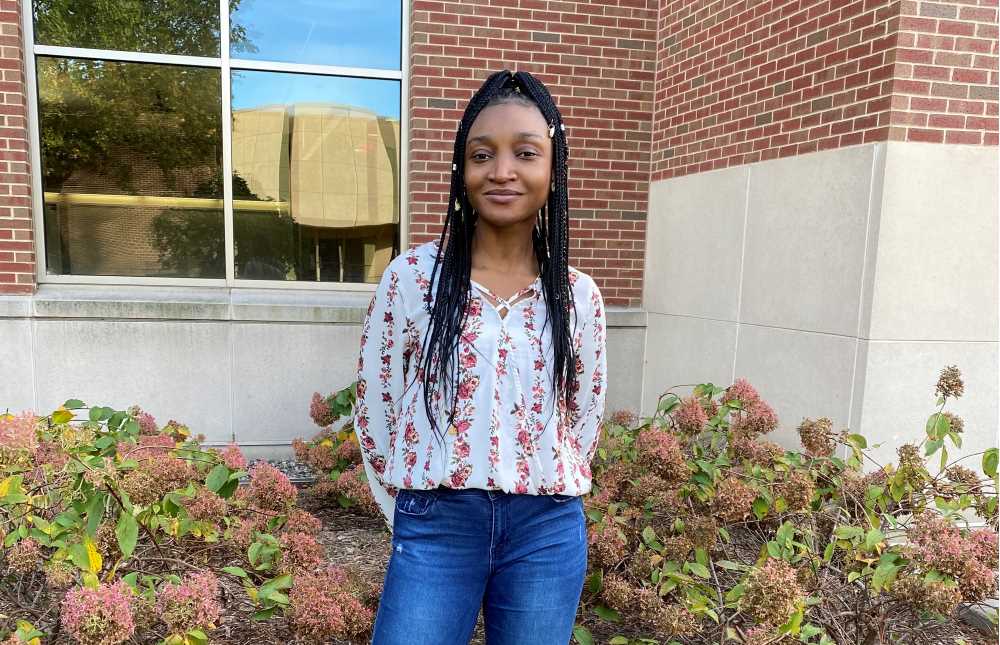 Curiosity and strong program reputation brought transfer student Manigbe Kenneh to UWL
To mark National Transfer Student Week Oct. 18-22, UWL is highlighting the stories of transfer students who have found their home at UWL. This is the fourth and final installment of the series.
To learn more about National Transfer Student Week, visit www.nists.org/national-transfer-student-week.
UWL junior Manigbe Kenneh
Major: Biology with pre-med track
Hometown: Dorchester, Massachusetts
Previous College: Rochester Community and Technical college
Q: Why did you choose to transfer to UWL? 
A: I chose to transfer here sparked by my own curiosity and ended up liking it. I know UWL's biology program has a strong reputation, which also attracted me to transfer here.
Q: Tell me about how you started in higher education.  
A: I started out in higher education with a lot in mind and aspirations of what I wanted to do and become. I do not really have everything figured out yet, but I have a better idea of where I am going. My journey has not been a linear one. Countless times, I have wanted to quit. However, I have come so far in my educational journey. My motivation and dreams keep me going.
Q: What advice do you have for transfer students? What advice would you give a first-year transfer student?
A: I would advise them to talk to an advisor who understands and can empathize with them. I would also advise them not to lose sight of why they transferred here, and what they come here for — which is to earn their undergraduate degree. Also, do not forget to have fun!
Q: What has surprised you here at UWL? 
A: Something that surprised me about UWL is the lack of racial diversity. However, I know this has changed, and continues to change through different efforts on campus.
Q: Who has helped you or helped you in your transition to UWL? 
A: My advisor, Carla Burkhardt, the whole staff at the Office of Multicultural Student Services and Student Support Services. I would not be here without them today, and I am grateful for their support.
Q: What would you like to do with your degree after you graduate from UWL? 
A: I am planning to continue with more schooling after I take a gap year. My goal is to become a physician or work in the health care field.
Q: Anything else you would like to share?
A: Take advantage of the resources available at the Office of Multicultural Student Services and Student Support Services! I wish I had done that earlier in my time as a student. Both spaces have helped me navigate and adjust to campus and La Crosse.