Posted 9 a.m. Friday, Sept. 15, 2023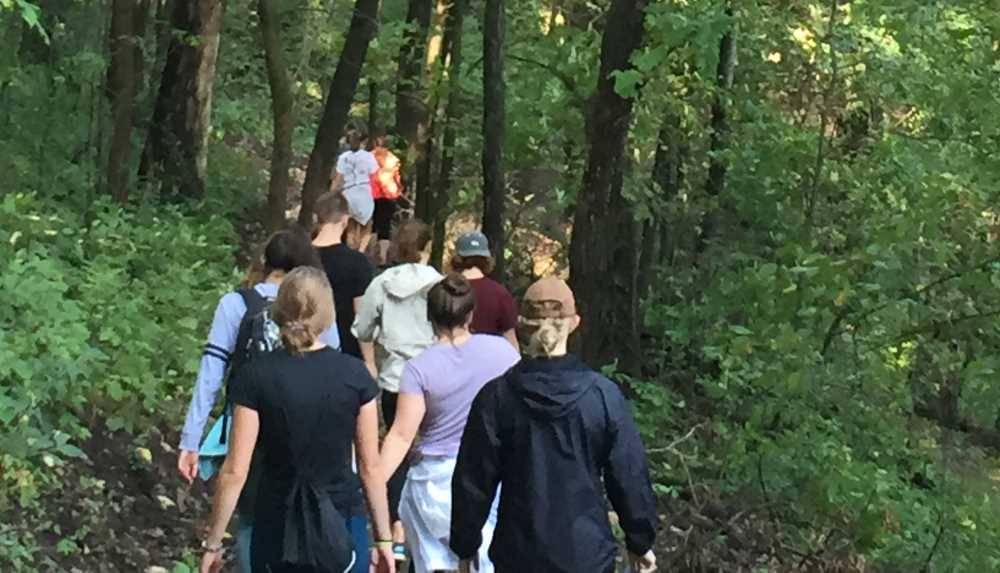 Faculty, students partner with local organizations to create a new, self-guided forest bathing walk for community
UW-La Crosse Recreation Management & Recreational Therapy Department is sharing the wellness benefits of forest bathing with the greater La Crosse community with a new, self-guided audio walk on La Crosse's Hickory Trail.
The public is invited to a grand opening for a new written and audio guided forest bathing walk on the Hickory Trail in Hixon Forest in La Crosse, Wisconsin, from 9 a.m.-noon Saturday, Sept. 30. Attendees will meet in the Hixon Forest parking lot.
Signs at seven locations throughout the Hickory Trail include both a short-written guide and long audio guide that are accessible via QR codes. These audio guides allow trail users to listen in as a guide takes them through a forest bathing session as they walk the trail. UW-La Crosse Recreation Management & Recreational Therapy Department and the local organization, Outdoor Recreation Alliance are hosting the event. Palm + Pine Yoga, Root Down Yoga Studio, and Rivertown Dental are the sponsors for this project.
The self-guided walk is free and allows near and distant community residents to experience the benefits of forest bathing without an on-site guide. Forest bathing is the practice of immersing oneself outdoors while using multiple senses such as sight and touch to reconnect. The practice has been shown through multiple studies to have physiological and psychological health benefits. The idea originated in Japan in the 1980s and has spread internationally. Learn more about forest bathing.