Posted 6:40 p.m. Wednesday, Dec. 8, 2021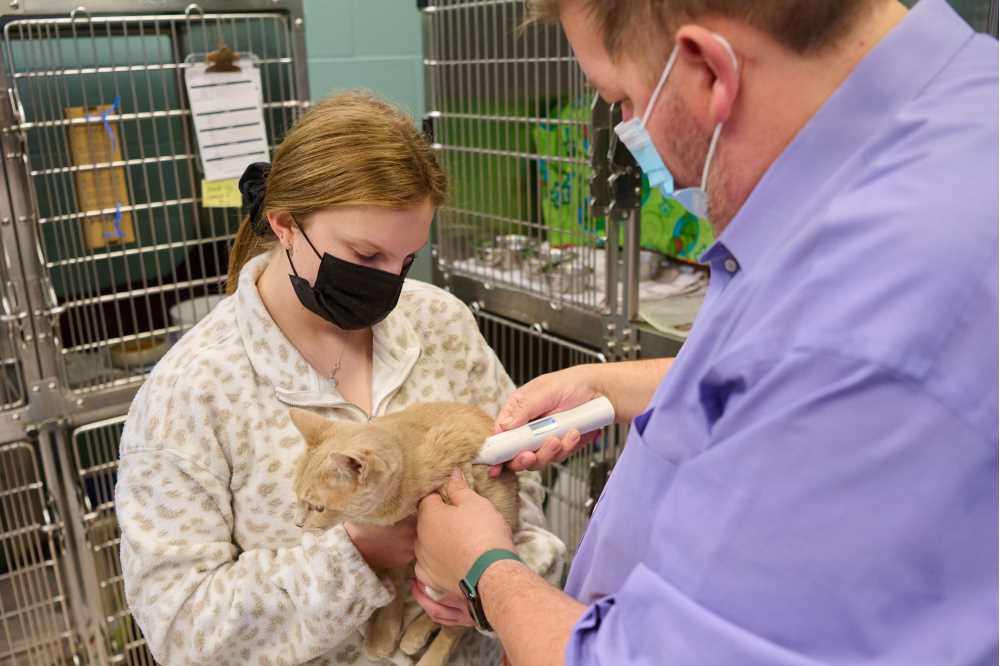 UWL students probing alternative procedure
A new partnership between UW-La Crosse biology students and the Coulee Region Humane Society could help make future vet visits more comfortable for pets and their owners.
And in the process, West Salem Veterinarian Cord Brundage, a lecturer in the UWL Biology Department, is helping students in his classes and the Pre-Vet Club get some needed hands-on experience.
A pet care company developed a new type of pet thermometer that can be used under a dog or cat's arm rather than rectally — often a stressful procedure for pets and their owners. Mella Pet Care asked Brundage to test the new thermometer, so he contacted the Coulee Region Humane Society to see if students could work with their animals. Society officials said yes.
Brundage says early results are promising.
"We are confident that, in the future, a lot more pet rears will be saved from thermometers," he says. "Refining the technology will be an ongoing process, but it looks like the thermometers we are testing meet FDA requirements."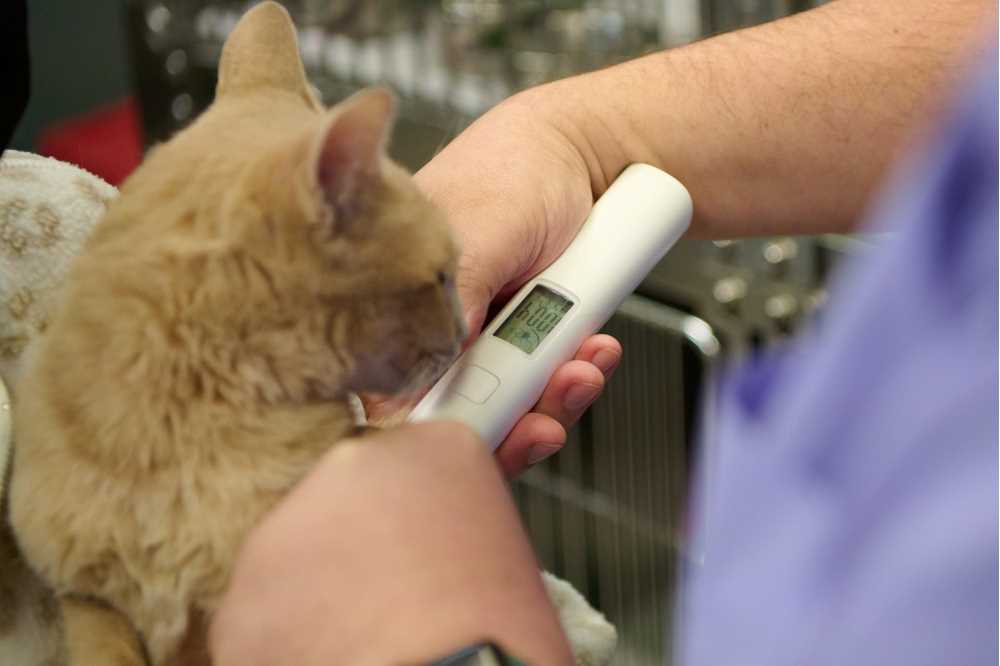 Brundage says it's a win-win not only for animals, but also the students. He says the experience is giving students an applied understanding of physiology, animal care and biomedical technology.
"These concepts will help in their related coursework and career paths," he explains. "In a broader sense, research helps students think critically and problem-solve, along with developing resilience and professional skills. The community connection provides students real-world experience and an appreciation of the impact student service and involvement can have on the community."
Brundage compares learning science and medicine to learning another language. There are many concepts and technical terms, but the hands-on experience provides context to understand the practicality of their education.
"Real experiences allow students to see how discoveries are made and how those can be applied in real-life situations," he says. "Contextualizing the concepts they are learning not only improves knowledge retention, it helps create better learners. For example, you can tell someone how to hold or interact with an animal, or how stress impacts their health and temperature. It is another thing to have your hands on the animal and witness their biology firsthand."
Donations provide a 'thank you'
As a thank you to the Coulee Region Humane Society for partnering with students, the UWL Pre-Veterinary Club is hosting an item donation drive during December. Donations can be dropped off at the COVE Student Organizations area on the second floor of the Student Union or sent directly to the Coulee Region Humane Society. The Humane Society asks that donations be on their list of needed items: https://www.couleehumane.com/item-donations.
Brundage is proud of the students coordinating the donation drive.
"The Coulee Region Human Society was benevolent enough to let us conduct our study with them and the gracious way the students are paying back that generosity speaks to the caliber of students we have at UWL," he says.
Brundage hopes the partnership grows into a long-term relationship between Coulee Region Humane Society and the Biology Department so UWL can help support the society's care for animals.