Posted 8:01 a.m. Wednesday, Aug. 25, 2021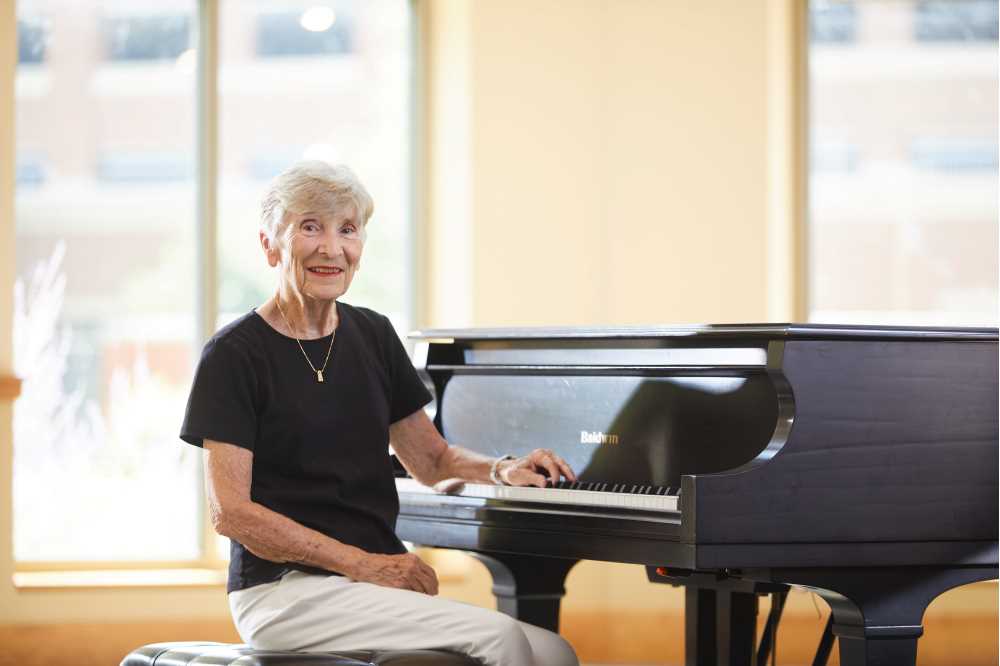 UWL faculty emeritus returns for scholarship benefit
Joyce Grill, who retired in 1999 after teaching on campus 25 years, will join former colleagues and students to perform some of Grill's compositions, as well as songs from Broadway shows she accompanied. The gala begins at 7 p.m. Saturday, Sept. 25, in Annett Recital Hall, Center for the Arts. A virtual viewing is also available.
Grill has many good memories of teaching at UWL. Her storied career included multiple opportunities to perform at faculty and student recitals, as well as alongside touring professionals.
"I had so many wonderful piano students, soloists and accompanists, many that I am still in touch with," she says. "There was a great faculty to work with, and I really enjoyed teaching Music Appreciation to the general student body, which made me keep up with the popular music of the day."
"When I came to UW-La Crosse, Joyce was not only my colleague, but also my mentor in piano, accompanying and in music appreciation," Tollefson explains. "Many times I meet alumni from UWL who ask about the professor who taught this great music appreciation course, and Joyce will have been the instructor."
In the region, Grill founded the La Crosse Area Music Teachers Association in 1980 and helped start a Twin Cities piano organization as well. Both groups are still thriving as local chapters of the Music Teachers National Association, in which Grill held both state and national office positions.
Despite retiring more than 20 years ago, Grill continues to compose and give workshops for piano teachers across the country.
"That's like teaching to me, but I don't have to give grades," she explains. "Since retiring I haven't done as much accompanying, my first love, because of the time commitment."
Besides UWL's fight song, "La Crosse," Grill wrote the alma mater and fight song for cross-town Viterbo University. Many of her friends who golf, play Bunco or do Zumba with her have also been serenaded with songs she has written for them. She often writes compositions for friends during special occasions and their birthdays.
Grill is known by many budding pianists for her "Accompany Basics" textbook, used by those aspiring to become accompanists. She has lost count of the number of compositions she has written over the past 40 years. Her favorite? Typically the one she's currently working on.
"I like them all; if I didn't, I would throw the piece away," she says.
Some of Grill's former students, faculty members, and piano teachers will play during the gala. She's honored to have a scholarship established in her name.
"I know how expensive school is today and how difficult it is for students, especially music students because of the time it takes practicing, studying music and performing" says Grill. "I would not have been able to attend college (at UW-Madison) in the '50s if I hadn't received a four-year scholarship for tuition and room and board each year. I was very lucky, and I hope this can help some needy student."
Grill is deeply moved by being honored with the evening performance and the scholarship endowment.
"The whole idea is sort of overwhelming," she says.
Who is Joyce Grill?
Native of Monroe, Wisconsin; started playing piano at age 5.
Joined the UWL music faculty in 1974; retired in 1999.
Composer of countless piano books, sheet music, and more, including the UWL fight song, "La Crosse," as well as Viterbo University's fight song and alma mater.
Has performed with the La Crosse Symphony Orchestra, many other area ensembles; accompanist for professional to novice performers.
Author of "The Accompanist, Yes It Really Happened," a collection of humorous stories from her experiences as an accompanist.
Named 2006 Wisconsin Music Teachers Association Foundation Fellow.
Plan to attend
What: UWL Department of Music Scholarship Gala
Who: Joyce Grill: Accompanying a Life in Music
Program: Compositions by Grill, as well as a selection of songs from Broadway shows she accompanied.
When: 7 p.m. Saturday, Sept. 25
Where: Annett Recital Hall, UWL Center for the Arts, 333 N. 16th St. Online access also available.
Admission: $25 suggested donation per person for the event.
With sponsors Xcel Energy and Dick Record, all donations will benefit the newly created Joyce Grill Piano Scholarship.