Posted 9:39 a.m. Friday, Nov. 19, 2021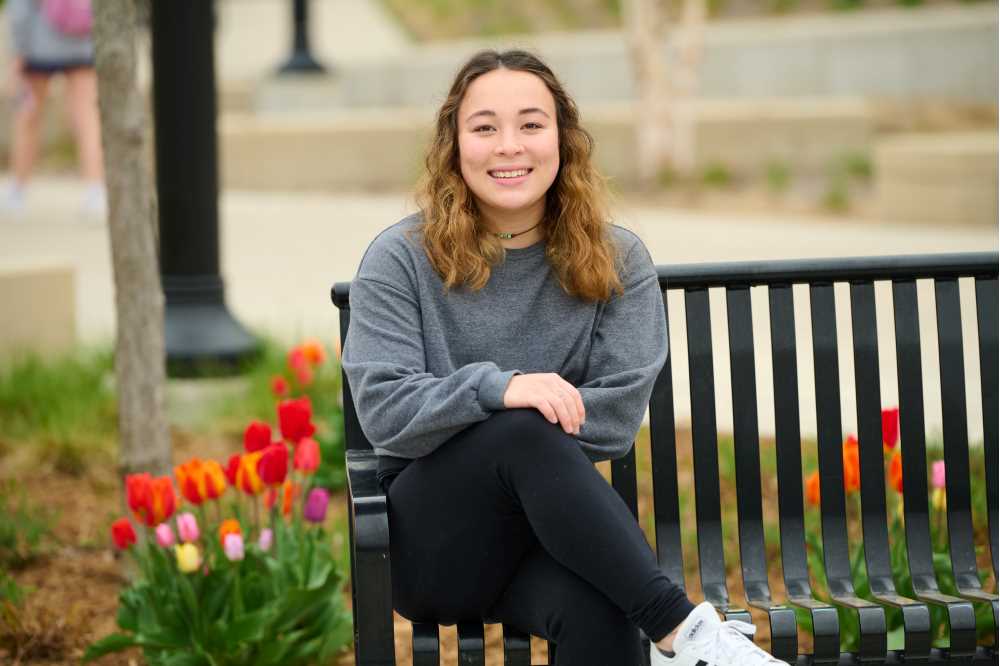 Wahlgren wins inaugural Prairie Springs Environmental Leadership Award for students
For Jade Wahlgren, protecting the planet isn't just an environmental issue — it's also an equity issue.
Wahlgren, a senior majoring in archaeological studies and minoring in cultural anthropology and environmental studies, is passionate about advocating for those who cannot always advocate for themselves. And environmental stewardship has been an excellent avenue for that.
"Initially, what inspired me was the desire to give a voice to the underrepresented communities and identities that often get overlooked in city development," she explains. "Urban renewal often displaces marginalized community members in an effort to commercialize new locations. However, the reuse of historic properties also provides many environmental benefits like cutting out carbon emissions and demolition waste, and reusing building materials."
Wahlgren put these practices to use through her mentorship with Jenny DeRocher from the La Crosse Public Library Archives. With DeRocher's guidance, Wahlgren created a walking tour featuring historic locations in La Crosse and underscoring the importance of environmental preservation.
The project earned her the inaugural Prairie Springs Environmental Leadership Award for students. The new Prairie Springs awards recognize students and faculty who take environmental action in the community and inspire others to do the same.
Wahlgren's tour includes stops at several sites from UWL's Hear, Here project — some that La Crossians may already be familiar with, and some they may not. Utilizing Hear, Here allows participants to listen to oral histories along the route, deepening their appreciation for each site:
The La Crosse River Marsh (327 Pearl St.), narrated by Carol Erickson
Street activism (Intersection of 6th N. and Main St.), narrated by Chris Kahlow
Hotel Stoddard (Intersection of 5th N. and State St.), narrated by John Satory
Ho-Chunk Burial Grounds (Oktoberfest Grounds), narrated by Robert Boszhardt
Former Hiawatha Statue (Riverside Park), narrated by Ben Morris
"I started listening and reading people's stories on the Hear, Here website and tried to find common themes that correlated to each other," Wahlgren says. "I also needed to choose sites that flowed into one another and, physically, made a route that would be interesting and engaging to the participant. I started connecting themes (such as) historic preservation, urban renewal, displacement of marginalized communities and environmental racism."
Sam Cocks, chair of the Environmental Studies Program, says Wahlgren thought deeply about sites to include on her tour, creating a memorable experience for participants.
"The tour uses information regarding sustainability as part of urban development, addresses issues pertinent to environmental justice, and involves a synthesis of past recordings with new information," Cocks says. "This is an extensive project that considers different types of learners and can be accessed by members of the public for years to come."
Wahlgren applied for the Prairie Springs award at the urging of her capstone advisor, Alysa Remsburg, a senior lecturer in the Environmental Studies Program.
"When I found out I got the award, I was completely shocked," she says. "I initially wasn't going to apply because, for some reason, I thought my work wasn't as valid as someone who directly conducted research in a natural setting. I wasn't really expecting to win. This award showed me that there is value in the work I conducted, and I am very proud of what I have accomplished."
After graduating in May, Wahlgren plans to move to Seattle and take a gap year. She's hoping to enroll in the University of Washington's museology master's program in fall 2022.
She credits her experience at UWL for laying the foundation for her future.
"I just really want to thank the entire environmental studies faculty because they've always been super supportive and encouraging," Wahlgren says. "They genuinely care about student success on the individual level and take the initiative to get to know their students. I really would not have been as successful of a student without them."
About the award
The Prairie Springs Environmental Leadership Awards, started this year, recognize a student and faculty member who are taking environmental action in the community, and inspiring others to do the same.
Recipients are selected by the Prairie Springs Endowment Fund Advisory Subcommittee, which considers the impact, scope and sustainability of each candidate's accomplishments. Each winner receives $1,000.
The awards are funded through the endowment fund created by Prairie Springs: The Paul Fleckenstein Trust. The fund also supports undergraduate student research, CSH Dean's Distinguished Fellowships and internship opportunities that focus on environmental education, conservation and wildlife habitat protection.